Most Common Excel Project Templates for Management and Tracking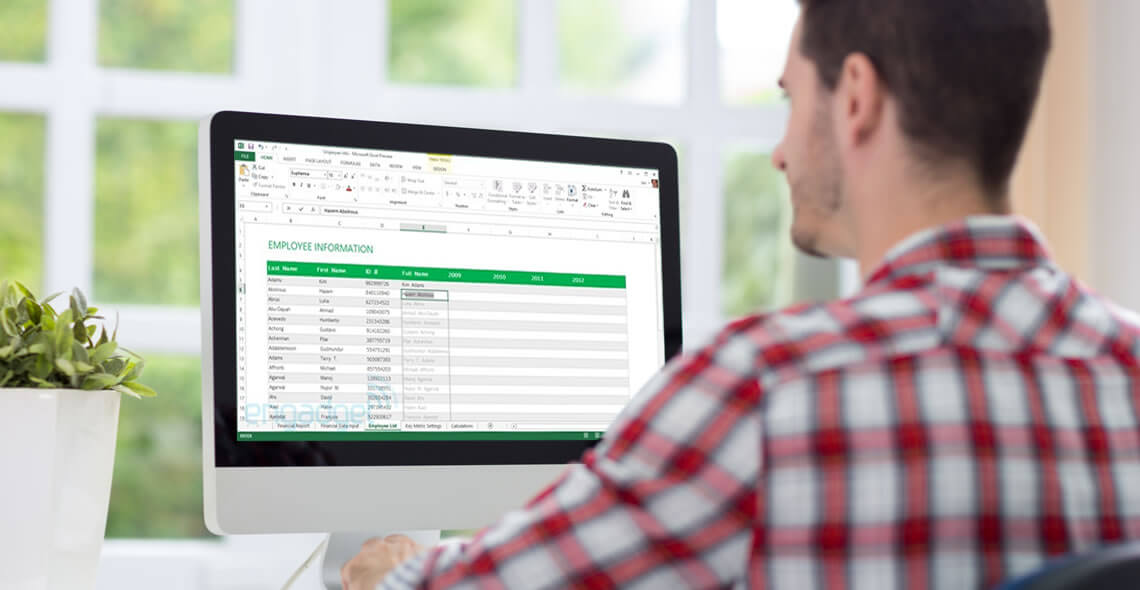 Today you can choose any powerful software for project management that will completely satisfy your needs and requirements. 
Does it mean that you should forget about classical solutions such as Excel? Not really. Nowadays Excel is still a popular and flexible solution, and Excel project templates are directly related to project scheduling. For example, using Excel, you can simply create Gantt diagrams – the most useful project management template. Something more complicated would probably require a robust project management software.
Anyway, Excel templates are a great place to start, dealing with the things to process along the way to a successful project—scheduling, resource planning, defining tasks, milestones, and so on.
Paper notes and notebooks with scraps are long gone! Project management templates are an important ingredient in replicating effective projects. Using Excel's templates, you will be able to turn your simple spreadsheets into reliable PM tools. Luckily, Hygger.io proposes related functionality to realize these templates. 
In this post, we will cover the most useful Excel project management templates you'll be able to use for your next project.
So, as we've already mentioned project managers working on various projects can use Microsoft Excel to plan, visualize, and track their projects. Here're the most common cases where you can apply Excel timesheet templates:
Task tracking template
If you want your project to remain on schedule, then you should care about tracking the work at a task-level. A task tracking template will perform as a task to-do list. It includes columns for the planned and actual project duration to know what's working and what needs more attention.
After integrating your task tracking template into your reliable PM software system, you will be able to create Gantt charts to get a clear visual on the project. The Excel task tracker can be easily integrated into Hygger.io.
WBS Template
Projects contain deliverables and deliverables are created by tasks. The WBS (Work Breakdown Structure) is a way to visualize these deliverables and tasks that are necessary to make them.
A WBS template is aimed to structure the process of breaking down large projects into smaller ones. This hierarchical visual way allows seeing the entire scope of the project work. This core element of planning is critical to estimating project costs and setting up a realistic schedule.
Gantt Chart template
Gantt diagram is a visual tool aimed to assist you to see tasks scheduling and their dependencies over the project lifecycle. Creating Gantt charts can be challenging and complex for Excel, especially if you need some advanced features such as task dependencies and resource allocation.
Nowadays product managers and project managers use special online Gantt chart software (or the feature that many PM tools propose) to help plan tasks and projects collaboratively with their teams. Gantt chart software allows easy drag-and-drop changes and can be color-coded to customize if required.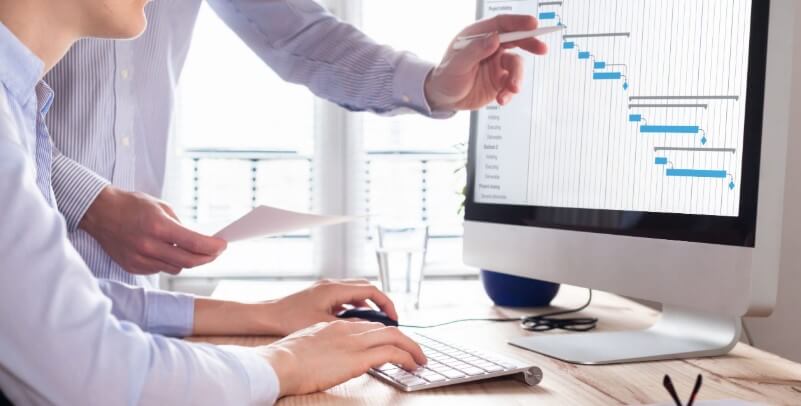 Status report template
Even the young project manager without experience needs status reports. If he/she doesn't have good intel on what is happening in their project, then they are managing blind. It's crucial to understand whether you're on track or if resources are being blocked.
The Excel status report template will help you to significantly improve your project communication with stakeholders and with the entire team. You can define the frequency of the reports and a lot of the busy work that can pull you away from a project will be done. It will give you more access to the information you need.
Risk management template
There are no projects without risks. Project managers must anticipate what risks are likely to occur and find a solution to get the project back on track. That's where the Excel risk managing template comes to help.
It allows listing the possible risks that may happen over the course of your project and defining how it will impact the project. You can determine the level of the risk and assign it to an owner responsible to keep an eye out for it. With a clear plan for resolving the risk, you can share it so the risk is never given a chance to sink a project.
Timesheet template
A simple timesheet provides a clear way to keep tasks on schedule and gives the team members the needed information to know where they are.
With the timesheet template, you can calculate the cost per hour. It may include vacation and overtime columns to accurately note the time spent on and off the project. These Excl timesheets are useful for a number of purposes, so it is a really handy tool.
Action plan template
In order to achieve the key project objective, you will require a strategy with certain steps to implement that strategy successfully. This is all about an action plan.
The action plan is a framework to collect your thoughts about executing the project efficiently. The Excel template will help you to fill in the blanks to make sure that you've covered all bases and make your project started on the right foot. Feel free to upload your action plan into Hygger, so you can then use all its great features to visualize the workflow. For example, handy Kanban boards for monitoring progress with a real-time dashboard.
Budget template
The financial backing to pay for a project is the main success factor, even if you have a brilliant plan. Nothing will happen without budgeting. That's why a budget is one of the most important phases of getting a project on track to its completion.
The Excel project budget template is aimed to demonstrate when "you're in the red" as it's color-coded. This document is crucial for starting a project and tracking that budget across the lifecycle of the project. Budgets are estimates, but with the template, the numbers will be more accurate.
What next? From Excel Templates to The next PM Level with Hygger
Hygger will take your project management efforts further than templates could. Using the platform, you'll be able to plan, track, manage, and report on your projects online. You will get strong visibility into your project team and their tasks.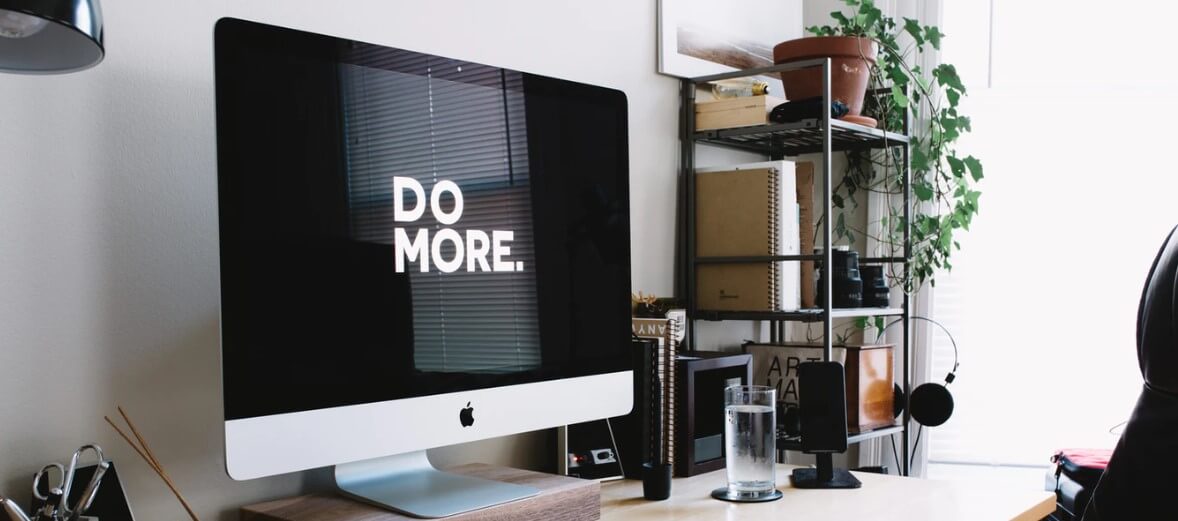 Plan even the most complex projects from start to finish with product roadmaps. This feature allows mapping out all project tasks in phases, and assign them to colleagues. Create dependencies and set milestones, and import Excel files into the Gantt chart timelines.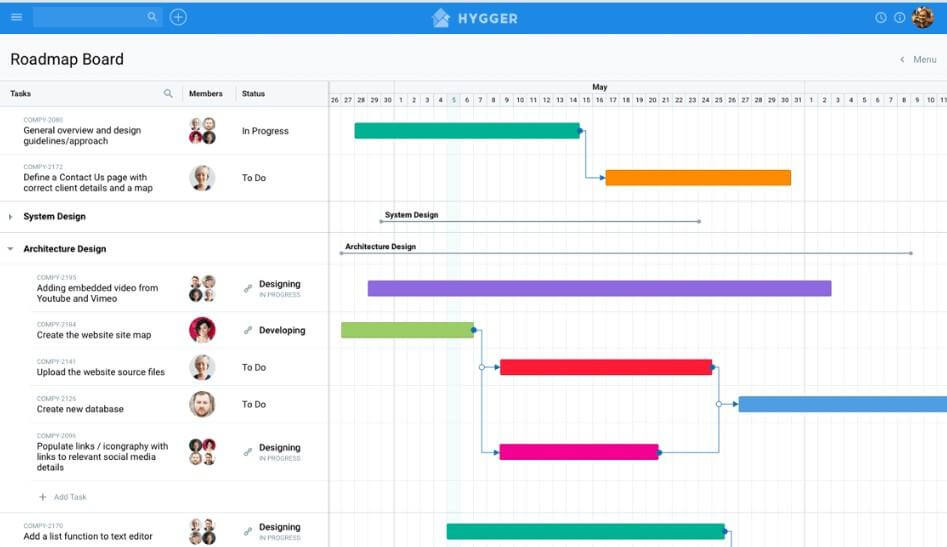 Hygger provides all the features of these PM Excel templates and even more. Get it for free and then decide what pricing plan looks more appropriate right for you!