What is a Kanban Board? 15 Kanban Board Examples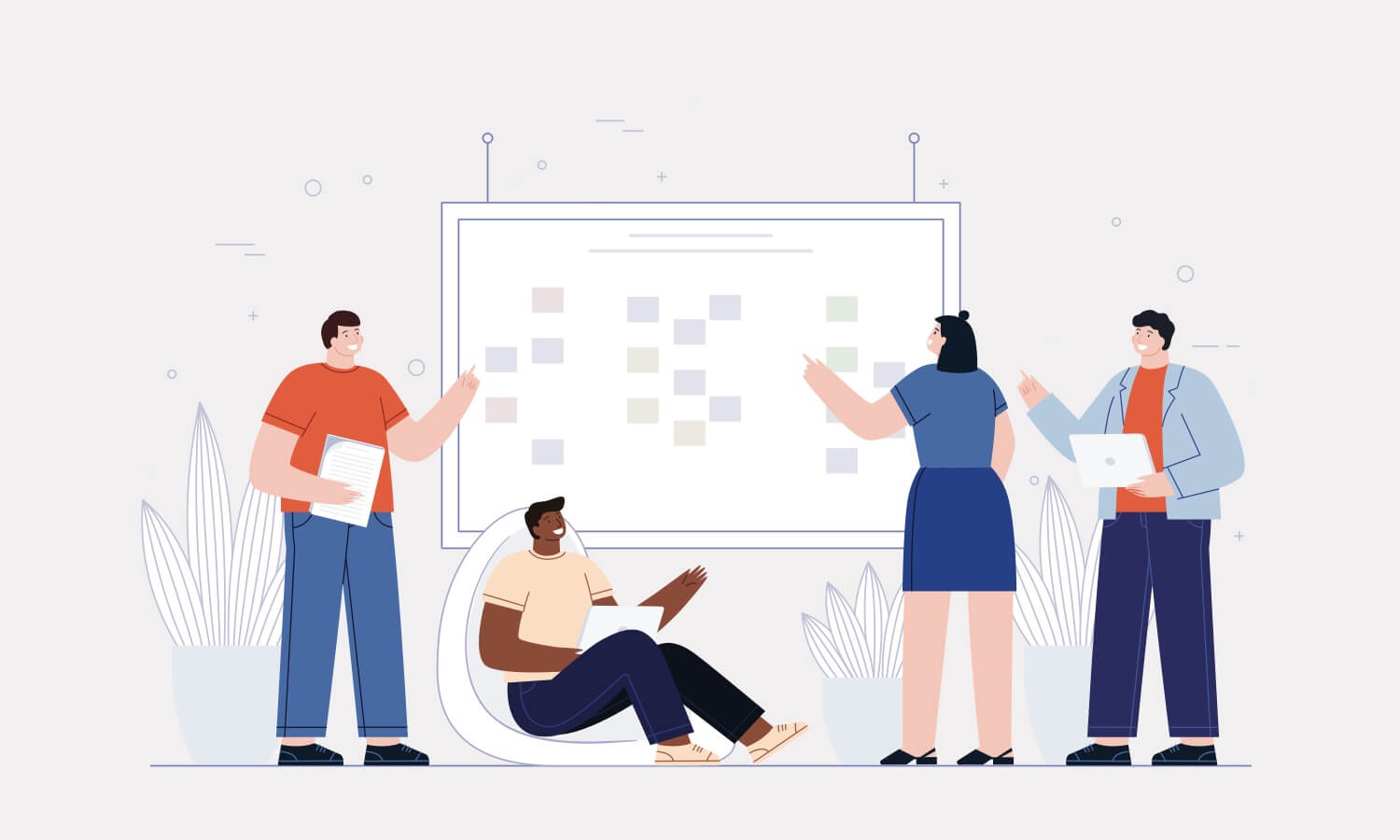 The key to a successful Kanban workflow is a constant improvement. You can make your process better by visualizing the work steps to help you action the visible bottlenecks.
The best way to visualize tasks organization and oversee a project's development faster is to apply a convenient Kanban board with handy Kanban cards. 
In order to better understand the benefits and examples of such boards and cards, let's first recall a little what Kanban is.
What Is Kanban? Brief Introduction
Kanban is a workflow management method aimed to help you in visualizing your work, maximizing efficiency and being agile. Kanban has Japanese roots and it is literally translated as billboard or signboard.
The origin of the method is manufacturing. Today Kanban management concept is widely popular in business units across various areas. Focusing on efficiency, and by applying advances in computing technology, Kanban went beyond the automotive industry and was successfully applied to other complex sectors such as IT, software development, marketing, healthcare, education, construction, sales, recruitment, and many more areas.
Kanban is a method for managing with the focus on continual delivery while not overburdening a team. It helps people work together more effectively that makes it similar to Scrum. However these two Agile approaches differ – you may dive into details, reading our article Scrum vs Kanban.
4 Basic Principles of Kanban
1. Visualizing the workflow
It is crucial to understand what you need to get an item from a request to a deliverable product. After understanding how the workflow functions you strive to improve it by making the necessary adjustments. For visualizing your Kanban system process, you will need a handy board with cards and columns, where every column is a step in your workflow and every card is a work item.
2. Limiting work in progress
Kanban ensures a manageable number of active items in progress at any one time. When you switch a team's focus halfway through – it harms the process, and multi-tasking is a sure way to generating inefficiency and waste.
Limiting Work in Progress (WIP) means that a pull system is implemented on parts or all of the workflow. WIP limits help to balance the flow-based work so teams do not perform too much work at once.
3. Focusing on flow
The main idea of Kanban is to create a smooth and clear workflow. It's about the movement of work items through the production process. It's also about managing the work but not people. Instead of trying to keep people busy all the time, you should focus on managing the work processes and understanding how to get that work through the system faster.
4. Continuous improvement
Kanban requires constant monitoring and analysis to look for the next best way to improve as it is not something that is ever "finished. Conditions, resources and customer demands change over time. That is why it is important to assess flow and look for blockers or friction that can be alleviated.
5 Evident Kanban Benefits
1. Improves flexibility
According to Kanban principles and practices, it easy to understand that the method can be used by any team from developers to marketing or HR. Kanban do not require revolutionary changes and respects the current state of your company.
2. Keeps everyone in a team on the same page
Visualizing every piece of work on a board is the main idea of Kanban.
It turns the board into a central informational space, where all tasks are visible and never get lost. This provides transparency to the whole work process.
3. Reveals bottlenecks
Working with the board with cards you will quickly note that some columns get overcrowded with tasks. This helps you to spotlight bottlenecks in your workflow and tackle them effectively.
4. Makes teams more responsive
Kanban is more aimed to meet actual customer's demand in time, but not to push goods to the market. The framework helps to respond to the ever-changing customer's requirements and allows teams to switch focus fast and change priorities.
5. Keeps focus on finishing work to accelerate productivity
Thanks to the WIP concept, Kanban requires team players to focus on their current tasks until they are done. Limiting WIP stimulates collaboration in order to complete work items faster that eliminates distractions such as multitasking.
What is a Kanban Board Structure?
A Kanban board is an Agile project management tool that helps to visualize work, limit WIP, and maximize flows.
A typical Kanban board consists of three columns: "To do", "In Progress" and "Done". When created and managed properly, it serves as a real-time information hub that highlights bottlenecks within the system and anything else that may disturb working practices.
Every task should have at least one person assigned to it and might come with attached files, images, or comments. Setting deadlines is also possible.
A basic Kanban board structure consists of:
The main Kanban board itself
Vertical columns that belong to the same progress stage
Swimlanes (horizontal columns) that allow managing a number of similar projects, bringing an overview all in one place. This leaves you the ability to concentrate on just one issue.
Kanban cards that present separate tasks. The higher place the card has, the highest priority it gets. Tasks pass through as many columns as your chosen workflow allows.
Additional elements (filters, labels (tags), due dates, etc.)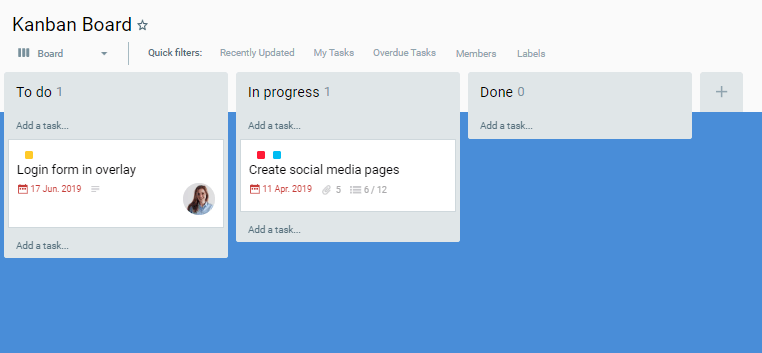 If you're desperately seeking some relevant Kanban board examples, here we've combined the best of them in one list.
These 15 Kanban board examples will give an idea for you and your team. The practical examples can inspire you to create your own beautiful and cozy boards. Use them as a starting template, adapt and add more structures if needed.
Best Kanban Boards Examples
1. Software Development Kanban board
The main goal is to produce features, fix bugs and resolve issues.
Workflow: To Do > Pause > Reopened > Developing > Testing > Live

Create Software development board here. 
2. Design Kanban board
The aim of the design team is to create interfaces and experiences for products that will amaze customers.
Workflow: Prototype > Implementation > Review > Done
Create Design board here. 
3. Marketing Kanban board
The purpose of marketing is to attract attention and create interest in the product.
Workflow: Requirements > Implementation > Done

Create Marketing board here. 
4. Sales Pipeline Kanban board
The main goal is to get leads and close deals.
Workflow: Potential Customers > Leads > Contacted us > Pending Response > Demo Arranged > Final Negotiations > Won > Lost

Create Sales pipeline board here.  
5. Customer Support Kanban board
The main goal is to provide answers and solutions to users questions and issues.
Workflow: Updates and announcements > Tasks > Bugs > Quick Fix > Service Requests > Feature Requests & Suggestions > KPIs & Reports > Done

Create Customer support board here. 
6. Product Backlog Kanban board
This kind of board is aimed to organize all the task and queues within your product backlog.
Workflow: Backlog > Next up > Specification > Development > Done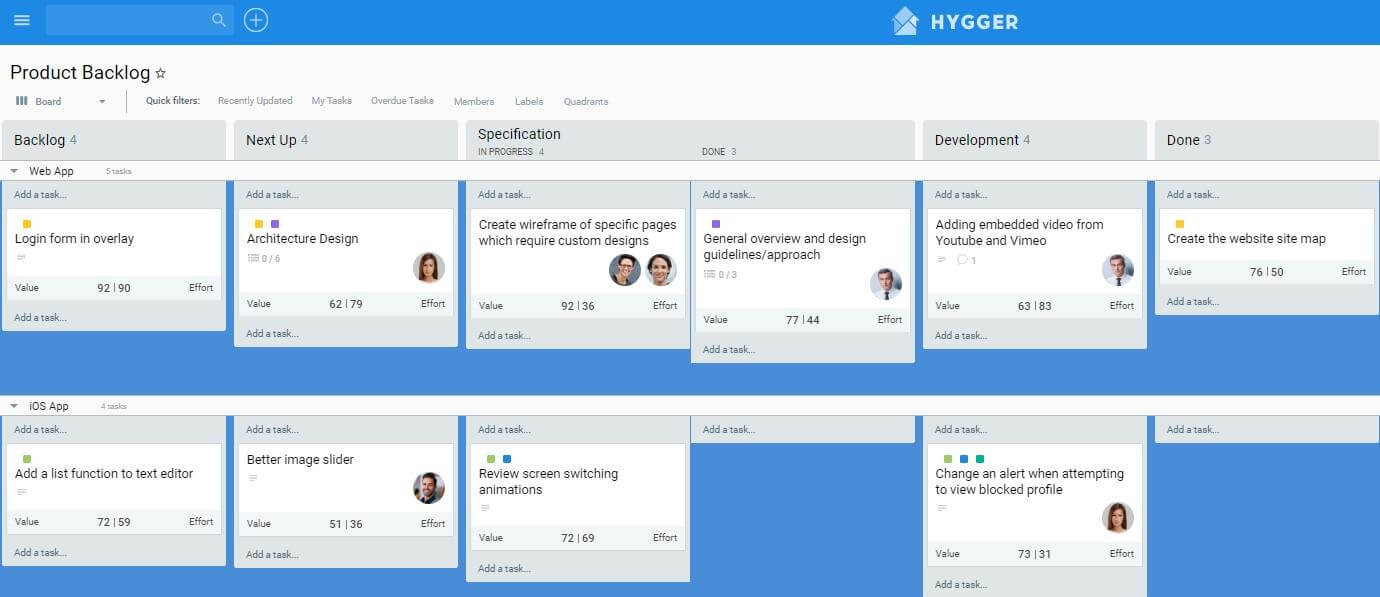 Create Product backlog board here. 
7. Content Marketing Kanban board
This Kanban board assists authors to keep all their content in one place and organize work with blog posts in a proper way.
Workflow: Blog ideas > Product update posts > Scheduled posts > Writing > Under review > Ready to be published > Posted

Create Content marketing board here. 
8. Marketing AARRR Kanban board
The main goal is to visualize the AARRR (Aquisition, Activation, Retension, Refferal, Reveniew)  framework that helps to better understand your consumers.
Workflow: How to… > Backlog > To Do > In Progress > Done

Create Marketing AARRR board here.
9. Marketing HADI Kanban board
This Kanban board assists in visualization HADI cycles that are used as a method of building startups. The main idea of the method is that every change affects a certain metric.
Workflow: Hypothesis > Action> Data > Insights

Create Marketing HADI board here. 
10. Customer Journey Map Kanban board
This board is for Customer Journey Mapping – a powerful way to understand what motivates your customers: what are their needs, hesitations and concerns.
Workflow: Awareness > Consideration > Decision > Onboarding > Post-Sales > Renewal

Create Customer Journey Map board here. 
11. Team Task Management Kanban board
The key goal is to keep all team task management issues and challenges in one place and manage them efficiently.
Workflow: To Do > In Progress > In Review>
Create Team task management board here.  
12. Process Management Kanban board
The goal of this Kanban board is to organize all the task and working items related to your process management issues.
Workflow: To Do > Phase 1 > Phase 2 > Phase 3 > Done

Create Process management board here.
13. Recruitment Kanban board
The main goal of this system of boards and convenient Kanban cards is to select the best candidates and get them in the team.
Workflow: Open positions > Checking Resume > Refuse Resume > Invite to an interview > Final Interview > Make an offer > Closed Positions

Create Recruitment board here.  
14. Team Life Kanban board
The main goal is to help team members organize all informal activities and collaborative events to become more productive and efficient.
Workflow: Ideas > Cinema – Friday > Holidays – Trips > Past activities

Create Team life board here. 
15. Welcome to the Team Kanban board
This is one more team Kanban board. The aim is to provide new members with information about corporate and social life, activities, benefits, policies of the company and etc.
Workflow: General information > Open positions > New Team Members > Team Rules > How Do I Order? > Team Events > Corporate Discounts > Social Media pages

Create Welcome board here. 
Final words
All Kanban board examples mentioned above may vary depending on the focus of work. Some of them may seem simple for you, but others will be more complex with multiple columns and Swimlanes.
Hopefully, now you have no doubt that the Kanban board is an excellent tool for improving workflow efficiency as it visualizes all tasks in a work process and provides overall process transparency.
These practical examples of Kanban boards provide teams with a clear overview of all work items and control them through the different workflow stages.
What is your experience in using this essential element of Kanban philosophy? Feel free to comment below!