Product Roadmap
Introduction to product roadmaps: meaning, importance, benefits, and types.
Product managers have a reliable arsenal of useful tools for delivering awesome products. They work with internal teams and stakeholders to create a clear and consistent roadmap that should easily communicate deliverables and the expectations for where the product is going and why.
We know how important smart roadmaps are in product management. They build alignment around a plan that fortifies confidence and trust among all stakeholders.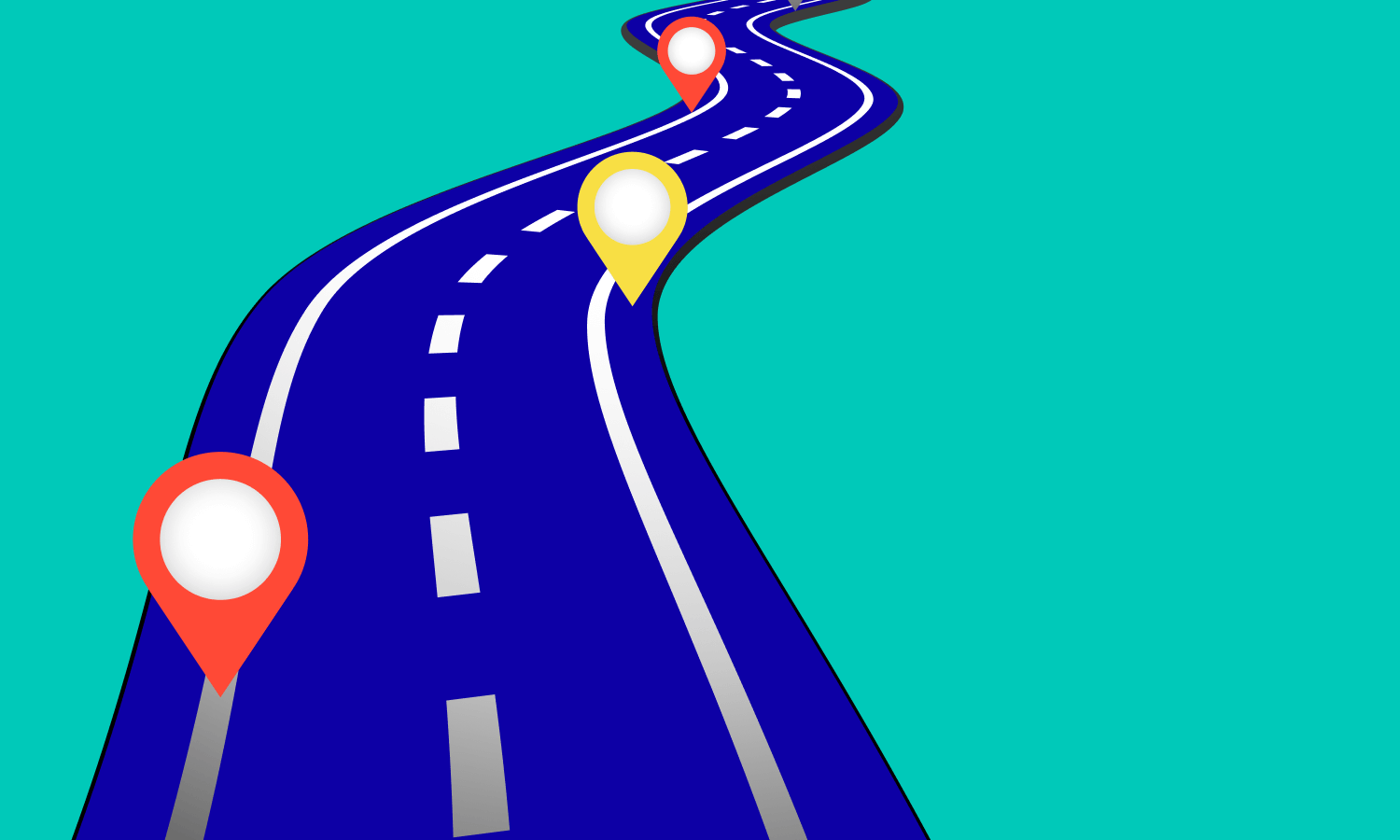 What does a roadmap look like? What should a roadmap include? How do you define the difference between roadmap and strategy? This guide will help you to plan, generate, and share a rocking product roadmap that will make you look great in front of your team.
What Is a Product Roadmap in Agile?
A product roadmap is a strategic communication tool in product management. This is a high-level plan that describes how a product is likely to grow. Product managers use it as a visual "waymark" that helps them to express where they want to take their product and why it is worth investing in it.
An effective product roadmap:
Allows for proper allocation of money, time, and people by communicating priorities and schedules.

Ensures the product team understands what they are working on.

Helps companies to focus and set a basis for prioritization.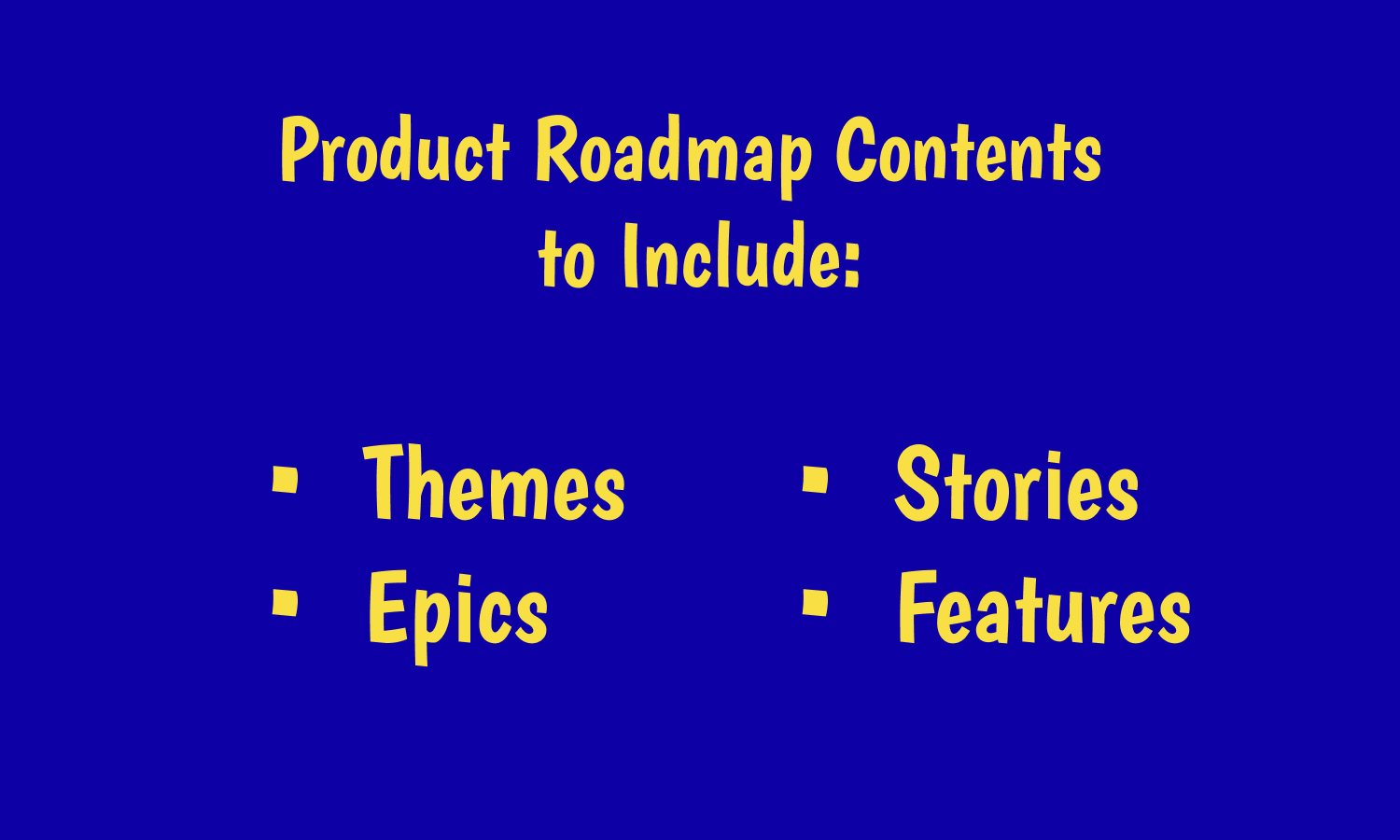 What Are the Goals of Roadmaps?
Product roadmaps pursue several goals:
Describe the product strategy and vision.

Align internal stakeholders.

Serve as a guiding doc for executing the strategy.

Facilitate discussions about scenario planning.

Help in communication with customers and other external stakeholders.
Product roadmaps should reflect the strategic direction of the product. This framework shows the general order of what you will build. By clearly formulating the product vision and strategy, you will easily get to secure executive buy-in.
What Are the Pieces of a Typical Product Roadmap?
The roadmap should contain the statement of your product strategy that in turn should be clear for everyone, including different audiences with unique needs. Therefore, it is crucial to talk to everyone in your team and provide alignment on how to present this information.
Here are the key pieces of roadmaps.
Timeline
It is not obligatory to set specific dates on a roadmap. However, it is important to visualize, clearly outline, and prioritize short-term, medium-term, and long-term features there.
As the example of a timeline, you may consider the following:
Now, Next, Later
June, July, August
Q1, Q2, Q3
Features
You can categorize product features based on what you strive to communicate and what tools you use for project management. You may simply state them as the feature you are creating, or you can build a hierarchy of broad feature themes down to more specific subfeatures (for example, a team collaboration feature, video messaging, the user signup flow, video calls recording, sharing saved video files, etc.).
Goals
It is about what you want to accomplish with your products and features. There is no need to do work for the sake of doing work, so goals and objectives let your company know what a successful project will bring, for example:
improve dashboard analytics,

launch a new team chat system,

increase monthly active users.
Why Are Roadmaps Important?
Roadmapping is a significant element of the strategic product planning process. Connecting a product strategy to implementation keeps everyone focused on the most important work. It helps to visually communicate the direction of products to the team and external partners.
This visibility helps businesses to prioritize and plan for the new experience they will deliver.
Among all product roadmap planning benefits, let's define the most vivid ones:
It ensures collaboration with stakeholders.

It communicates how you see the product developing over the coming months.

It provides continuity of goals.

It helps the team to prioritize.

It lets the team focus the 

product backlog

 on the next release.

It assists the team in budget acquiring.
Product Roadmap VS Product Backlog
Roadmaps and product backlogs do differ. The roadmap determines a strategic view of where the product is headed in its mid to long term, while the backlog identifies the features and initiatives for the near term.
Agile visual roadmaps provide guidance rather than a strict project plan. Any Scrum or Kanban roadmap typically communicates the big picture to the company, and this thinking cannot be put in brief in the backlog.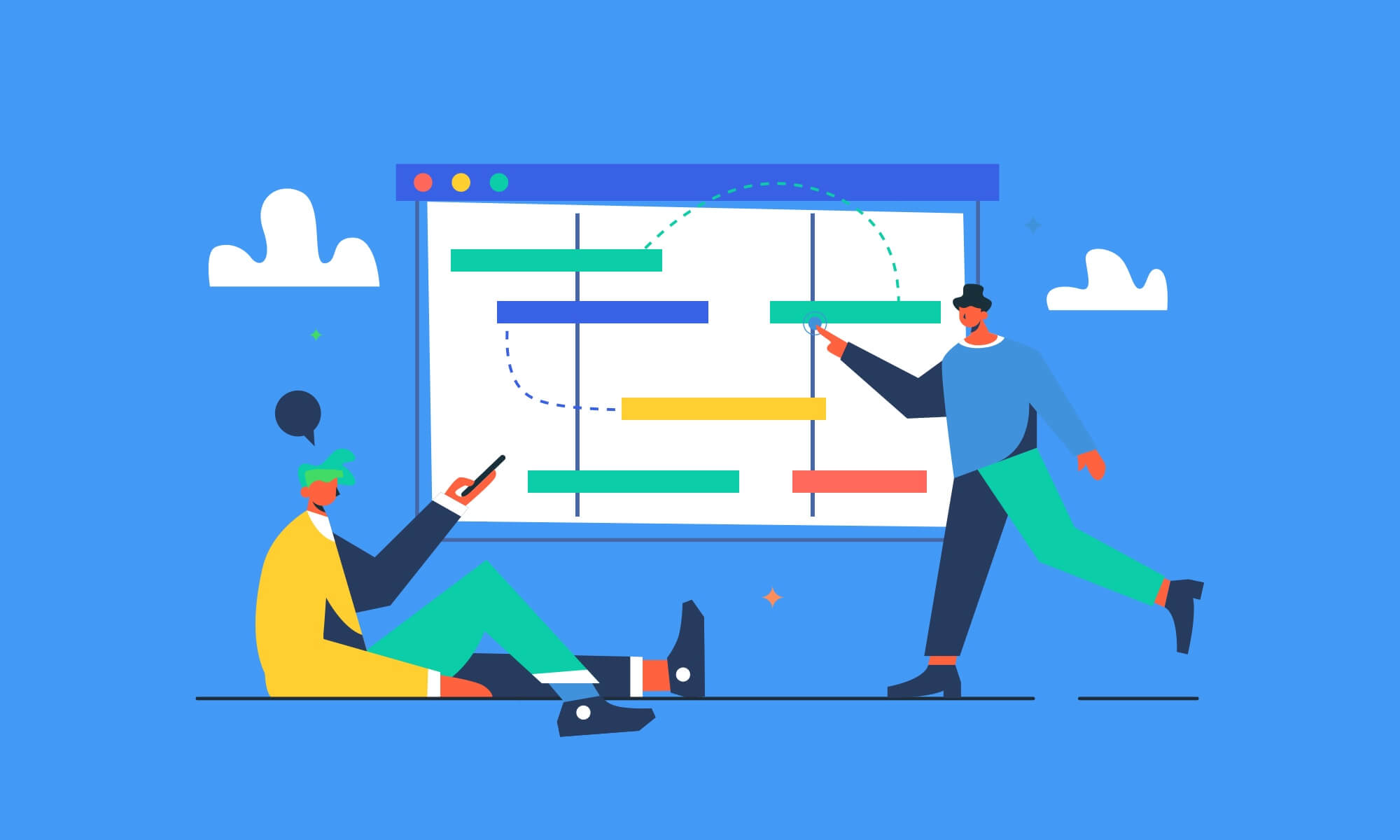 Who Needs Roadmaps
Product roadmaps can cover the needs of different audiences.
Internal for developers

: it can be created in different ways, depending on how the team prefers to work. It may include the details about the customer value that should be reached, target release dates, and milestones. Such roadmaps are often organized by sprints because many development teams use Agile methodologies to perform their work.

Internal for executives

: it highlights how teams support high-level goals and metrics of the company. They are usually organized by month or by quarter.

Internal for sales

: its key focus is on new features and benefits for clients (with the aim to support sales conversations).

External one: 

its goal is to excite the audience about what's coming next. This roadmap must be easy to read and visually appealing. External roadmaps must also provide a high-level view of new features and prioritized problem areas to get clients interested in the product's future.
Why Is It Important to Tailor Your Visual Roadmap to the Right Audience?
You can pick up which roadmaps best support how you want to communicate and rally your business around your product vision.
Here're some tips to do it.
In order to provide your stakeholders with a clear view of the product team's work, use a release plan roadmap, an objectives timeline, or other kinds of leadership roadmaps. They will demonstrate quick summaries of your product direction.

Implement release plan or release timeline roadmaps to provide more details with cross-functional teams (customer success or sales).

Use a sprint plan, Kanban, or features timeline roadmap as the example of delivery-focused roadmaps for development teams that want to know more details. Such roadmaps will help to capture risks and leverage dependencies.

Apply customer-focused roadmaps (a release plan or a now-next-later roadmap) to customize your timeline that focuses on features customers care about most.
The Reasons to Create an Effective Product Development Roadmap
A strategic vision that is shown to all stakeholders can be considered the biggest benefit of the product roadmap.
For top managers, it provides updates of work statuses and translates developer tasks into non-technical and clearly understood terms.
For product owners and PMs, it unifies teams working on high-impact product enhancements. The roadmap also gives them a chance to communicate priorities to adjacent teams.
For developers, it provides a better understanding of the big picture, allowing everyone to avoid scope creep and focus on the most important tasks.
Planning What Goes on in a Roadmap
Product roadmap planning is not an easy process. To succeed in it, it is better to narrow down the priorities you intend to tackle during a period, determine the key goals, and define the metrics and KPIs.
Therefore, roadmap planning may start with the following points:
Generating the goal for a specific period.

Identifying the problems that can be solved.

Aligning with the internal teams and stakeholders

Defining the metrics of success and KPIs for the initiatives in the product roadmap.

Choosing the ways on how to prioritize the roadmap.
Types of Product Roadmaps
A well-prepared visual roadmap will help you to capture and communicate your product plans. It's up to you what components should be included based on what you want to convey: product, initiatives, goals, features, releases, epics, etc.
There are four most commonly used product roadmaps:
The portfolio roadmap

 reflects the planned releases across multiple products in one view. It looks helpful for providing a strategic overview of your plan to executives. With its help, internal teams can also understand how their projects relate to the work of other teams.

The strategy roadmap

 demonstrates the efforts and initiatives that the team needs to invest in to reach the goals of the product. It perfectly suits for presenting initiatives to executives and gives internal teams a clear understanding of how releases contribute to the overall business strategy.

The Features roadmap

 displays the timeline for when new features will be delivered. This timeline looks good for demonstrating the details of what is coming and when to other teams or clients.

The releases roadmap

 shows the activities that must happen before bringing the release to market. With its help, you can coordinate release activities with other cross-functional teams.
Creating a Product Roadmap: Consistent Steps to Follow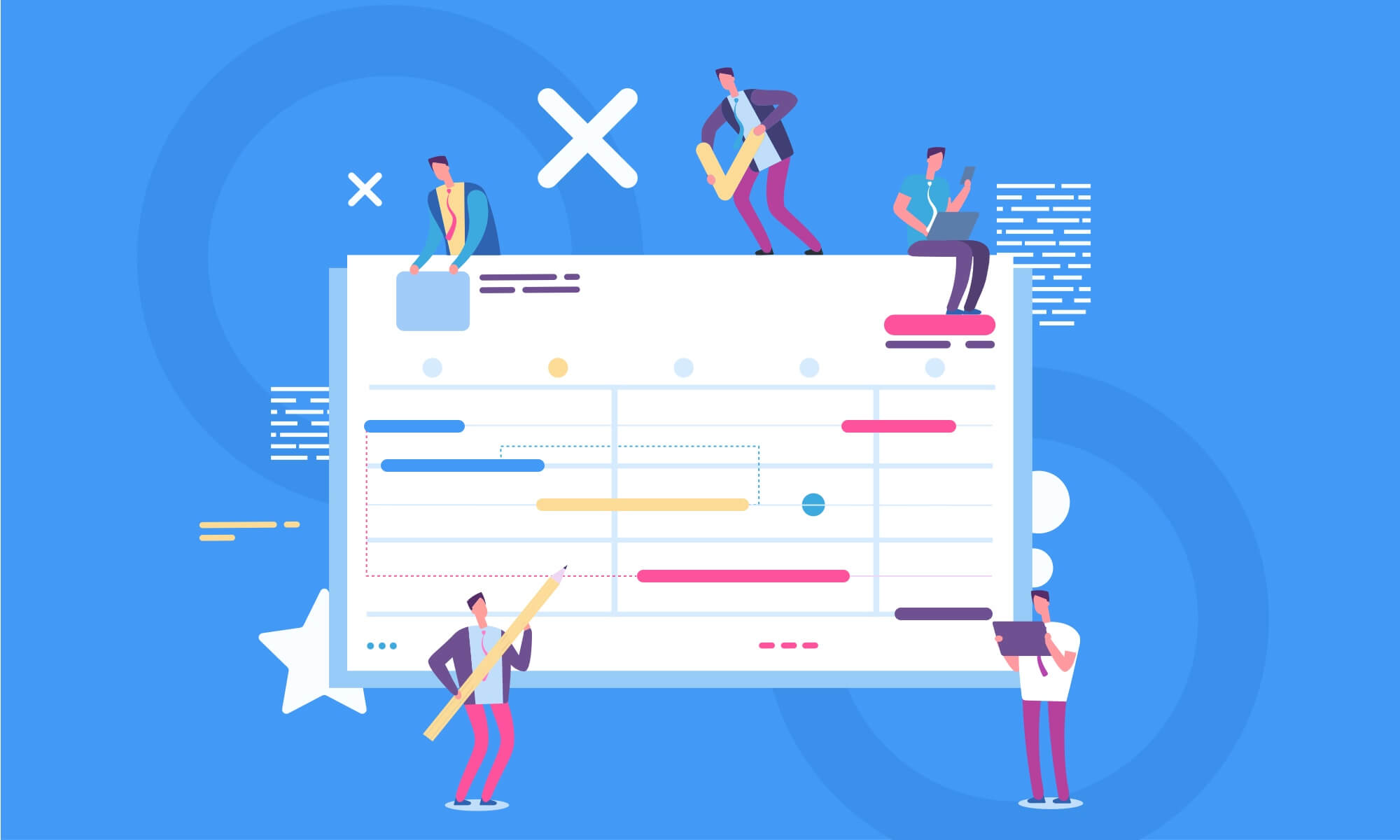 1. Define a strategy
Identifying a product strategy is the beginning of any roadmap.
It involves the product's goals and vision. Goals are the descriptions of the desired results that a successful product can bring, and the vision is the problem you want to solve.
2. Establish cross-functional work
Scrum or Kanban product road maps require constant collaboration between the organization and clients and between the company and developers. Preparing the product roadmap also requires the efforts of design, testing, marketing, and sales teams.
3. Link strategic themes and user stories 
The vision, goals, and initiatives allow PMs to decompose large themes of work into features. It helps developers to break down features into technical requirements, estimate the scope and organize work by sprints.
4. Release new customer experiences
Agile releases deliver an increment of product value to clients. This delivers a new customer experience, compared to single code, and includes cross-functional work. Releases also share visibility into dependencies across tasks and teams.
5. Work with customers ideas
Agile assumes customer satisfaction as one of the core Agile principles. If you want to know whether your audience is happy, you have to gather their feedback. Conduct interviews, usability testing, ideas portal submissions, and usage data. Then score and prioritize customers' ideas for a future release backlog.
6. Measure results
Businesses that work according to the Agile philosophy, typically measure progress towards their strategic goals and review development metrics around predictability and velocity. They evaluate the business impact of new feature ideas, as well as review and adjust the roadmap on a quarterly or monthly basis.
Best Practices for the Best Roadmaps
Creating and maintaining a roadmap for your product is an ongoing process that should be executed in tandem with your team. Remember the following points to set yourself up for success:
Keep your product management roadmap focused on short-term tactics and how those relate to long-term goals.

Include as many details as needed for your clients.

Make the timeline flexible.

Allow access to the roadmap for everyone in your team.

Review the roadmap regularly.

Make adjustments when your plans change.

Have different versions of the timeline.

Stay connected with stakeholders.
The Importance of Roadmaps Updating
It is critical to ensure the roadmap continues to reflect the status of current work and long-term goals. You can update your roadmap as often as necessary (it can be every week or fortnight) so that it can remain a reliable source of truth.
Remember, that the roadmap is counter-productive when it isn't up-to-date. It is a planning tool to think through how to deliver great products. However, if you're spending too much time updating your roadmap, the time you could spend on execution, then, perhaps, it is time to think about changing your roadmapping tool for something simpler.
4 Steps to Present Your Product Roadmap
To make sure your roadmap is truly received, you have to lay the groundwork for success.
1. Know your audience
Every product team should clearly understand the motivations, concerns, and hot-button issues of their clients. Getting them on board before the roadmap presentation can smooth the path for approval and buy-in.
2. Care about the narrative
Storytelling is an important element of successful product management. Providing interesting context and sources of inspiration will put customers at ease. It will also show how much thought and consideration was invested in the process.
3. Stay high-level
If the presentation of your roadmap takes most of its time discussing various features, then things have already gone off the rails. Remember that specific features are details that should not matter to stakeholders.
4. Use available metrics
The roadmap items should improve the company's values metrics and move KPIs in a positive direction.
Agile Product Roadmap Example
Structuring the product roadmap can be done in different ways. Nowadays you may select any powerful online tool for this aim that will help you to win. Here's how an Agile product roadmap may look like in Hygger: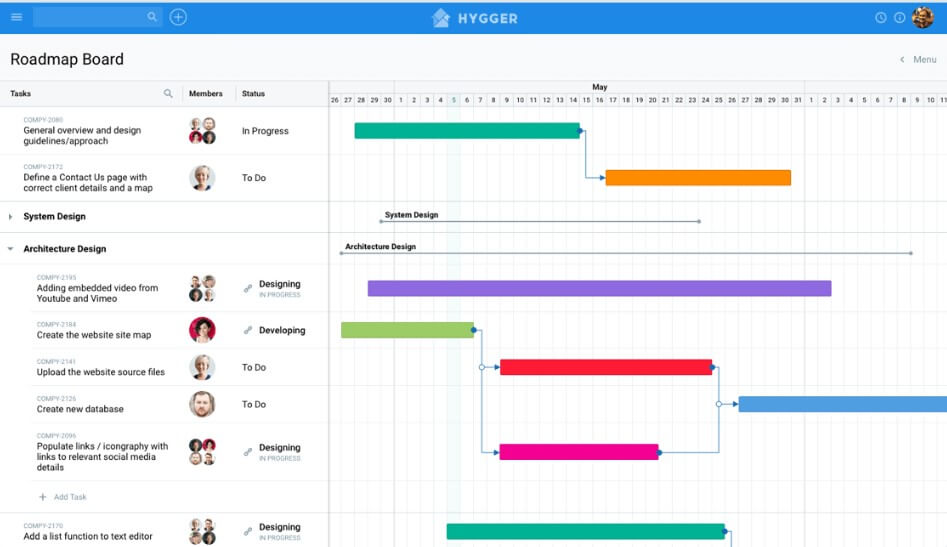 Conclusion
Product roadmaps work convincingly only when they are really flexible and treated as living documents. Your Agile road map should be regularly estimated, discussed, prioritized, and updated. It is also critical for Product Owners to regularly communicate where the product is heading so that every team member is on the same page. How do you define a roadmap? What software do you use for product roadmapping?