The Hierarchy of Six Sigma Belts: What Does It Mean?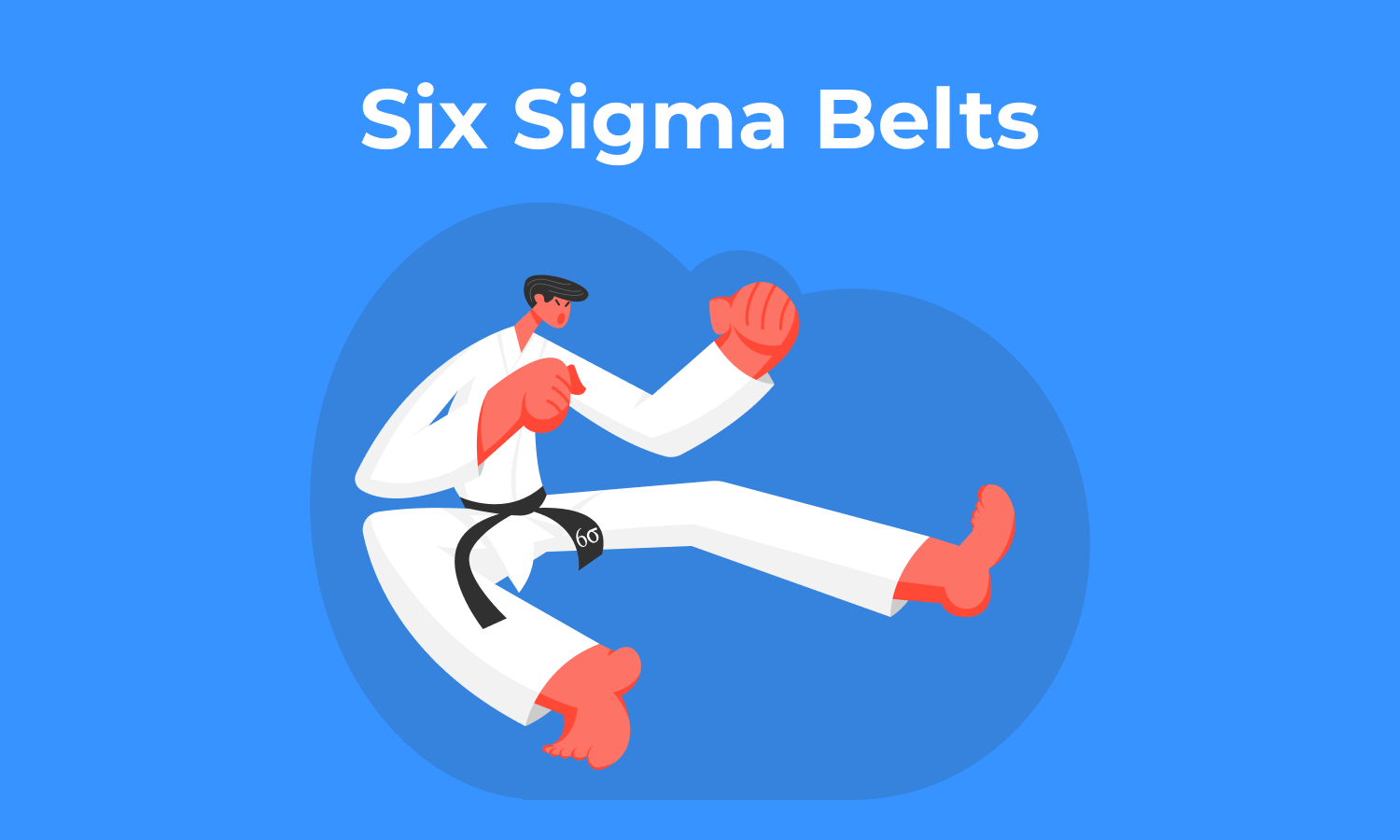 Any company continually strives to maximize resources to its extent and streamline its processes to improve efficiency and performance. 
Many organizations from various industries have accomplished this through the Six Sigma method that was designed to increase process efficiency through a disciplined, data-driven approach. 
Six Sigma provides qualitative tools to improve the capability of business processes. The key goal of Six Sigma is to streamline business processes by decreasing defects, variations, and wastes in a product or service, at the same time improving employee morale and quality of products.
You have probably heard about Six Sigma professionals who are entitled to specific color belts. How many belts are there in Six Sigma? What do the Six Sigma belts mean? What is the first belt in this system? Well, it seems that there are so many questions. Let's figure them out right here in our post!
White, yellow, green, black belts… what does it mean? These are common notations among the professionals who get different levels in the Six Sigma certification. 
What are the roots of the concept?
The genesis for the Six Sigma Belts notations comes from Japanese martial art, known as Karate. This technique has specific levels of practitioners that are evaluated according to their skills & expertise. In Japan, they are distinguished by specific colored belts.
This concept was adopted in Six Sigma. Each role varies from Yellow Belt to the Master Black belt. This reference to colors is a simple and effective way to quickly understand the skill set and experience level of specialists. 
In order to understand how employees' skills can be applied in a Six Sigma project, it is worth understanding what each belt means.
What Are the Six Sigma Belts?
The method of Six Sigma provides the use of a colored belt tier system for its certification. If you strive to get Six Sigma Certification, you must follow a hierarchical process.
You can achieve particular certification levels, getting the following Six Sigma Belts:
White Belt

. It demonstrates an introductory level of knowledge to Six Sigma.

Yellow Belt

. This certification proves that you have learned the Six Sigma specifics before and know how the disciplines are applied to the workplace.

Green Belt

. The belt focuses on advanced analysis and resolution of problems related to quality improvement projects. It allows leading and managing projects.

Black Belt

. This certification indicates your expert level in Six Sigma philosophy. Having the Black Belt, you may directly influence organizational changes. 

Master Black Belt

. This belt is the top of the Lean Six Sigma achievement structure. People who have this belt have extensive experience and can lead their fields.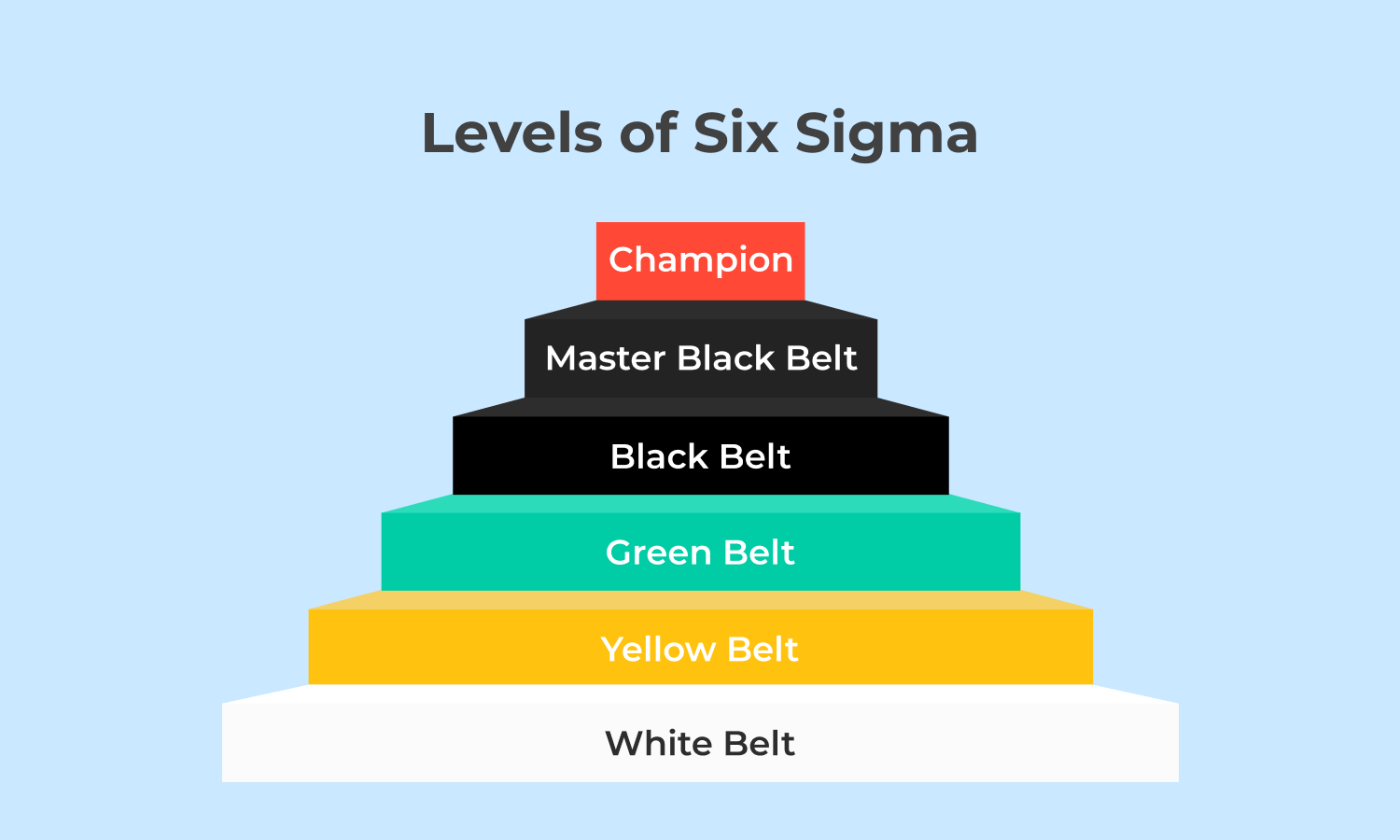 Now let's explore all the Lean Six Sigma Belts in more detail.
Six Sigma White Belt Role
The White Belt is a field of interest for Six Sigma beginners. Earning this certification level looks ideal for professionals that want to begin their Six Sigma journey and learn more about the methodology. The main goal of the White Belt Certification is to understand the fundamental concepts of Six Sigma.
White Belts can be achieved by front-line workers and corporate executives. This role provides professionals with a basic knowledge of Six Sigma and its vocabulary. The White Belt assists teams in problem-solving and helps to instill the Six Sigma culture into the workplace.
Six Sigma Yellow Belt Role
The Yellow Belt indicates the entry-level rank in the Lean Six Sigma hierarchy. Yellow belt specialists know 6 Sigma fundamentals but are not fully trained to lead projects. As team members, they attend meetings, initiate functional inputs, collect project data, and help in testing issues. They help bring projects into completion, solving possible problems.
The Yellow Belt Certification enables professionals to have basic knowledge of the Six Sigma principles, terminologies, processes, and tools. It allows them to understand the source tenets, learn relevant statistical concepts, apply graphical analysis, and process management, as well as gain a basic understanding of the DMAIC method.

Six Sigma Green Belt Role
The Six Sigma Green Belt is aimed to teach you to solve many process challenges through approximately 10 days of training. 
The role of Green Belt specialists is to implement Lean Six Sigma projects within their department and as part of their job. They strive to improve processes they are a part of on a part-time basis. They lead their team members through the project framework and toolset, decrease defects in the process, and try to evaluate solutions. They usually get the support of Black Belts to whom they are assigned for coaching and mentoring.
They say Green Belts are the real workhorses of a business. The average salary for certified Green Belt specialists starts at $75K. Having a Green Belt certification in your CV will definitely move you up the corporate ladder and will increase your marketability.
Six Sigma Black Belt Role
The Black Belt understands the Six Sigma philosophy and its principles. This person is a team leader who understands all aspects of the DMAIC model. He/she has a deep understanding of team dynamics and handles assigning roles and responsibilities to team members. His/her typical team members are Green Belts. 
The key goal of Black Belts is to improve overall quality and profitability. They lead cross-functional projects, act as mentors or coaches to Green Belts and Yellow Belts roles. They initiate and run meetings with different stakeholders and perform statistical analysis.
Depending on its size, a company may have multiple Black Belts in its roster. The average salary for a Black Belt is about $88K per year. People who have the Six Sigma Black Belt often work as a Project Manager, Vice President of Operations, or Manager of Manufacturing.
The Role of Master Black Belt
Six Sigma Master Black Belts are the elite practitioners of the Lean Six Sigma framework. Normally, an organization has only one individual with the Master Black Belt to manage its Lean Six Sigma initiatives and coordinate with C-level advocates. 
Master Black Belts don't manage projects, they spearhead the organization-wide initiative for Lean Six Sigma-driven transformation. They cooperate with work with top management to create long-term improvement strategies. They assign specific Six Sigma projects and deliverables to Black Belts and Green Belts. 
Master Black Belts oversee a portfolio of projects and train Black Belts and Green Belts. They are elite change agents, who have a high degree of business acumen and a mindset for innovation.
The Lean Six Sigma Master Black Belt Certification will enable you to get mastery of every Six Sigma method aspect, learn and apply the techniques and Six Sigma tools for successfully completing new initiatives as well as develop innovative thinking to ideate new Lean Six Sigma programs.
Conclusion
To sum everything up, let's admit the fact that Six Sigma levels are gaining popularity in different industries, be it manufacturing, construction project management, or IT service. 
Considering the competition among businesses and career professionals, a culture of continuous improvement has become a baseline for success, and Six Sigma is a good framework to adopt it. All the belts are important for any organization to have breakthrough improvements and cost reduction. 
We hope that this post has helped you to understand the role of Six Sigma Belts, along with their benefits and expectations. So, go ahead and select the best certification right for you.