Agile vs Waterfall: the Difference Between Methodologies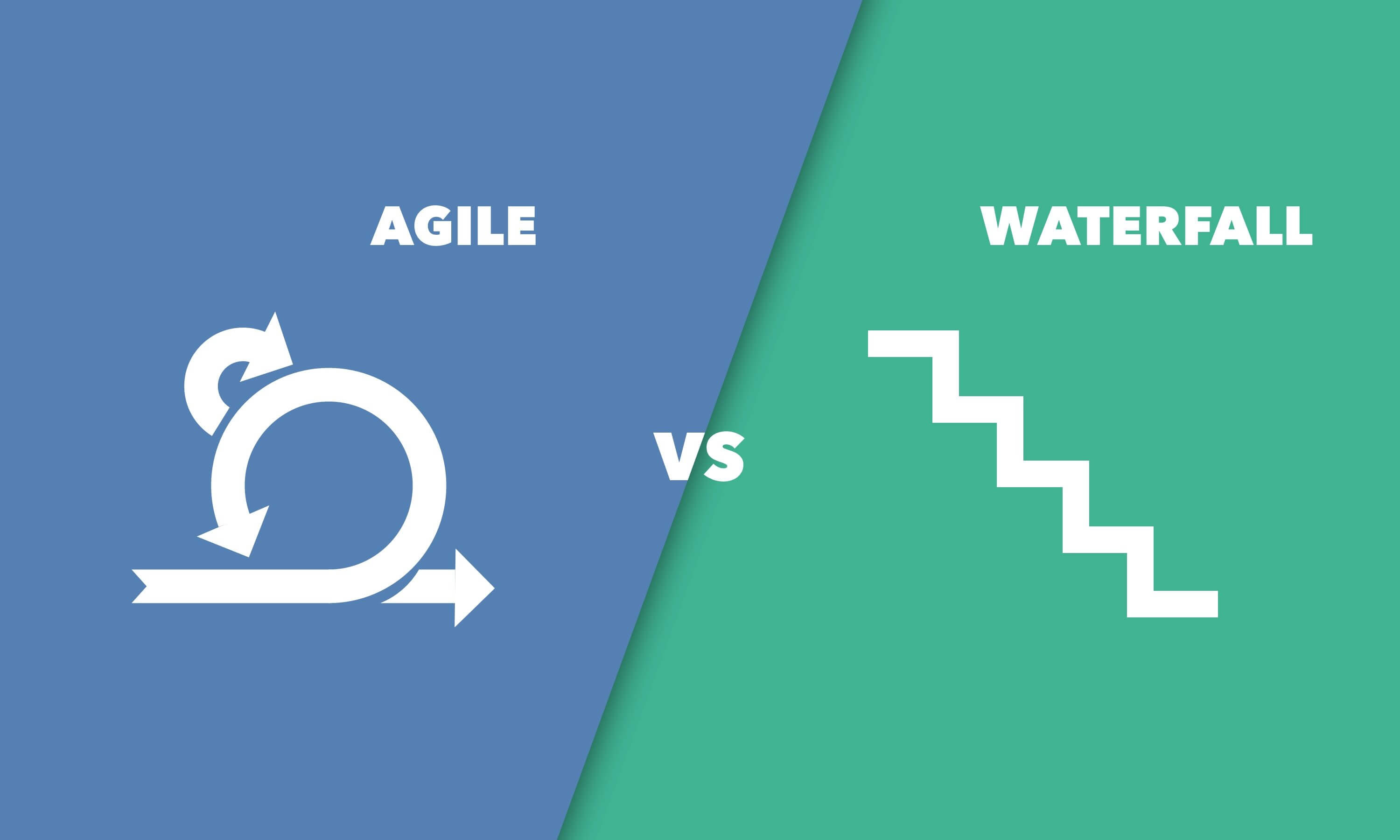 One of the most challenging and eternal questions in project management is "What way of organizing the work of software development to choose?" This is about development methodologies.
This topic gets a lot of discussions and hot debates as every software development project starts with the selection of implementation methods. 
There are two basic and most popular methods of managing projects in the modern software development industry:
Waterfall

is the first of them. It can be also called the traditional method of software development. 

Agile

is the second one. This specific type of Rapid Application Development is newer than Waterfall (it originated in the 2000s) and it is typically implemented with

Scrum or Kanban

.
What is the difference between Waterfall and Agile?
Both of these are usable and mature. The selection of a certain methodology depends on the particular project and the company that performs it. 
In this article, we define the main advantages and disadvantages of each approach to software development.
If you have no time for details, here's a brief Agile vs Waterfall comparison table: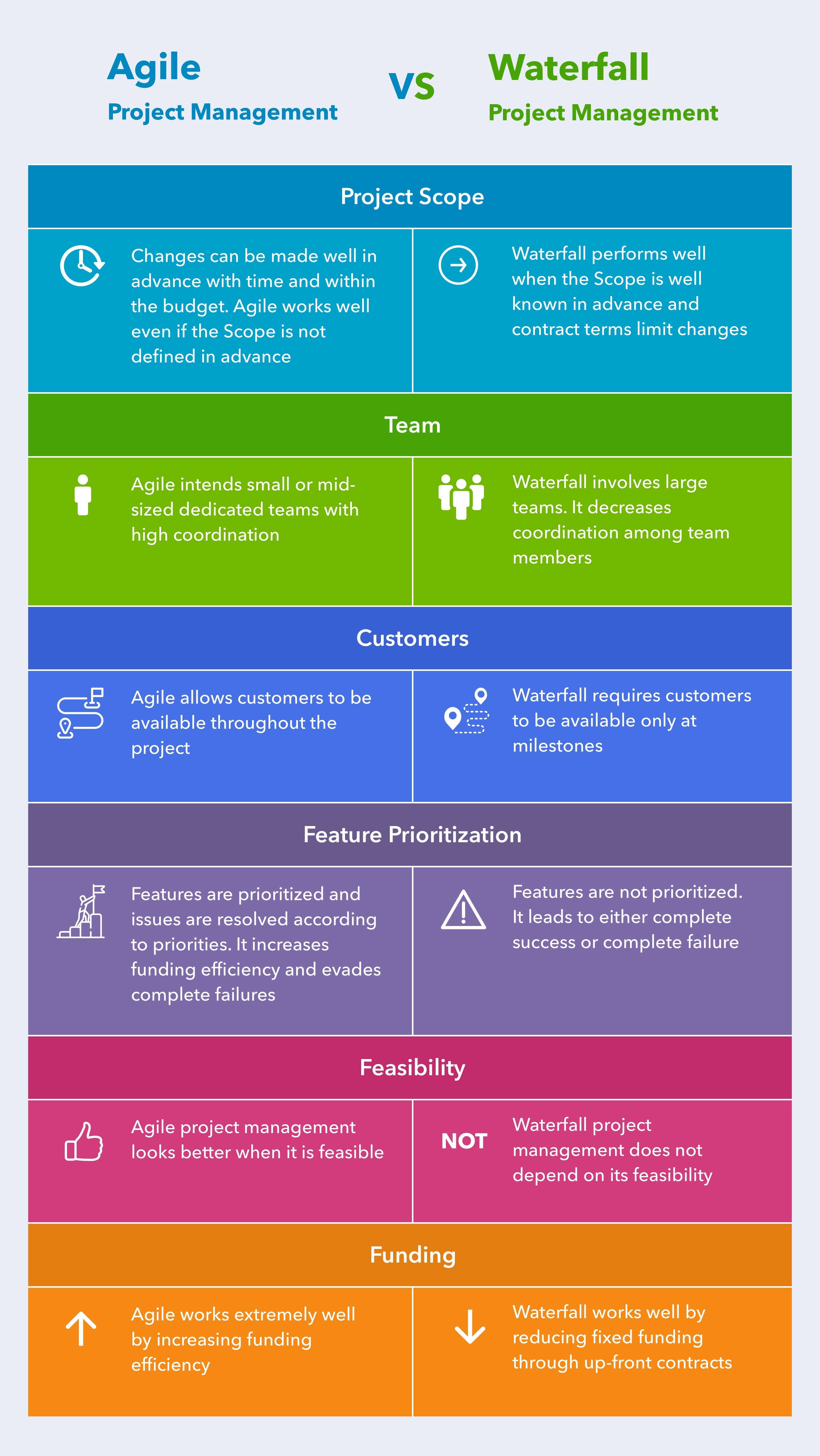 If you want to get some details, here they are:
Introducing the Waterfall Methodology
Waterfall means a linear approach to development. The traditional method is based on strict planning and performing the plan step by step. It is usually used by companies with a hierarchical structure. 
The sequence of events according to this method looks that:
Gathering and documenting requirements. During the next stages of work, all the actions will be conducted based on this documentation. The customer is involved in the project performance only at the first and the last stage.

Design. At this stage, the developers try to find a suitable form to meet all the customer's requirements.

Code and unit test. The main task of this stage is to test codes and unites.

After that, the system and user acceptance are tested.

Fixing issues.

Delivering the finished product to the customer.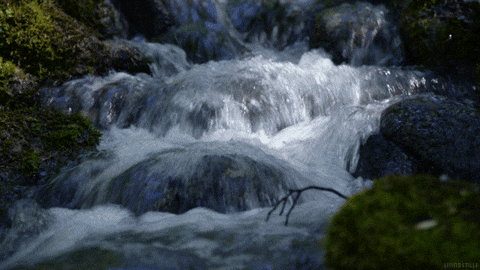 Waterfall disadvantages
As you can guess, such an approach has lots of disadvantages. After the project is finished, the customer can be disappointed with its results, because all the work on a project was based on the initial documentation and the result may not meet the customer's expectations. The fixing of failures at this stage of work will require lots of extra costs.
However, the Waterfall method has also some advantages. While using this approach to software development the work can be conducted more carefully and completely.
Waterfall model advantages
The ease of managing. Because of its nature, each Waterfall's phase has specific deliverables and a review process.

Faster project delivery.

The method works well for smaller size projects (with easily understandable requirements).

The well-documented processes and results.

Rather beneficial to manage dependencies.

Easily adaptable for shifting teams.
Introducing the Agile Methodology
The Agile model provides continuous iteration of development and testing in the software development process. 
In this methodology, development and testing activities are concurrent (unlike in Waterfall). Agile transformation allows more communication between developers, managers, testers, and customers.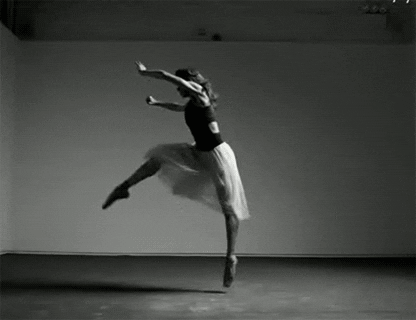 Agile disadvantages
Agile is not useful for small development projects.

Agile meetings require the presence of an expert to take important decisions.

Agile projects can easily go off track if project managers are not sure what outcome they want.

The cost of implementing Agile is little more compared to other methodologies.
However, it is fair to say that Agile has many more benefits.
Agile method advantages
The methodology is focused on the client process. It makes sure that the client is continuously involved in every stage.

It guarantees that the quality of the development is clearly maintained.

The Agile offshore development process is completely based on incremental progress. 

Agile teams are extremely and self-organized and motivated. This provides better results for development projects.

The clients know exactly what is complete and what is not that decreases risks in the development process.
The main difference between Agile and Waterfall methodology is that the Agile approach to software development has no strict structure. 
The way of document management is one more distinction between Agile and Waterfall methodology. Usually, Agile teams do not have any documents at all. There is no need for documents because the customer can see the progress of work at any time he wants.
The different way of teamwork is what we see first when we compare and contrast Agile and Waterfall. There is no strict structure in the Agile teams. All their members are interchangeable, so the work goes faster. There is also no need for project managers because the projects are managed by the whole team.
Here's the head to head comparison between Waterfall vs Agile project management.
If we try to define the main factors at the Agile vs Waterfall distinction, we will see that the Agile approach is aimed at faster implementation of any project. The work of Agile teams is subdivided into 2 – 4 week-long sprints and the customer can see its intermediate result at the end of any of them.
Generally, the Agile approach to software development is more flexible and in most cases, it meets the requirements of the customers and final users better. That is why it is more useful for most projects.
Moreover, today more and more professional project management software are adapted specifically for working with the Agile methodology. 
Project Management software for Waterfall and Agile
Today many modern PM solutions propose powerful functionality to manage both Waterfall and Agile projects. Hygger.io is a wonderful example.
With roadmaps based on Gantt charts, templates, task lists, reporting tools and more, it seems like a great solution for Waterfall management. Hygger allows to assign tasks to team members and create dependencies between tasks.
Agile admirers enjoy convenient Kanban/ Scrum boards with Swimlanes and WIP limits, subtasks, prioritization and scoring frameworks, etc.

Conclusion
Agile and Waterfall software development methodologies are rather different and good in their respective way.
To summarize this post, let's define core differences and highlight them here:
Waterfall suits projects with well-defined requirements where no changes are expected. Agile looks best where there is a higher chance of frequent requirement changes.

Waterfall is easy to manage and a sequential approach. Agile is very flexible and allows to make changes in any phase.

In Agile, project requirements can change frequently. In Waterfall, it is defined only once by the business analyst.

In an Agile project's description, details can be altered anytime, that is not possible in Waterfall.
What software development methodology do you prefer? Which method do you prefer in the battle Agile vs Waterfall? Feel free to share your experience below.