What is the Concept of an Agile Product Roadmap?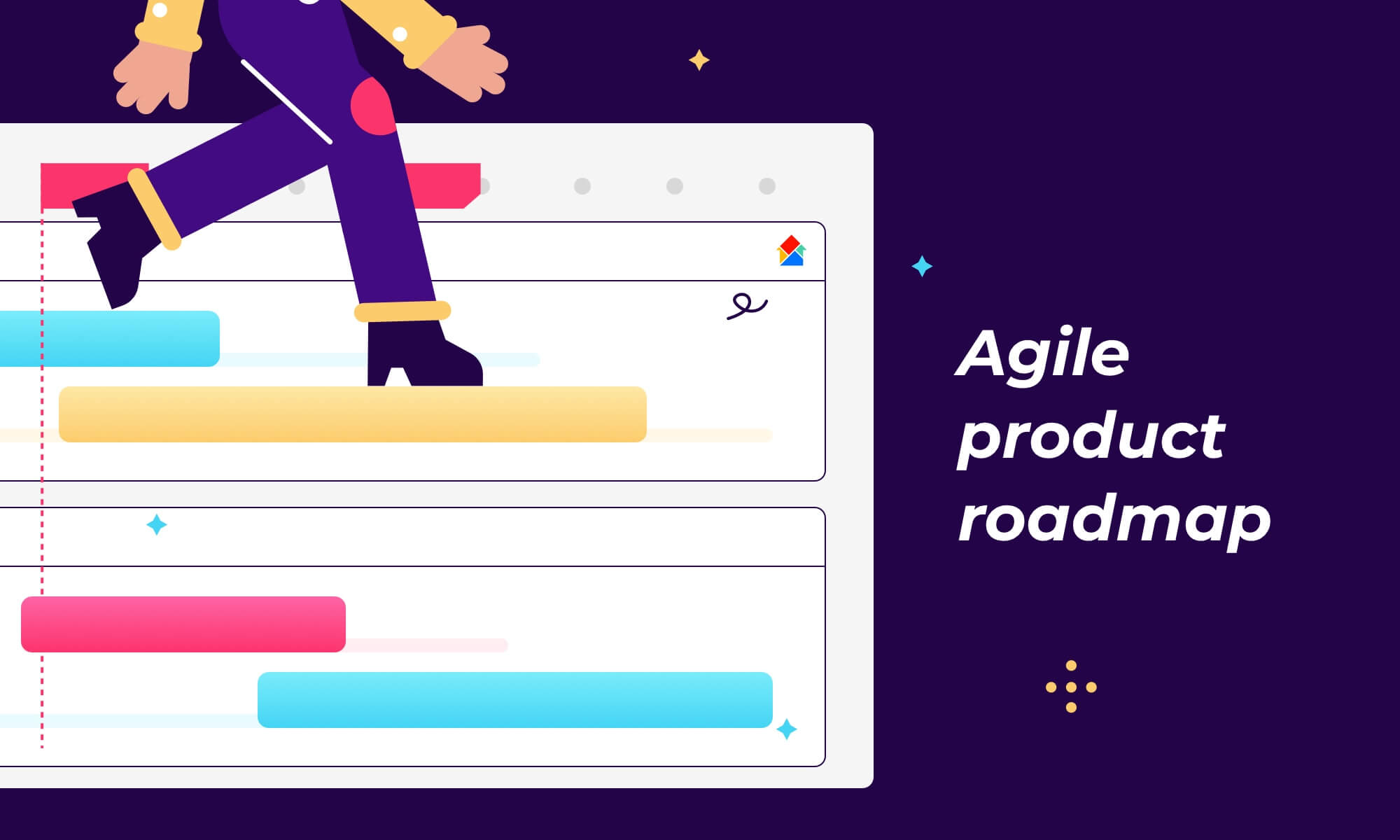 Agile teaches to be more efficient and deliver what customers really want. That is why the iterative, incremental methodology appeals to the companies that stream to deliver value to customers quickly.
Agile transformation as a process includes a variety of simple and complex concepts and artifacts. If you want to be able to explain Agile in simple words, then you definitely need to know about the role and destination of Agile product roadmaps.
Agile-focused teams want to gain valuable customer feedback with every single iteration. They integrate such feedback into the roadmap that allows them to build and deliver better products. In this post, we are going to define how product managers build product roadmaps to support development.
What is an Agile product roadmap?
A roadmap or timeline is your high-level plan that is aimed to describe how your product is likely to grow up. This visual "waymark" lets you express where you want to take the product and why it is worth to invest in it.
The agile project management world changes frequently and the role of the product roadmap for teams is also undergoing changes.
Product roadmap vs product backlog
There is a difference between a product roadmap and a backlog. The first defines a strategic view of where the product is headed in its mid to long term, while the second determines the features and initiatives for the near term. 
In Agile-focused companies, the product roadmap provides guidance rather than a strict project plan.
The Kanban or Scrum product roadmap communicates the big picture to the company – the initiatives that expand markets, address competition and create customer value. And this big-picture thinking can not be distilled in the backlog. It is rather difficult to communicate strategy in a list with hundreds of items.
Any Agile product roadmap example demonstrates that it speaks in terms of epics and themes, while the product backlog is the detailed features and tasks that deliver the product.
Who owns the product roadmap?
The product timeline should be managed by the individual responsible for the product success as it captures decisions about the product's futures.
According to the Agile philosophy, this person is a Product Owner. Team members from different departments and stakeholders may also contribute.
Managing the product roadmap and the backlog by one specific person ensures uniting strategic and tactical product planning aspects and improves responsibility and clear authority.
Agile roadmap benefits
A product roadmap in the Agile environment has the following advantages:
It communicates how you see the product developing over the coming months and provides a continuity of goals.

ensures collaboration with stakeholders, helping to understand how individuals can contribute to make a successful product.

helps to

prioritize professionally

.

helps to focus the backlog on the next major release.

makes it easier to coordinate related products, supporting

portfolio management

.

assist in budget acquiring, as you can easily state the product benefits.
Consistent steps for creating an Agile roadmap
Here are the key steps:
Identify your strategy and strategic themes
The very beginning of any roadmap is defining a product strategy. The strategy involves the product's vision and goals. A vision formulates the problem you want to solve and strategic goals articulate what you want the product to achieve in the next defined period.  
The next initiative should involve identifying strategic themes. Initiatives determine the strategic themes for the work that will assist you in achieving the goals. All the initiatives are broken down into features and user stories. 
Identifying initiatives means the high-level work that is necessary to achieve the goals.
Ensure cross-functional work
Working on the Kanban or Scrum product roadmap requires constant collaboration between business and developers, between the company and customers. Building the roadmap also requires the efforts of all departments: marketing, testing, design, and sales.
There is a point of view that defines the need for working with non-agile groups as well, such as the legal team and budget offices.
Connect user stories with strategic themes
With the help of the vision, goals, and initiatives a product manager may decompose large themes of work into features. Developers break down features into technical requirements. They can estimate the scope and help organize them into sprints.
In the result, the manager gets the backlog of features and user stories with a connection to product strategy.
Release new customer experiences
The Agile release delivers an increment of product value to customers. This differs from a sprint or iteration as it delivers a new customer experience, not just shipping code and includes cross-functional work.
Releases also reflect essential milestones (market launch or architecture upgrades) and share visibility into dependencies across the work and teams. These releases communicate approximately what customers should expect to see and when.
Manage customers ideas
Customer satisfaction is one of the key Agile principles. In order to understand whether clients are happy requires you need to collect their feedback. You may perform interviews, ideas portal submissions, usability testing, and usage data.
After that, these customers ideas need to be scored and prioritized for a future release backlog. Customer ideas, as well as the vision and goals, should drive prioritization of what to build next.
Measure results
Agile-oriented companies measure progress towards their strategic goals, review development metrics around predictability and velocity, and evaluate the business impact of new feature ideas. 
This approach allows you to review and adjust the roadmap on a quarterly or monthly basis.
Agile product roadmap example
You may apply different ways to structure your product roadmap. There are various great online tools that may assist. Here's how an Agile product roadmap may look like:
In Hygger: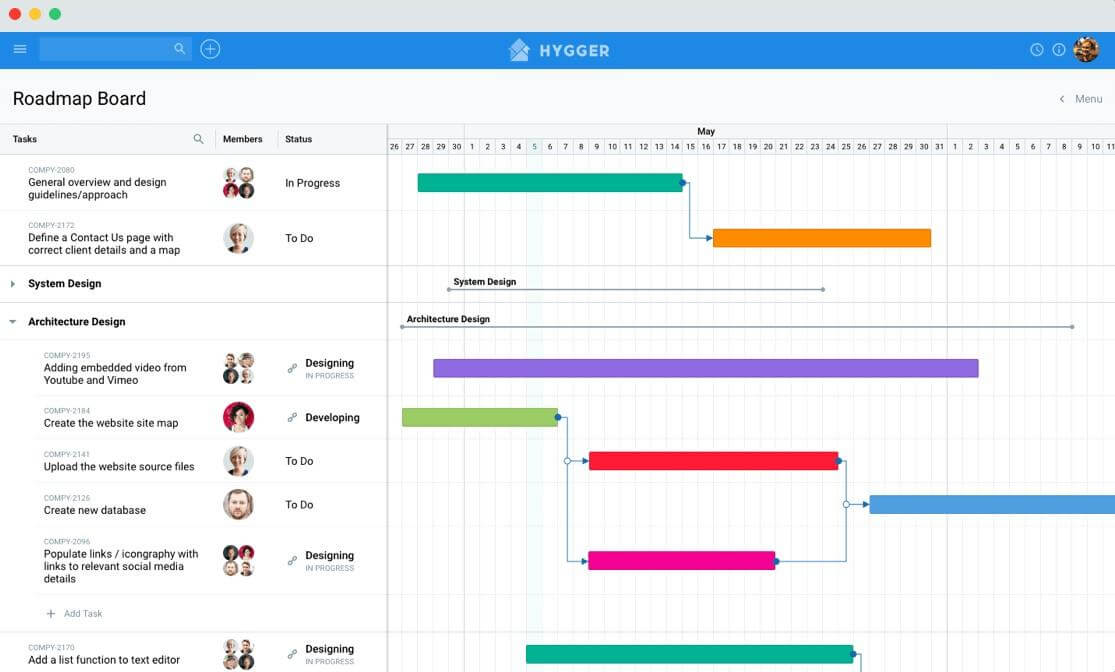 In Roadmunk: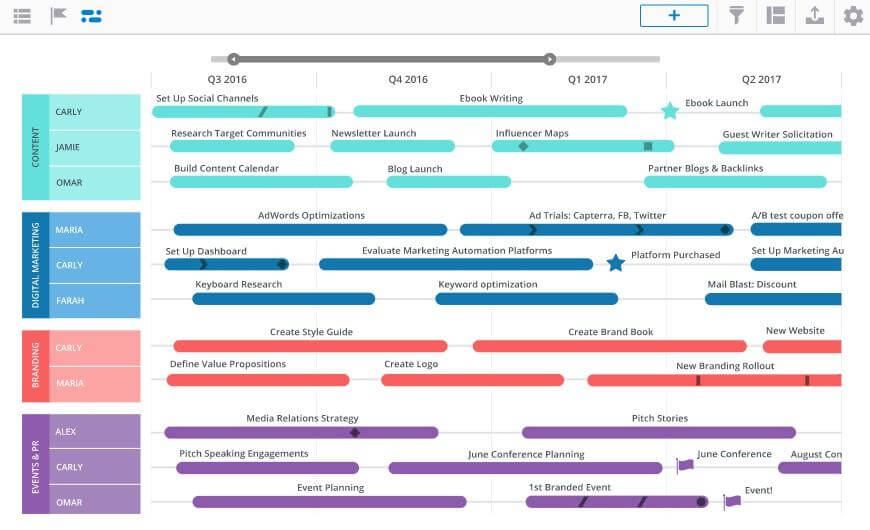 In Roadmap planner: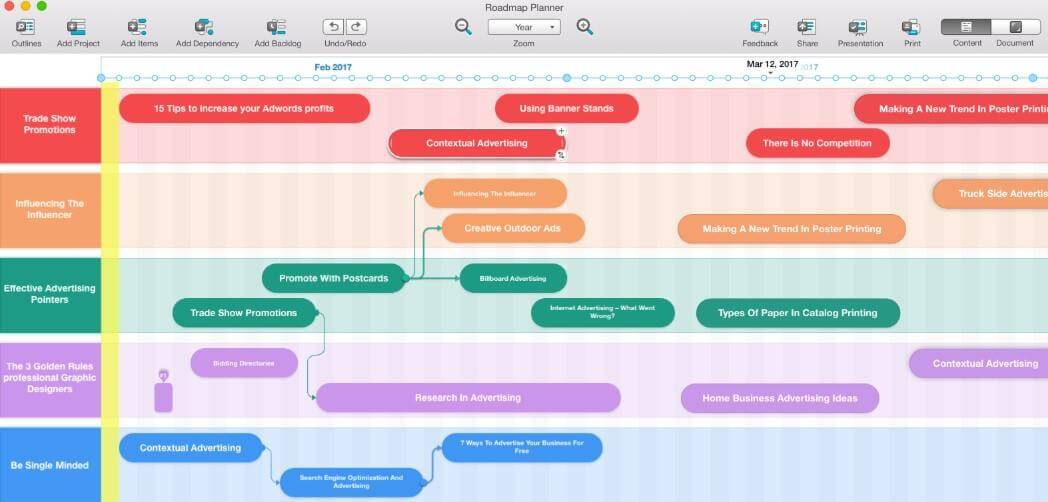 In Receptive: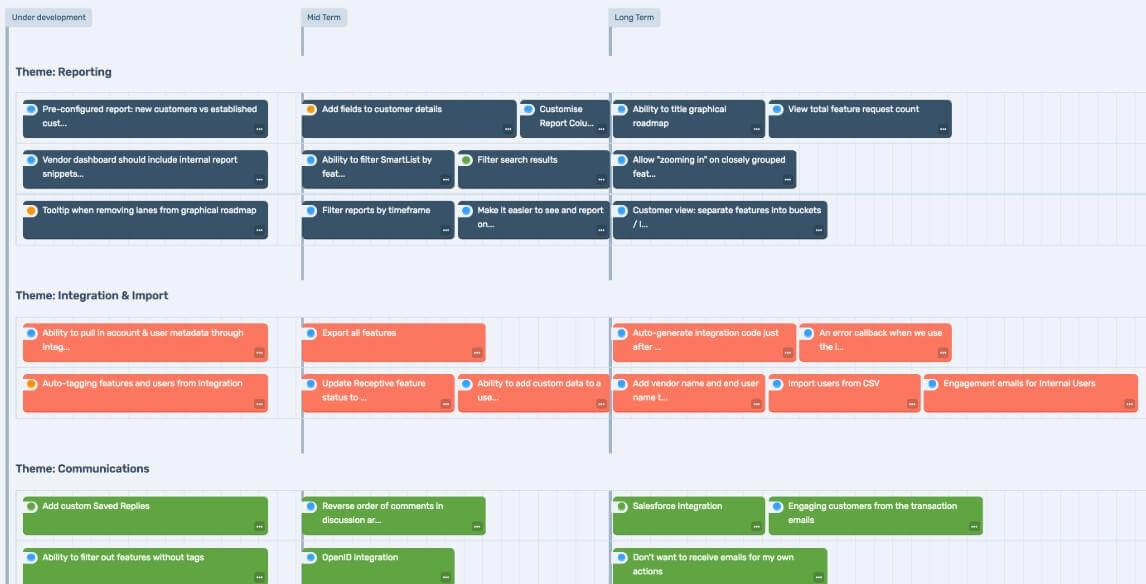 Final words
Agile product roadmaps make sense when they are really agile and thought of as a living document. The roadmap (like the backlog) should be regularly discussed, prioritized, estimated, and updated. 
For Product Owners, it is important to regularly communicate where the product is heading so that everyone is on the same page.
What does your product roadmap look like? If you have any feedback to share please do.