The Role of a Free Schedule Maker in Boosting Personal and Team Productivity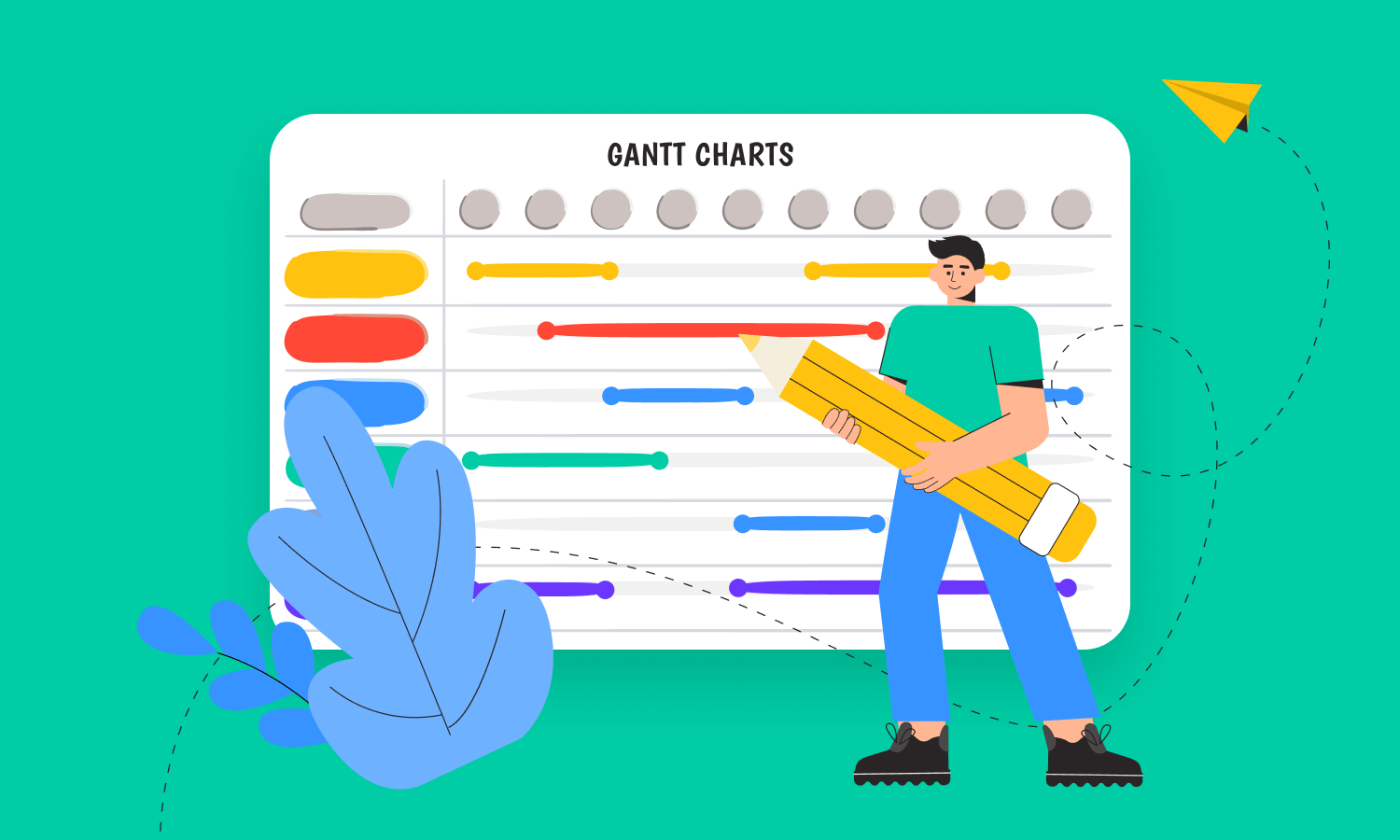 People often bristle at the idea of applying a schedule maker. They want to avoid plans and restrictions, preferring the freedom to tackle things as they come up.
This approach can be appropriate and justified during vacations or holidays. However, the business environment requires work to be done, people to be met, projects to be completed and customers to be satisfied.
We perform better under constraints, and daily (weekly or monthly) schedules give us frameworks to do our best. 
An unscheduled day is not about freedom. If you don't plan time in your day to do what really matters, your life quickly falls out of balance. Whether battling distractions in college or at work, people make time for the important things in life. When they don't plan what they will give their attention to, they risk having the time stolen by distractions.
A proper schedule creator and planner is what can teach us how to avoid being sidetracked. In this post, we describe the importance of free online schedule makers and list some of the best software solutions that help to generate and visualize better schedules for various purposes: from students' issues to global project strategies and planning. Let's study them and get more out of each day, every day!
The key is not to prioritize what's on your schedule, but to schedule your priorities.

Stephen Covey
What is a Schedule Maker?
A schedule maker is an online tool that assists you to create easy-to-follow and organized schedules in minutes. With its help, you are able to generate personal or work schedules, class schedules, as well as quickly coordinate your plans to fit your life.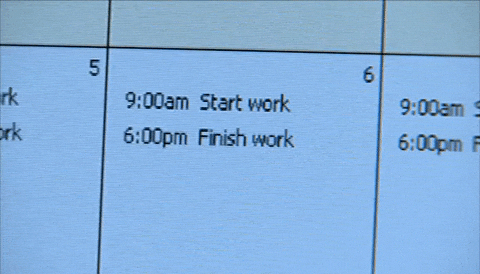 What are the Vivid Benefits of Scheduling?
It helps to prevent or relieve stress
Proper scheduling allows you to thoughtfully consider your day in regards to all your tasks and responsibilities that must get done. If you have an action plan, you can move forward. Your energy level, availability, and time should match with the tasks that need to be completed.
It lets you be ready for emergencies
To-do lists and daily schedules will help you identify potential pitfalls before they happen. With a good plan, you will be able to quickly prioritize items as they come along. You can define important and urgent issues and then see how those new items stack up against your current list. 
It allows for evaluating progress
Scheduling assists you to understand whether or not you are meeting your goals, and what you may need to change to make them happen.
It provides a sense of calm for your co-workers
If you have a job where you need to respond to customers, a schedule will help your team members plan and think ahead about their own activities. It provides a sense of comfort in knowing what's ahead.
Pen & paper approach
Of course, you may use any printed-paper template and use just a pen and paper to plan all your activities. This would be the easiest schedule to do ever.
Just draw a simple grid with the days across the top, and add space for names or tasks in the left-hand column, for example. Write your employees' names or list your tasks in that left-hand column. Block off time on the corresponding days for when a particular action needs to take place, and that's it.
The advantages

of such a scheduler: it is free, easy to use, as well as clear and simple to follow.

The possible disadvantages:

it can't be shared or edited and you can easily lose it.
A plan is "What", a schedule is "When". It takes both a plan and a schedule to get things done. 

Peter Turla
Schedule Maker Examples: From Students' Schedules to Complex Project Plans and Strategies
Schedule Makers for Education
If you attend a college or a university, a handy schedule-making app is what will help you in managing busy academic and social calendars. 
The schedule maker will help you to:  
Fill weekly course calendars.

Schedule study times to easier get into the "study mode."

Plan personal activities (such as coffee breaks, gym, shopping, etc.)
The following schedule maker is easy to use, inexpensive, and provides some free functionality: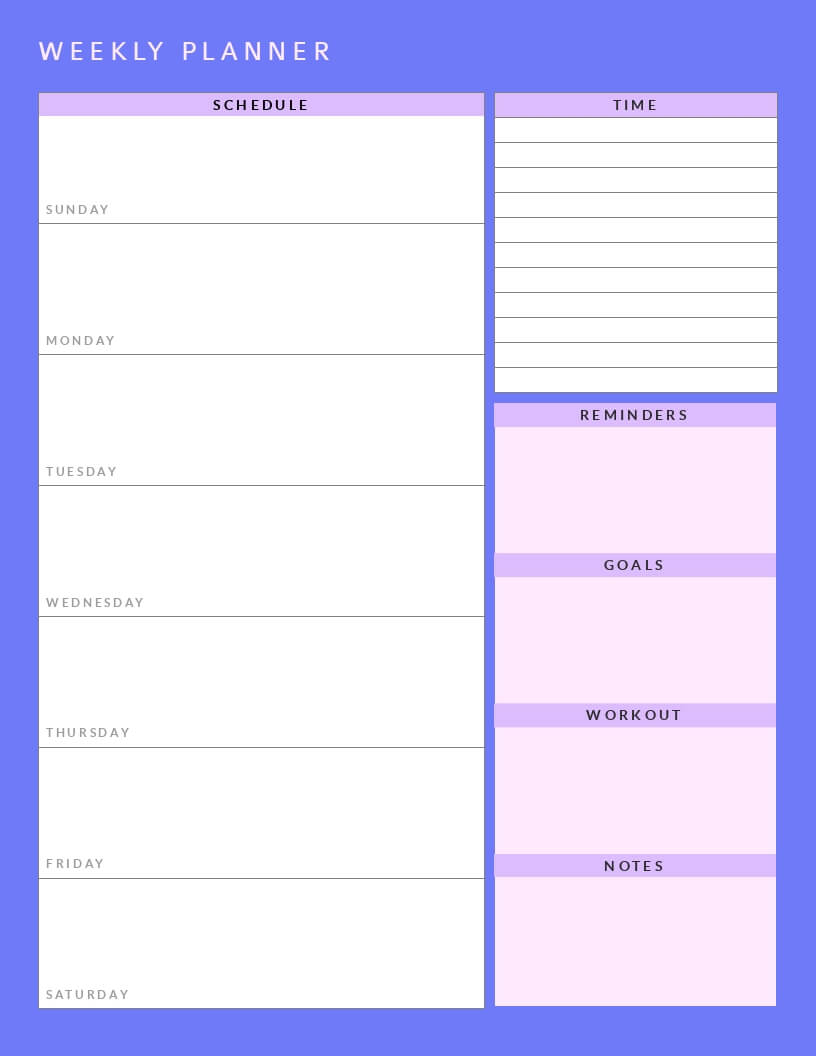 This tool is widely used by students and visual marketers, who use it to translate bland data into sophisticated presentations and infographics. It also contains a customizable schedule maker that produces simple and effective college schedules.
Visme allows for creating charts and reports. Its online schedule maker lets students easily build college schedules that outline their daily, weekly, and monthly activities. 
There are nice templates available, where you can create a color palette and add schedule details. The calendars in Visme are easy to save and share. You can print them out, email and share the URL with anyone you want.
Employee Schedule Makers
Managing employees may look more complicated and time-consuming than managing college issues schedules. Even after you create the schedule, employees can call in sick at the last minute forcing you to start calling around again.
An online schedule maker can automate numerous tasks, saving you money and time, and eliminating errors. There are several types of work schedules that define the days and hours that employees are scheduled to work. 
Here are the most popular of them: 
Full-time schedule

Part-time and flex schedule

Fixed hours schedule

Schedule with rotating shift hours

Freelance schedule

Seasonal schedule

On-call schedule

Overtime schedule

Unscheduled employment
Employee schedule makers should include tracking overtime worked by employees. It will help you to see where you can keep labor costs down by scheduling more people to avoid overtime hours.
The schedule solution below can generate different types of work schedules, from freelance to overtime.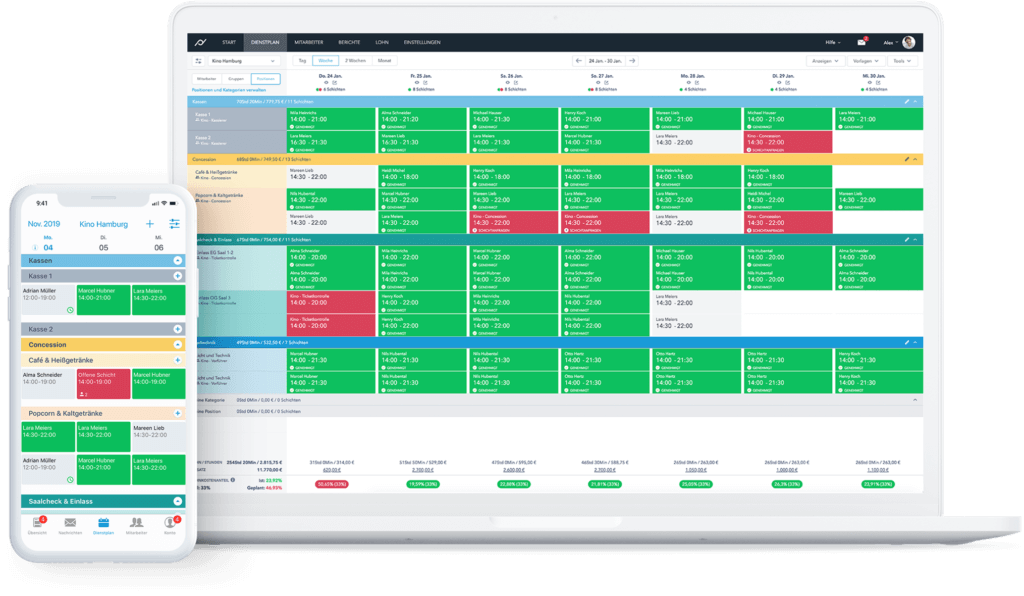 This cloud-based tool for employee scheduling is designed for small and medium-sized companies. If working weeks rarely vary, you can simply build a template based on an existing schedule and use the staff's self-reported availability to fill it.
Employees will provide you with their availability that will help you avoid scheduling conflicts. When they start their shift, they may use the Punch Clock feature. The location-specific clock-in parameters will help them to only use the punch clock when they're actually at work.
Another useful feature is the compliance warning system. It alerts you when shifts are too close together or a worker has been scheduled for too many hours.
Fitness/Gym Schedule Makers
Scheduling challenges also disturb the peace of fitness, gym, or yoga instructors.
They do not only manage group classes but also work with clients one on one.  Here's a list of benefits that quality schedule makers can provide them with:
Allowing customers to book classes online

Assisting in track attendance for upcoming classes

Indicating the availability for consultations

Sharing class dates on a public calendar

Limiting the number of class slots

Sending automatic reminders
This app is designed for various businesses that host sports tournaments, leagues, and community events.
The schedule maker will help you to generate an event schedule, register players, and more. It has powerful sports-specific functionality and it is beginner-friendly. 
Choose a sports activity and the number of participants, then create an elimination tournament or League Round Robin. When the schedule is ready, you can share it publicly.
Project/Task Management Schedule Makers
If a project manager can manage a project and plan global tasks without using a schedule, then he/she is an extraordinary genius. 
The truth is that nowadays a schedule maker is an indispensable tool for any kind of management. Everyone involved in business processes usually knows how to work with plans and schedules.
Schedules are broadly used to visualize information chronologically. Even project managers without experience use timelines with schedules for managing projects, making presentations, or presenting any kinds of plans.
Scheduling with Gantt charts functionality is one of the most popular ways to manage resources and project portfolio. Gantt charts look like horizontal bars that reflect project management timelines, task starting and ending dates, dependencies between tasks, and general project flow.  
The following tool provides handy timelines based on Gantt Charts that suit various businesses and professional spheres.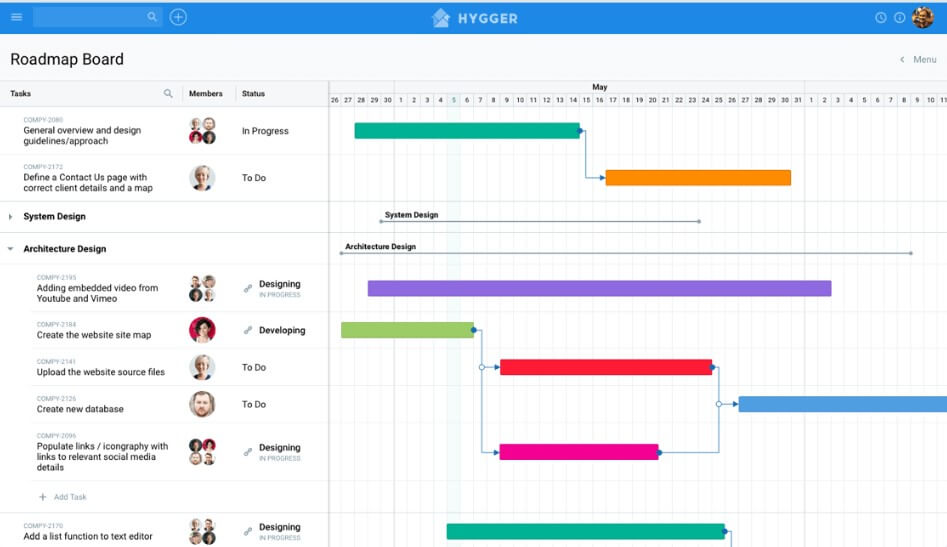 Choosing Hygger, you select the easier and more efficient way to build and manage project timelines and schedules.
Hygger functionality includes an advanced schedule maker that allows you to plan projects with pleasure, setting due dates, and dependencies, and applying changes with the drag and drop feature. One of the most interesting benefits of such a timeline is the ability to share it with all team members and stakeholders to get progress updates quickly and easily.
Hygger has all benefits to become your first assistant in planning and scheduling your goals, strategies, and releases. The platform proposes friendly templates, not only for a particular project but also for product timelines, product development, portfolio, marketing plan, product launch timelines, and many more.
Besides, Hygger is well known for its powerful online Kanban boards and high-quality prioritization frameworks.
Which type of free schedule maker fits you best?
Now you have to decide what is the best type of schedule that fits you most. This question is rather important before even deciding on the type of schedule generator.
The following questions will help you before making your final choice on a schedule creator:
Are you looking for an individual schedule?

Do you need to cooperate with a team?

How do you like to work?

Do you need to share your schedule?
There you have it! 
Hopefully, our list of the best free schedule makers will make the choice easier for you.