How to Turn Product Manager's Routine into Rock-n-Roll?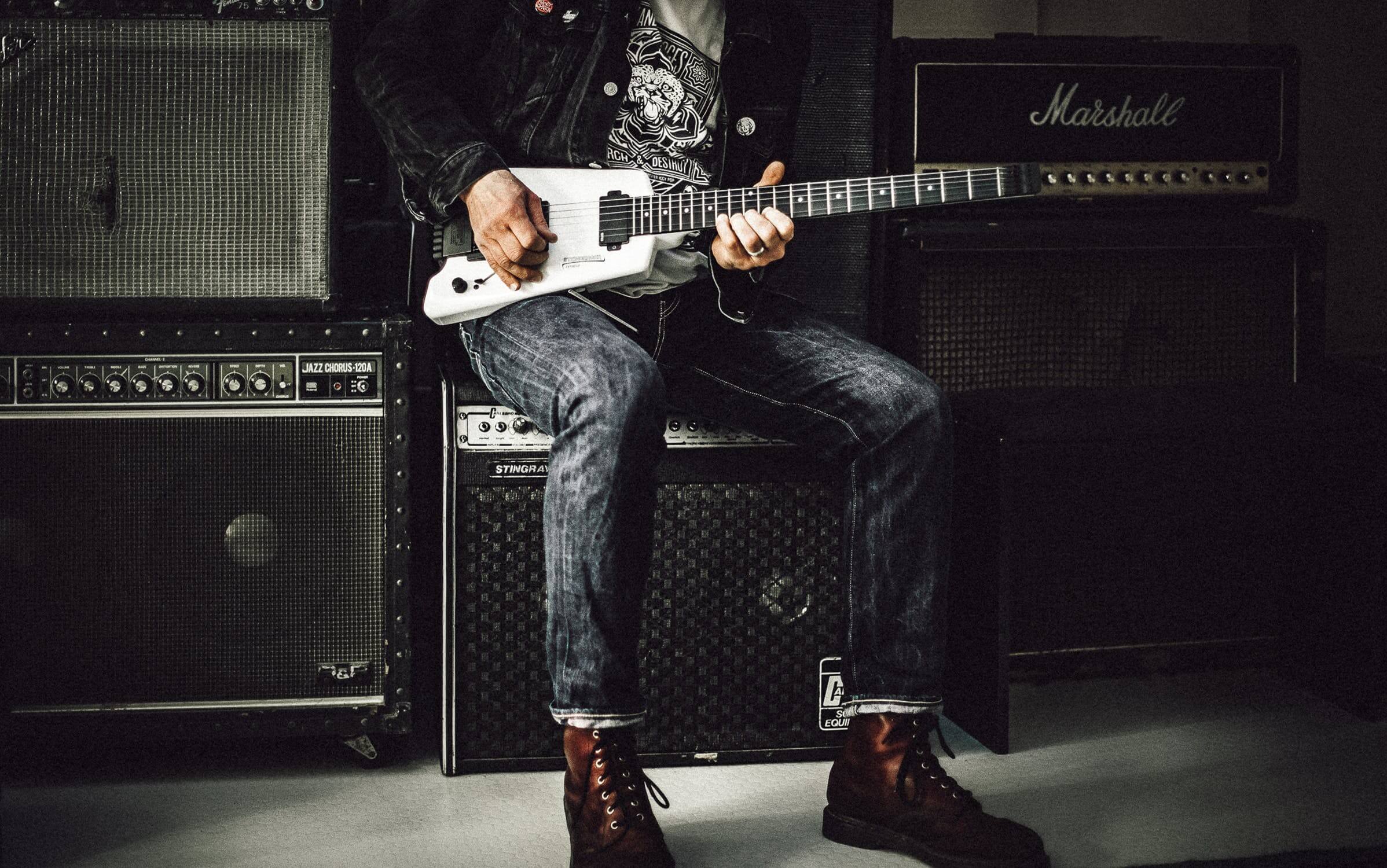 Even the most responsible team member periodically has "burnouts" at work. Product managers know that very often tasks and processes can quickly grow into the routine.
You know that sometimes a product can be developed not according to the plan and in a desirable way. Some tasks can take a long time without results and cause doubts. Then despondency appears.
In this article, I propose some tips on how to fight against a routine and learn how to turn the daily product worries into the passion.
7 tips for those who don't know how to enliven daily processes
Let's imagine a product manager in a software dev startup and a whole team that is involved in the processes. So, what should be the first steps of a product guy, if something went wrong?
Review priorities
It's unnecessary to remind about the importance of prioritizing tasks. Everyone knows that this simplifies processes and increases efficiency. However, sometimes it is worthwhile to think about the used method of prioritization and, perhaps, to learn something new. Maybe something you highlight as the first-priority thing is not worth a penny.
There are different prioritizing ways and techniques that help to understand the importance of your tasks and objectives.
Try to analyze your work with the help of Pareto law , which helps in identifying important and easily implemented tasks. According to the principle, 20% of efforts give 80% of the result, and the remaining 80% of the efforts is just 20% of the result. This law allows you to make decisions based on filtering tasks by different criteria.
You can also refer to "Cause-and-effect diagrams", they are also called "fishbone" or Ishikawa diagrams. The technology helps to identify the causes of problems and the most obvious relationships between tasks.
First, you need to write down the problems that you should avoid. Then you need to determine the reasons and group them according to special criteria and define the root of problems.
Having studied these and other prioritization techniques, you will be probably interested in discovering useful tools that were invented specifically to identify prioritization needs.
You can find a good example of such a priority visualization tool in a complete platform for product managers – Hygger.io. The Backlog Priority Chart helps in maintaining product backlog and reflects all of your ideas using convenient Value and Efforts measures and 4 quadrants:
Quick Wins – for ideas with high value and low Efforts. Such tasks are usually in top priority.
Big Bets – for ideas with high Value and Efforts. These are second-priority tasks, they will have to be done longer than Quick Wins, but the benefits from them will be great as well.
Maybes – for ideas with Low Value and Efforts. These tasks will not be of much use, so you can return to them as you accomplish more important ones.
Time Sinks – for ideas with low utility, but with high human-hours. Actually, it is better to forget about such problems.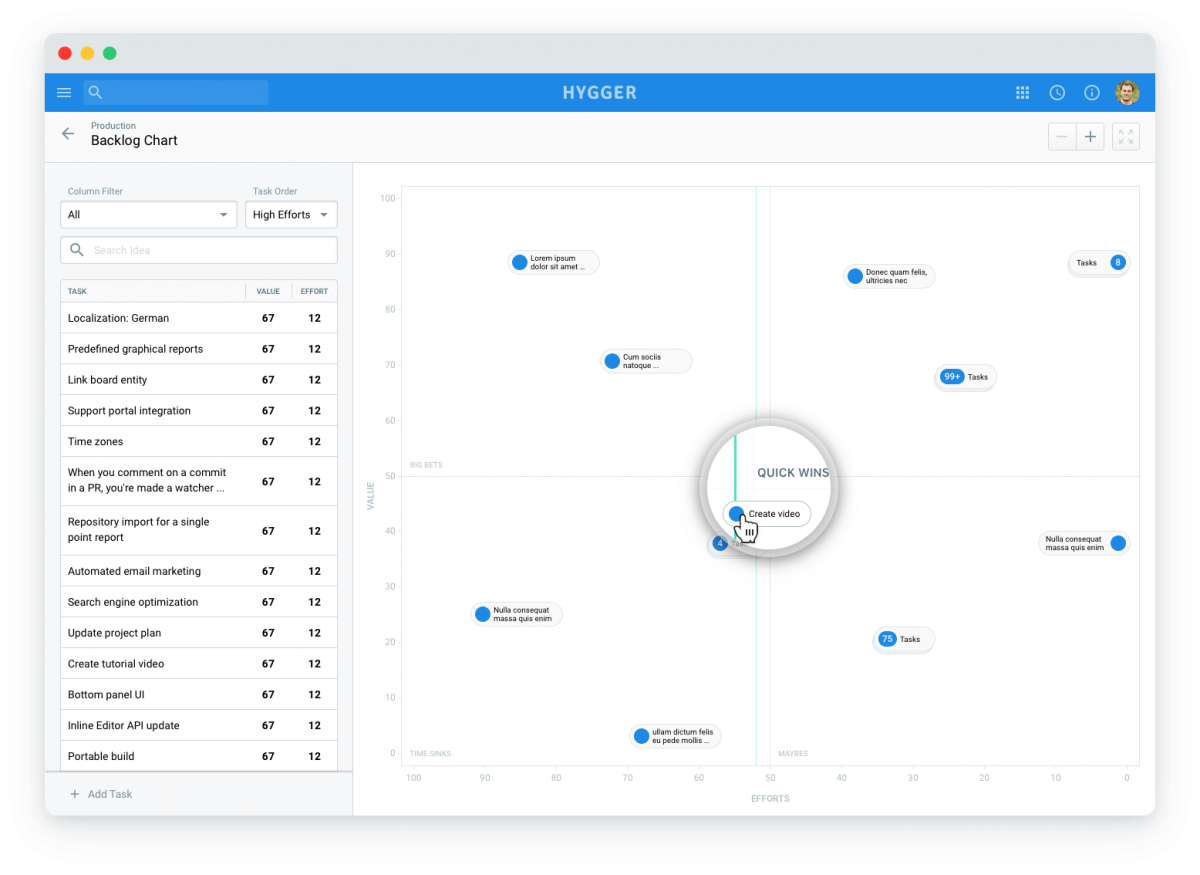 Often it happens that one tool can completely change the current issues. If this not happened – perhaps it's time to think globally – about changing the management methodology.
Learn a new methodology
To revise the method of project or product management is a task that many people find unrealistic. But sometimes you should take a chance and try something new. Try to discuss this with a project manager from your team and developers.
There is no ideal advice because each project is unique. There are methodologies that will suit all types of projects in different areas, and there are highly specialized ones. Logistics managers will like one; software developers' preferences can be completely different.
There are basic project management methodologies. If you have been working with one of them for a long time, try to learn something new. Suddenly this is what was missing.
There is no need to "discover continents", you can consider the 4 most popular methodologies:
Try new tools
Here's again about tools. Great management tools and services are invented in order to make the work of product managers, developers, designers and other professionals easier and more interesting. Maybe it's time to think about alternative options? After all, we often grab "whatever", just look at the experience of competitors or turn to the most cheese options, not knowing about how much useful is hidden in other resources.
Here are a few platforms that will help turn boring tasks into fascinating workflows:
Aha.io is a product that provides a management structure and product strategies, requirements management, release and ideas management. Users are provided with convenient roadmaps that successfully connect big strategies with the teamwork. You can find roadmaps for product managers, developers, marketers and manufacturers in the company's assortment.
Asana also offers visualization of product's processes with the help of smart Kanban boards. Here you can conveniently track the time and use the calendar of events. Thanks to its wide integration capabilities, the platform allows gathering emails, files, tickets, projects and much more in one place. Also, users note convenient reports and a system for tracking the progress of tasks.
Hygger.io is the only management tool both for product and development teams. This is the universal service that offers a convenient planning system, prioritization of ideas and features, powerful roadmaps for product managers and a full-fledged Scrum and Kanban for developers. Also, you can find convenient time tracking, work in progress limits, swimlanes, burndown charts and many other useful features in Hygger. All this makes it more functional and useful than Jira or Trello. Hygger can be used by all team members: from developers to hr-managers.

Revise your meetings
From the concept to the frequency. Of course, no one chat or a call will replace a live discussion within a team.
Remember that any meeting with your team should comply with important principles:
The principle of synergy, which in simple words can be described as follows: one head is good, but two is better. Meetings importance is obvious, as group thinking gives more effect, participants complement each other and new ideas are born during the discussion.
The principle of cohesion. Any meeting is an excellent tool for team building.
The principle of transparency. This is about the fact that a joint meeting for many is a chance to learn about the global strategy, plans and course of the company, to understand values and immediate prospects. The principle of transparency helps to avoid suspense.
Think about the specific days and hours of meetings. Maybe it should be organized more often or vice versa. Get feedback from colleagues.
Change timing
No one wants to delay deadlines or reduce workflow. Having worked out the issues of prioritization, you will be able to understand what options can be used solving certain tasks, to reduce or increase meetings, and so on. Time is one of the most important resources and you need to learn how to manage it correctly.
Add more informal communication
Perhaps your even the most boring task will get a new breath on the next Monday if on Friday you assemble colleagues on a small team building in a new bar.
It's better to make such a proposal in the middle of the week so that everyone can plan their time (this is also about time distribution).
A good team building is a good reason to have fun in an informal atmosphere to identify possible causes of inhibition of work processes.

Find a good book
If all of the above mentioned does not help to enliven your workflow – you should find some experts ideas. A good book will be helpful. Here are some examples of literature that will be useful:
Timothy Ferris "How to work for 4 hours a week and do not hang around in the office" from call to ring, live anywhere and grow rich"
This book has recently turned 10 years old, but it is still relevance. Every manager will find something important for himself there.Timothy Ferris insists: it is better to offer solutions than to ask someone else's opinion.
Rory Waden  and "Procrastinate on Purpose: 5 Permissions to Multiply Your Time"
The author suggests not to treat time as a limited resource but to use unique techniques that will increase time intervals.
David Allen and "How to put things in order. The art of productivity without stress"
It's hardly possible to live a working day without stress, but the author of this book, the recognized classic of business literature, is really credible. The book teaches you to deal with routine tasks, put things in order and find "fresh breath".
Steven Pressfield and "Do The Work"
An excellent book for weekends for product managers and everyone who has tried on the role of a manager. The author teaches you to prioritize correctly.
Michael Flocker and "The Hedonism Handbook: Mastering The Lost Arts Of Leisure"
This book is not relevant to the themes of productivity or working processes' improvement. It teaches you to stop at a time when it's hard to revise your life. This is a satirical book that will help to overcome routine in work and life.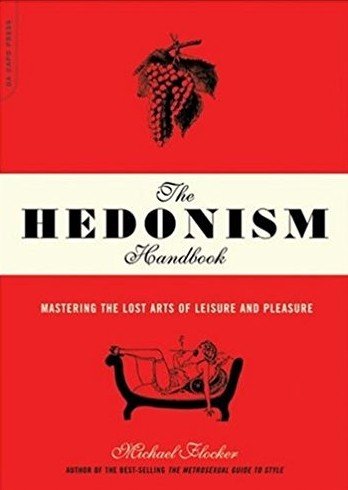 I hope that these tips will be helpful to achieve the rock'n'roll level of your work, avoid routine and discover something new in working processes and in the world around you.
How do you cope with the routine and optimize your work? What useful methodologies and tools do you use? Feel free to comment!