What is a Kanban Board? 8 Kanban Board Examples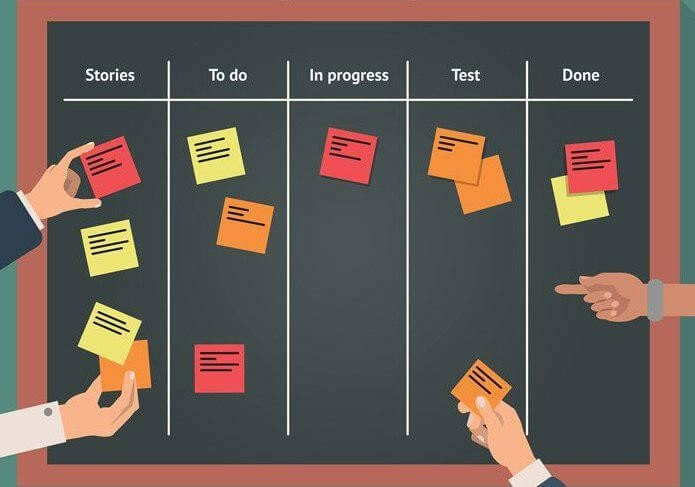 The key to a successful Kanban workflow is a constant improvement. You can make your process better by visualizing the work steps to help you action the visible bottlenecks.
The best way to visualize tasks organization and oversee a project's development faster is to apply a convenient Kanban board.
This well-known in project management structure allows managers and teams to create and track tasks (placed on Kanban cards) moving them from one column to another with a drag-and-drop action until they are completed.
Kanban boards are also known as progress boards. They look great for any task from personal needs to work-related, regardless of industry.
Typical Kanban board's structure
Here's how you can organize your tasks on a basic Kanban board in Hygger: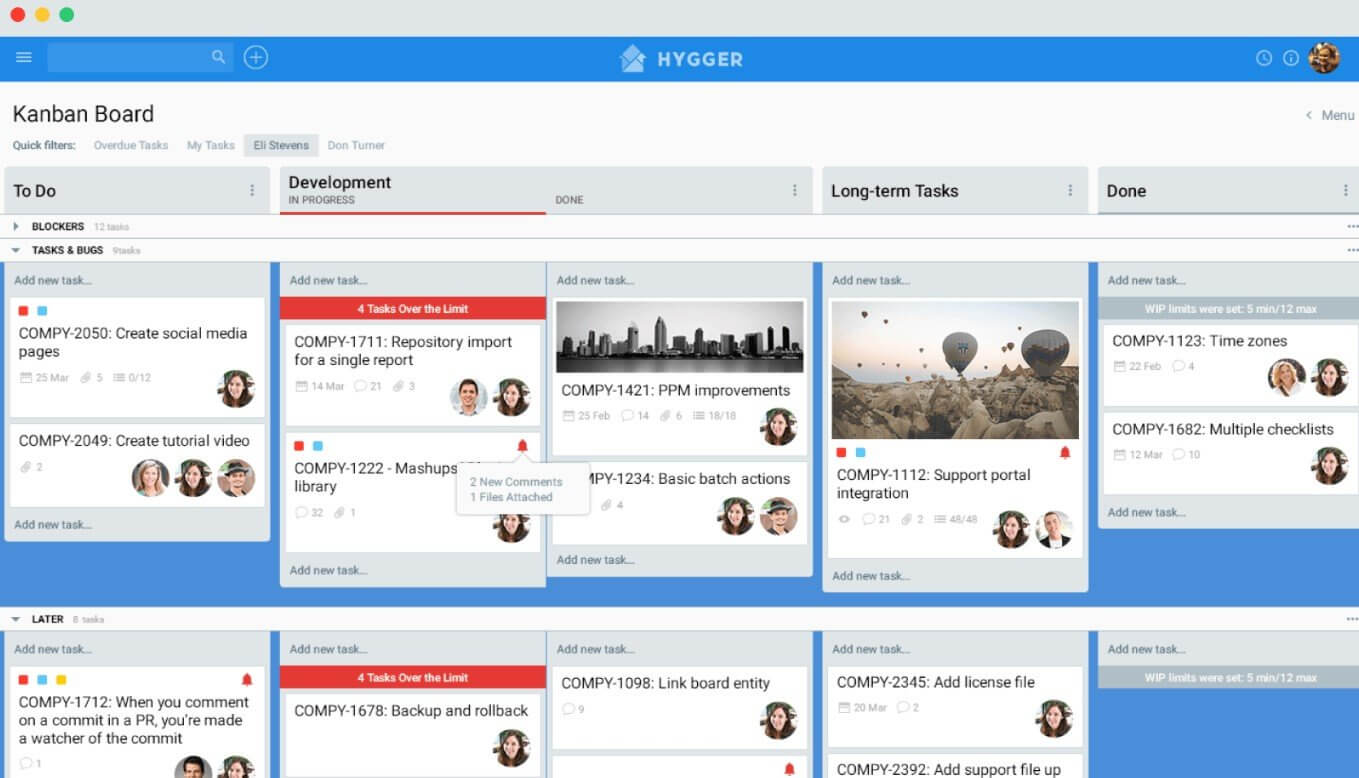 Every task should have at least one person assigned to it and might come with attached files, images or comments. Setting deadlines is also possible.
A basic Kanban board structure consists of the main board itself, columns that belong to the same progress stage, and Kanban cards that present separate tasks.
Tasks pass through as many columns as your chosen workflow allows. The cheesiest example is about applying three default sequences: To Do, In Progress, and Complete.
If you're desperately seeking some relevant Kanban board examples, here we've combined the best of them in one list.
These 8 Kanban board examples will give an idea for you and your team:
Design board
Web development board
Marketing board
Sales board
Customer Support board
Recruitment board
New Hire Onboarding board
Welcome to the Team board
These practical examples of Kanban boards can inspire you to create your own beautiful and cozy boards. Use them as a starting template, adapt and add more structures if needed.
But first, follow some common tips for using Kanban board examples efficiently.
How to use Kanban board examples correctly
No copycats! Copy the boards wisely. Any Kanban board example is built to meet the needs of a specific team. Your own Kanban board should match the processes of your team. It will help you to define how to improve all the steps and meet your goals more effectively.
Think outside the box. The examples of Kanban boards are aimed to satisfy specific teams, but not to be exclusive to those uses. For example, if you are on a development team but notice something interesting on one of the IT operations team boards, try it.
Start with the basics. It does not matter if it is your first board or your board #50, do not forget to map your process so it reflects your reality as closely as possible.
Best Kanban boards examples
1. Design board
The aim of the design team is to create interfaces and experiences for products that will amaze customers.
Workflow: Prototype > Implementation > Review > Done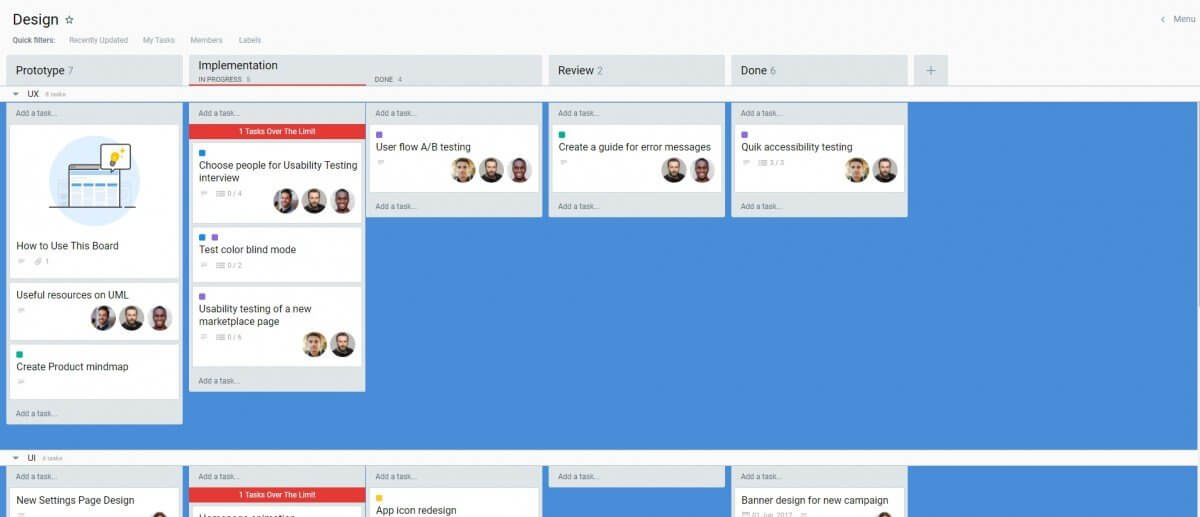 2. Web development board
The main goal is to produce features, fix bugs and resolve issues.
Workflow: To Do > Pause > Reopened > Developing > Testing > Live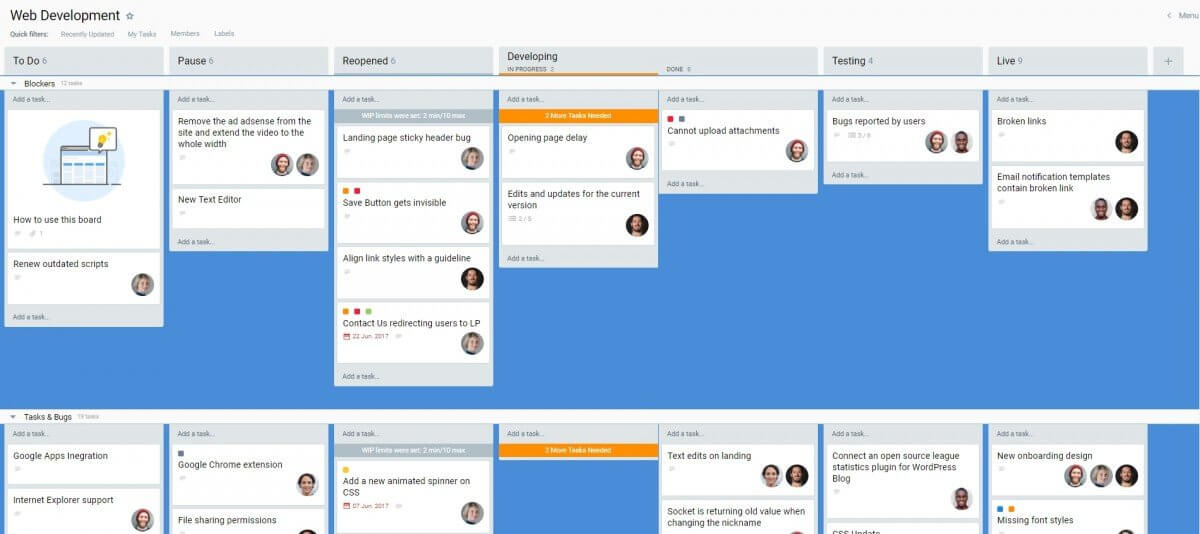 3. Marketing board
The purpose of marketing is to attract attention and create interest in the product.
Workflow: Requirements > Implementation > Done

4. Sales board
The main goal is to get leads and close deals.
Workflow: Potential Customers > Leads > Contacted us > Pending Response > Demo Arranged > Final Negotiations > Won > Lost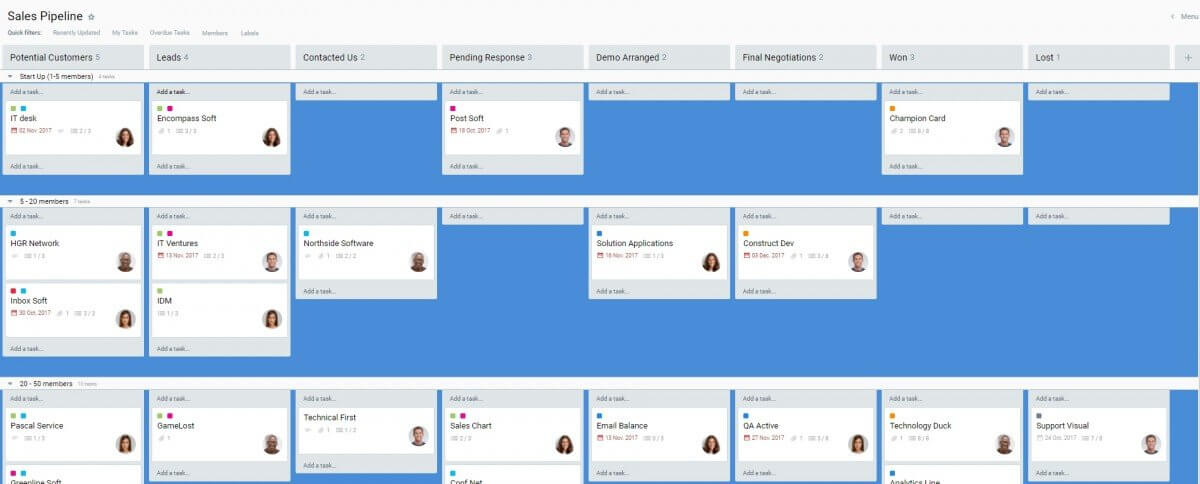 5. Customer Support board
The main goal is to provide answers and solutions to users questions and issues.
Workflow: Updates and announcements > Tasks > Bugs > Quick Fix > Service Requests > Feature Requests & Suggestions > KPIs & Reports > Done
6. Recruitment board
The main goal of this system of boards and convenient Kanban cards is to select the best candidates and get them in the team.
Workflow: Open positions > Checking Resume > Refuse Resume > Invite to an interview > Final Interview > Make an offer > Closed Positions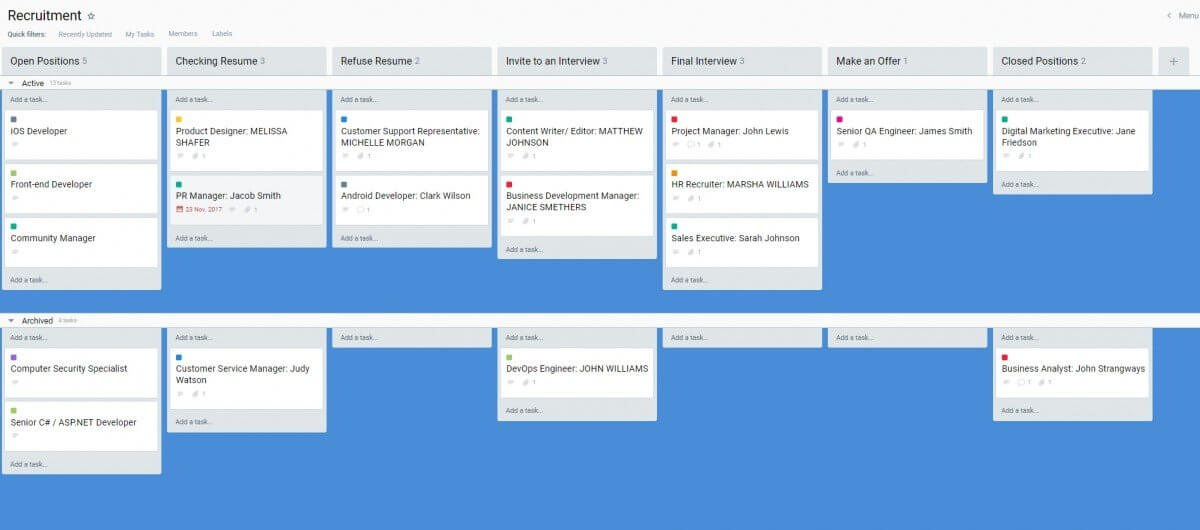 7. New Hire Onboarding board
The main goal is to help new team members adjust to the social and performance aspects of their jobs so they can quickly become productive for your company.
Workflow: Preparations > Get Started – First Week > Get Started – First Month > Quarterly Review > 6 Months Review > Yearly Review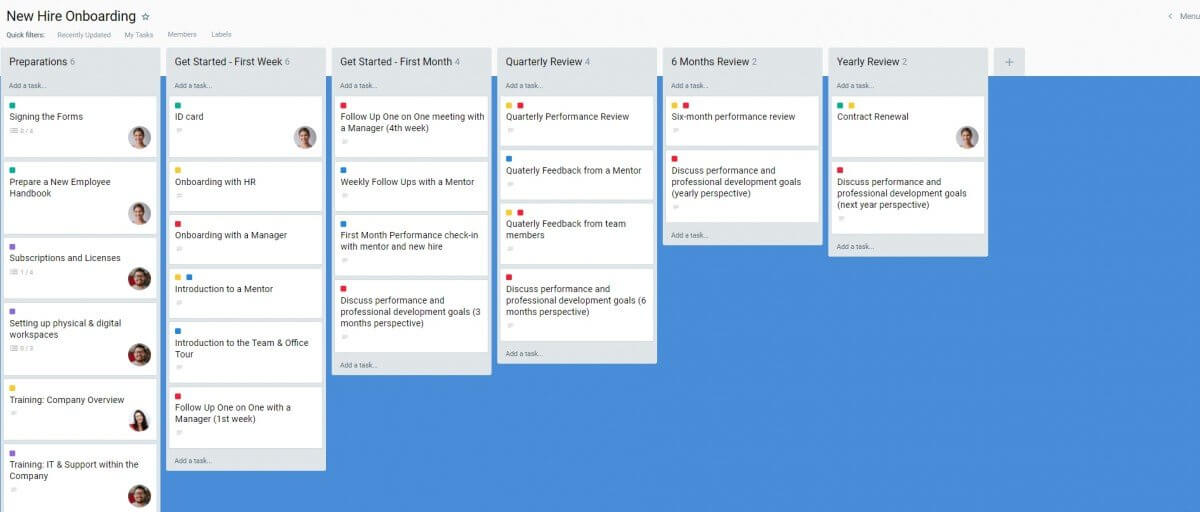 8. Welcome to the Team board
This is one more team Kanban board. The aim is to provide new members with information about corporate and social life, activities, benefits, policies of the company and etc.
Workflow: General information > Open positions > New Team Members > Team Rules > How Do I Order? > Team Events > Corporate Discounts > Social Media pages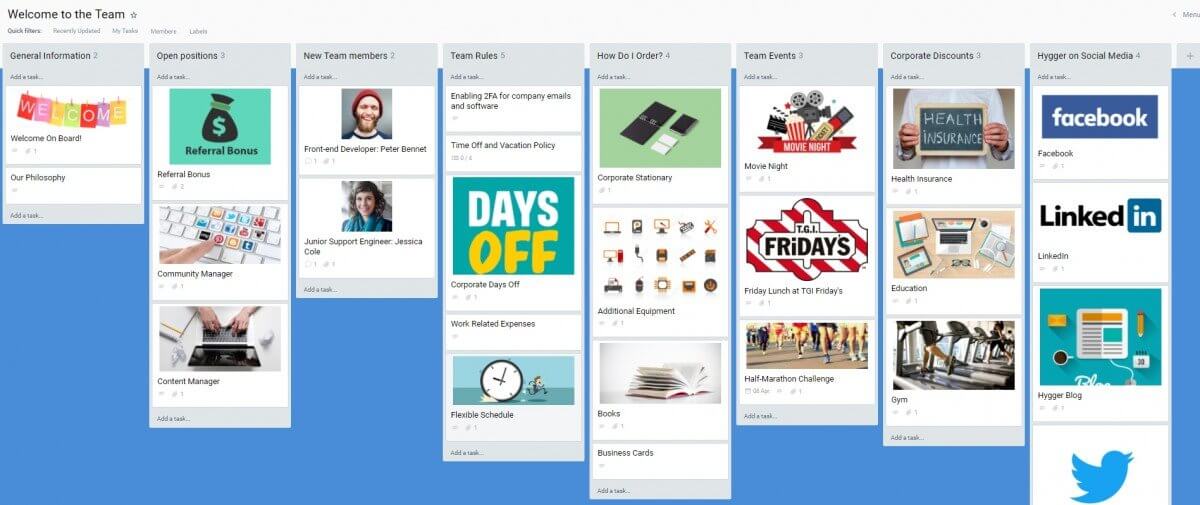 Final words
All Kanban board examples mentioned above may vary depending on the focus of work. Some of them may seem simple for you, but others will be more complex with multiple columns and Swimlanes.
Hopefully, now you have no doubt that the Kanban board is an excellent tool for improving workflow efficiency as it visualizes all tasks in a work process and provides overall process transparency.
These practical examples of Kanban boards provide teams with a clear overview of all work items and control them through the different workflow stages.
What is your experience in using this essential element of Kanban philosophy? Feel free to comment below!