Roadmap Template: What Makes It Highly-Demanded?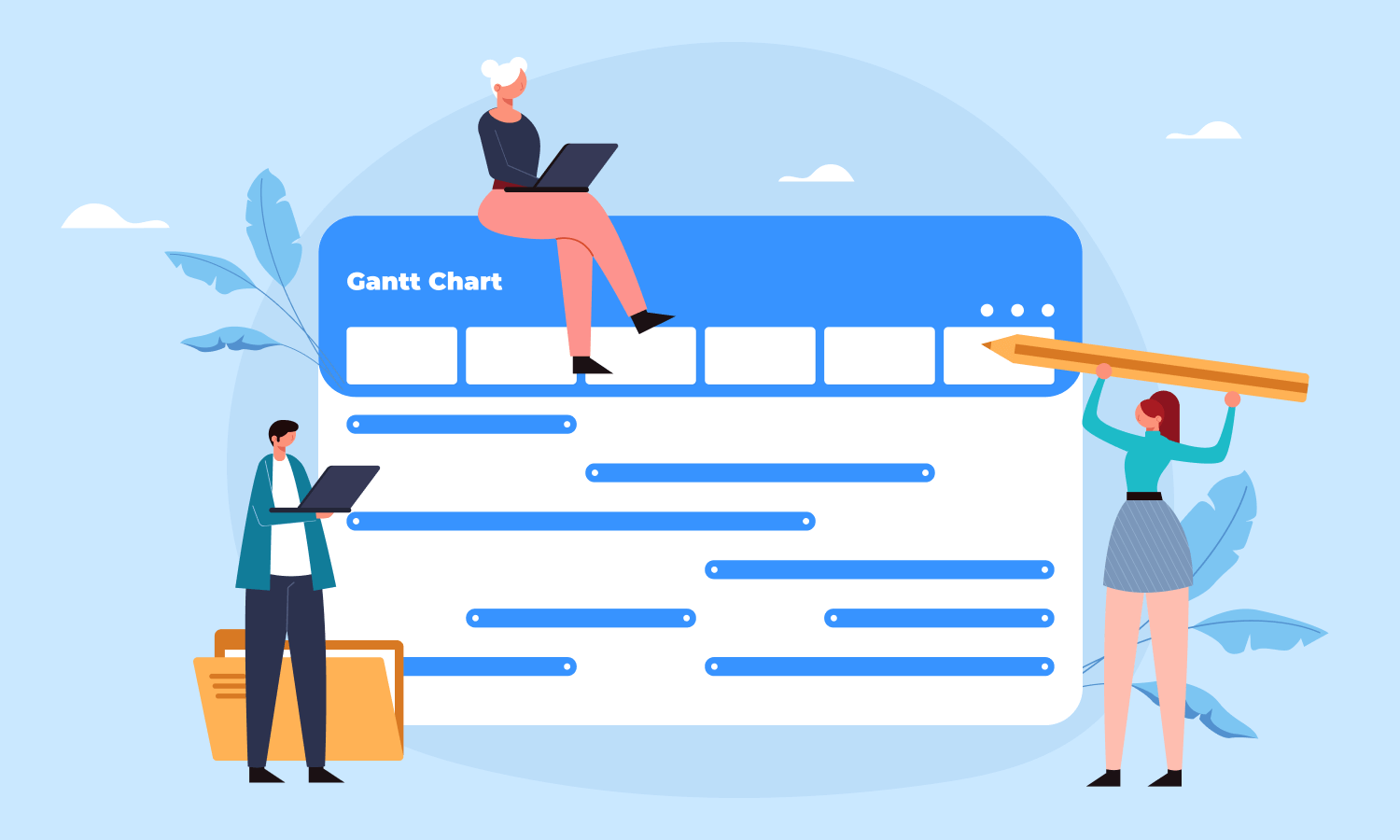 A product roadmap is a high-level summary that reflects the direction and vision of a product. Any roadmap is a strategic document that communicates all the steps what you're working on.
Thanks to a well-designed product roadmap, you may impressively improve your team's efficiency and increase productivity. A roadmap is essential for coordinating product development processes. Working with it, you'll be sure that all current tasks align with and contribute to your product strategy.
What makes product roadmaps so effective?
You definitely use a product roadmap if you are planning to:
Prioritize product features, tasks, and initiatives

Track progress

Communicate and coordinate activities with a team

Create consensus within your team

Add transparency to all working processes
However, not everyone understands at one stroke where to start. In this case, it's worth to start with a ready roadmap template.
Having a quality roadmap template in the working arsenal, as well as equally important marketing plan template and project plan templates, managers acquire completely new strength and professional level, thanks to which they can successfully implement any complex and innovative product or project.
Hygger.io offers a functional and easy-to-implement a roadmap template to plan and manage any product and get amazing results achieved.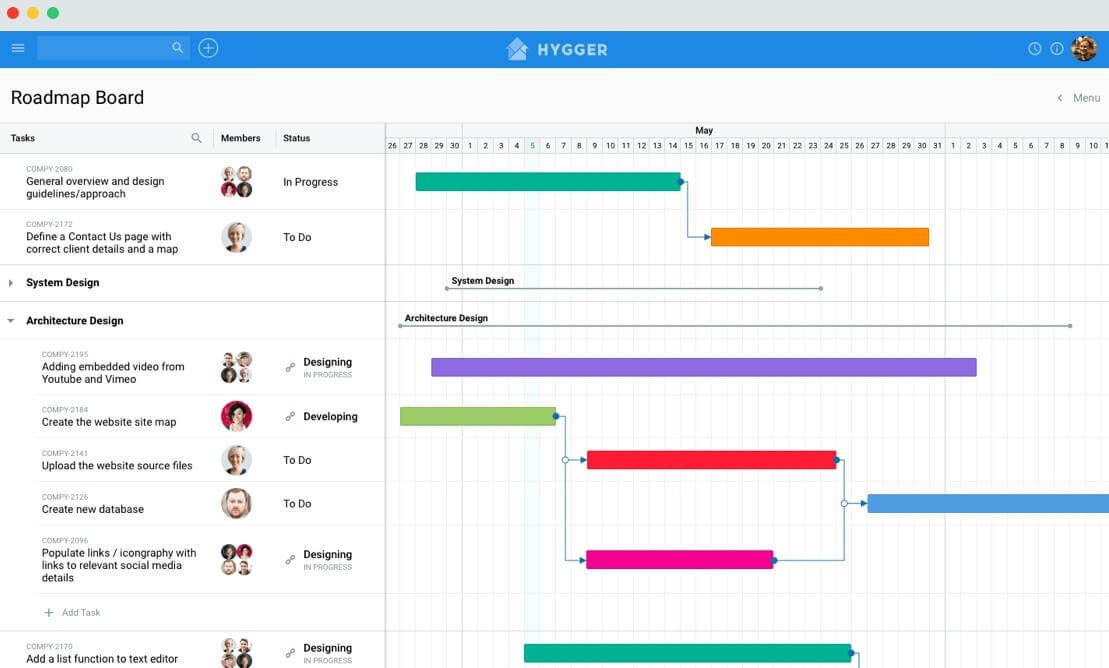 What are the Components of a Roadmap?
There are different types of roadmaps that are used for various audiences: from marketing roadmaps to more complex technology roadmaps.
Of course, each type has a unique set of components. Choosing a convenient template, you should think about who your roadmap is for and how it will be applied.
What are the typical components that are used in roadmap templates?
1. Goals and objectives
Product objectives and goals are the obvious elements of a roadmap. They demonstrate the critical accomplishments required to make the product vision a reality.
Defining the goals, keep in mind the SMART concept, making them specific, measurable, achievable, relevant and time-bound. Your product goals and objectives should have clearly defined success metrics associated with them.
Goals roadmap will assist you in visualizing high-level business goals and objectives. It is an ideal way to overview your strategic goals when you will achieve them.
This kind of roadmap visualizes the timeline for working on and completing your intences. You may track the status of each goal and assign it with a separate color.
2. Initiatives
Initiatives are connected with high-level efforts or big themes of work that have to be completed to achieve the goals. These initiatives can be also visualized in a roadmap and demonstrate how product releases and features relate to the strategy.
Initiatives roadmap will help you to reflect your strategic product initiatives. You may use it when you need to present your initiatives to executives and other stakeholders and provide progress updates.  This roadmap will be also helpful for internal teams to understand how releases contribute to the overall business strategy.
3. Releases
A product release represents the launch of new functionality that provides value to clients.
Release roadmap is used for displaying the main activities, (stages and tasks to bring your release to market). This template is also great for communicating the core features that will be delivered.
It helps to coordinate release activities with marketers, sales, customer support, and other teams.
4. User stories
User stories determine new features from an end-user perspective. They also include what users want and why. User stories, as well as features, can be used interchangeably.
5. Features
A feature is a new or optimized product functionality that delivers value to users.
Features roadmap shows the timeline for delivering new features.
This is also a good way to display when critical features will be completed within a particular number of months. When you need to provide more details about what is coming to internal teams, this roadmap will assist.
6. Epics
Epics are big user stories that usually cannot be completely delivered as defined within a single release. Typically, an epic is broken down into small user stories or features that can be delivered one by one.
Epics roadmap is aimed to show large efforts of work that usually cannot be realized in a single release.
Use this kind of roadmap template to display important functionality that will be implemented and to communicate the focus areas with all stakeholders and executives. You may track the status of each epic by changing the color of the bar.
7. Time
Dates and time periods are also often included in product roadmaps to show when new products and updates will be completed and released. Time scales can range from days and weeks to months and even years.
8. Status
An effective roadmap clearly explains how the team is progressing against what is planned. Status indicators are really useful to highlight the current state of a plan.
Roadmap Template Examples
Marketing plan roadmap template
Each global strategy and a single initiative in marketing should be well planned and visualized as well. And it's better to visualize any idea at the start.
A multi-level marketing roadmap helps to visualize marketing issues and track every step so nothing can be lost. It also assists in avoiding distrustful questions from the top management.
Tasks preceded by clearly defined goals. The tasks without clear visualization have low chances of success.
A marketing roadmap template may include global long-term strategies and smaller tasks. In this roadmap you may plan participation in conferences and professional events, creating a strategy for social media, improving conversion rates, the opening of a new branch, testing a new content calendar, planning a cross-promo campaign, new metrics testing and so on.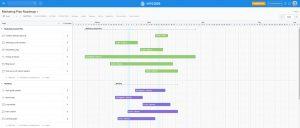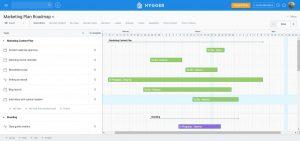 A product launch roadmap is crucial managers as markets, technologies and customer behavior may change every day. Your risks become less scareable if everything you need for an operative reaction is right before your eyes.
The new product launching as the process can be large and complex. It may include many interrelated tasks and separate projects. A time-bound roadmap template will help to inform all involved stakeholders and colleagues about what they need to do at each stage.
Thanks to this strategic visual presentation, your team members will quickly identify potential threats before they become irreversible problems.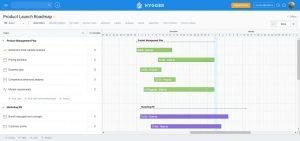 A well-designed roadmap can improve communication within a company, that will lead to better alignment within teams and leave more time for real work to get done.
It does not matter if you create a roadmap from scratch or from one of the easy-to-use roadmap templates, it should be a significant part of your product management day-to-day work.