How to Formulate and Apply SMART Goals and Objectives?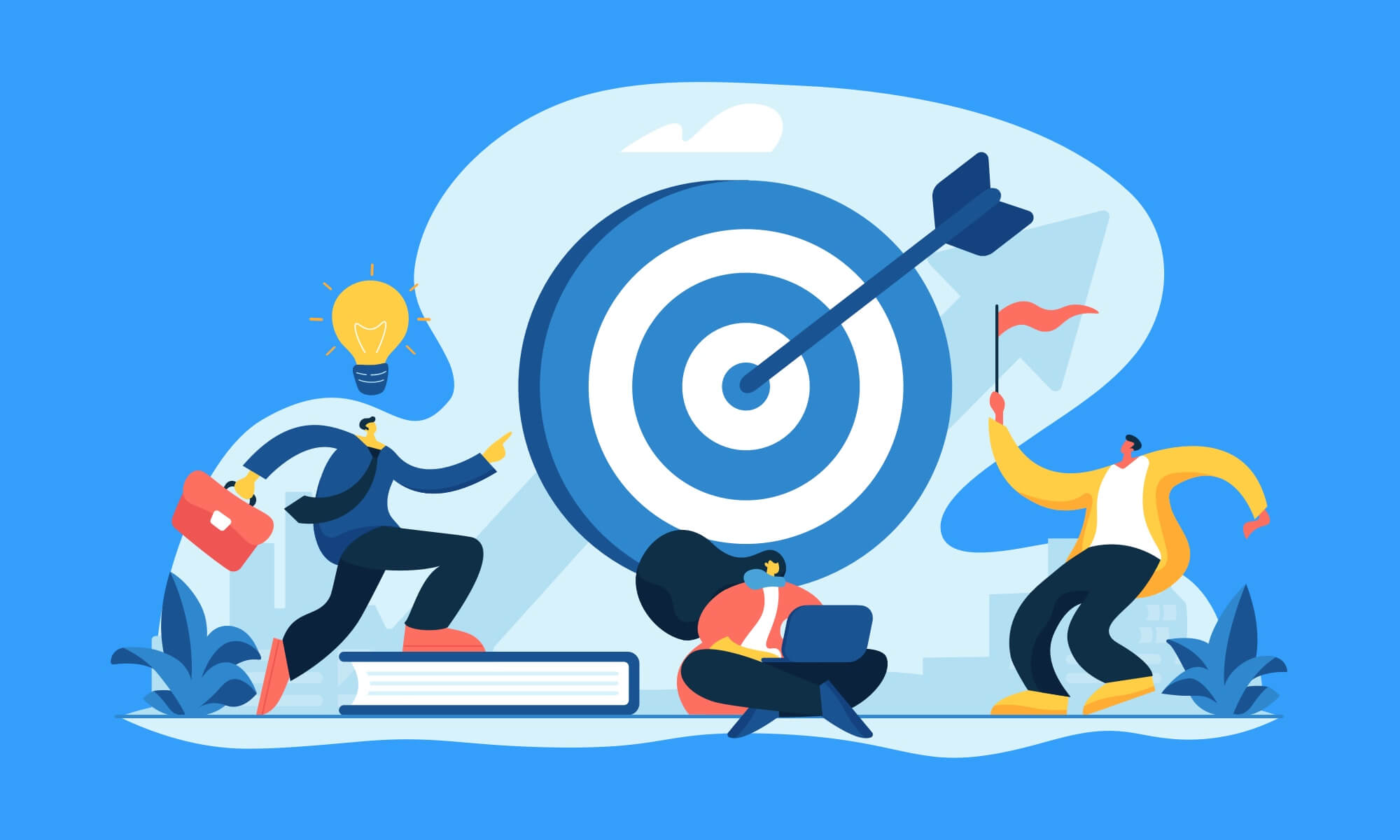 If you deal with business and management, interact with a team, constantly read business literature and somehow concerned about increasing productivity, then you have heard about SMART goals.
That's true: the popular concept of setting correct and effective goals is a basic element in the effort to understand how to increase productivity, how to motivate yourself and team members, and how to achieve success in your career.
The concept has won great fame and demand, as its implementation really gives good results. So what exactly SMART goals setting is?
In this post, I briefly describe and explain the SMART concept, and give simple examples of setting incorrect and correct goals.
SMART goal: what does it mean?
SMART is an acronym that well sticks to our memory. The concept of SMART goals is used to guide your goal setting.
The first mention of the term occurred the issue of Management Review by George T. Doran (November 1981). The acronym consists of 5 criteria, you should follow to make your goals clear and reachable:
S

pecific (sensible/significant)

M

easurable (meaningful)

A

chievable

(attainable)

R

elevant (realistic/results-based)

T

ime-bound (trackable/timely)
There were significant efforts to make the definition of the SMART acronym updated to reflect the importance of efficacy and feedback.
Sometimes, people expand it, including extra areas – Evaluated and Reviewed, so that the concept looks like SMARTER.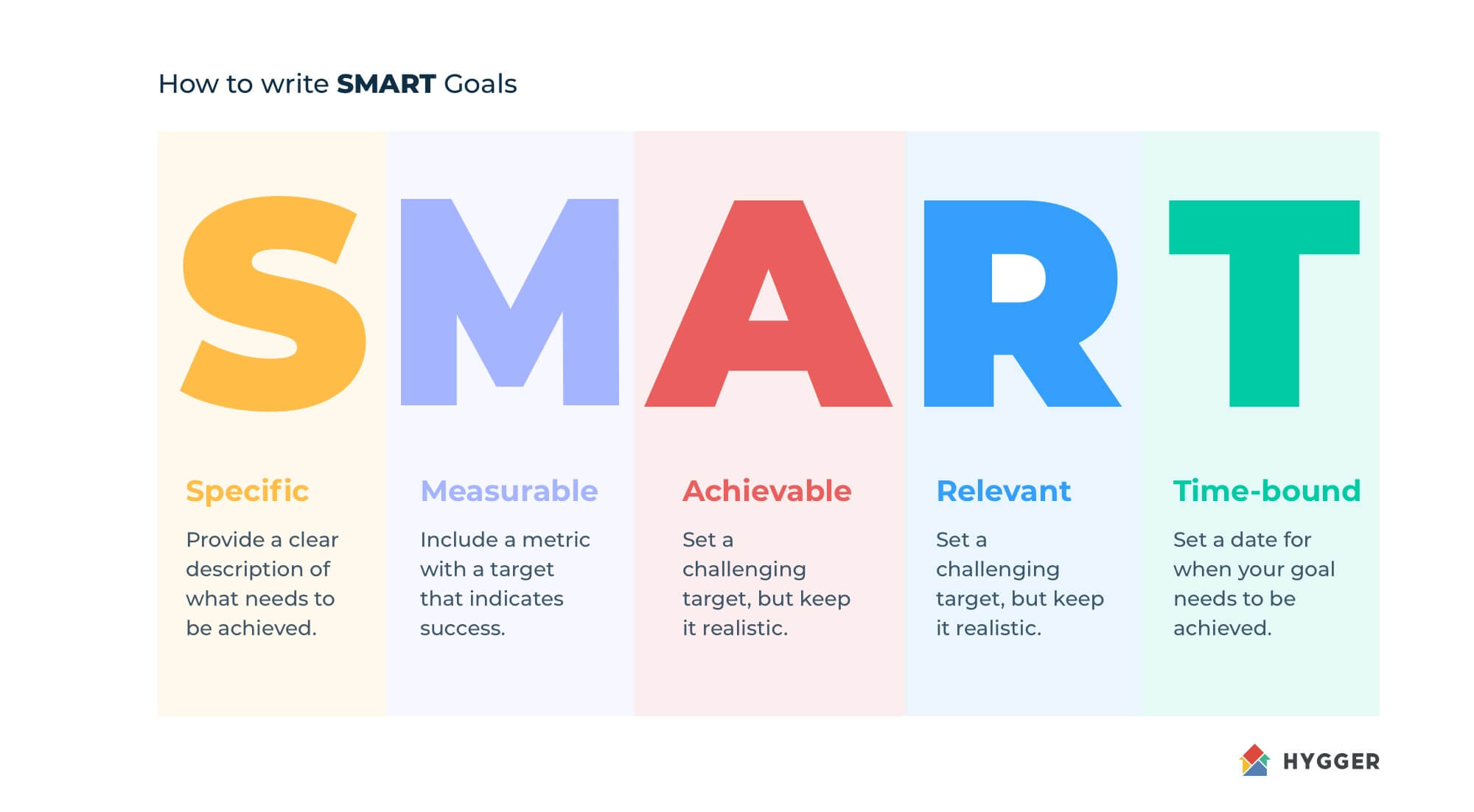 How to make your goals SMART?
Pursuing any great goal should start with a clear description of this goal. It's not about empty words but about making an analysis in advance before getting to the finishing line and bringing satisfactory results.
Setting SMART goals will give you the direction to what you want to achieve.
S=Specific
If your goal is clear and specific, you will be able to focus your efforts to achieve it and feel truly motivated.
Formulating your specific goal, pay attention to the following questions:
What do you want to get?

Why is your goal important?

When is it going to happen?

Who is involved?

What are the limits?
Remember, that your goals should be formulated precisely and specifically so that everyone knows what is expected of them.
Try to avoid general words, use action verbs and be careful with details.
M=Measurable
Another critical aspect of goal setting is developing a measuring system for your progress. Defining a measurable goal will give you the extra motivation to push through difficult moments.
The following questions may be relevant while identifying your measurable goals: how many (how much)? How will you know when it is accomplished? How can it be measured?, etc.
Remember, that each goal should have starting and finishing points.
A=Achievable
If you want your goals to be successful, try to make them as more attainable and achievable as possible.
They should stretch your abilities but stay possible.
Find opportunities or resources to get closer to it. The following questions to make your goal achievable may be helpful:
How realistic are your goals?

What are the ways to achieve a specific goal?

What are possible constraints?, etc.
R=Realistic
Each goal should be something that you can make a reality. Realistic and relevant goals take into account the practical side in which everyone is involved.
To make your goals realistic, answer to these easy questions:
Does your goal match the other needs?

Does this goal seem worthwhile?

Is this the right time to set it?

Is it applicable in the current environment?
T=Time bound
Goals need specific frameworks and dates to provide you with deadlines to focus on and something to work toward. This element of SMART concept prevents your everyday tasks from taking priority over the longer-term goals.
In order to make goals time-bound, pay attention to these questions:
When is it relevant?

What can I do N months from now?

What can I do N weeks from now?

What can I do right now?
SMART goals system advantages
The concept of setting SMART goals and objectives works well not only in business, but it is also used by many people for private aims because provides a clear framework for accomplishing their goals.
Let's define the key benefits of SMART goals:
Applying SMART goals, you get a clear business direction that can guide your team through making daily decisions.
When you reach success in setting SMART goals, you get advanced level in planning project tasks and daily issues.
SMART objectives help to accomplish your efforts more quickly because you will be wasting less time on unproductive actions.
Strong business goals may become a tool to motivate your team members. For example, if your goal is to increase sales, you can implement incentive programs to earn things for reaching certain milestones.
SMART goals setting example
Let's consider the example, regarding a Hygger website design optimization. Here, for example, 5 goals that are not related to the SMART concept:
To create a beautiful pop-up with an interesting proposal (not specific).

To record and publish a video about new features (not measurable).

With the new design implementation, to achieve 10K new customers in the next month (not achievable).

To attract and lure away the most successful competitors' clients with the help of the new design (not relevant).

The number of new incoming visitors must be greater than the same competitors' rate (not trackable).
They look vague, unclear and not expressive. It is very unlikely that such goals can lead to success. Now we will try to transform these goals using the SMART principles:
Specific:

To design and create a temporary pop-up with a discount-form for new clients.

Measurable:

To record and publish a brief 3-minute introduction video about the company's new features.

Achievable:

To increase conversion rate into registration by 5% compared to the last month.

Realistic:

To involve more small companies that can really be interested in the product.

Trackable:

A convenient and innovative site will help to reduce visitors' bounce rate by 3% in the upcoming month.
Here're some more vivid business examples on how to make SMART goals:
Takeaways
Any business should have a powerful system for setting goals while planning their projects and moving forward. SMART goals is an effective way to accomplish this.
Applying the concept, you will make your business clear, will provide direction and motivate your team members. You may also use SMART to achieve great goals in your personal life.
What is your experience with SMART goals? Do you recognize their practical explanation? Feel free to share your insights.