Mastering the Burning Trend of 2020: Tips on How to Create a Home Office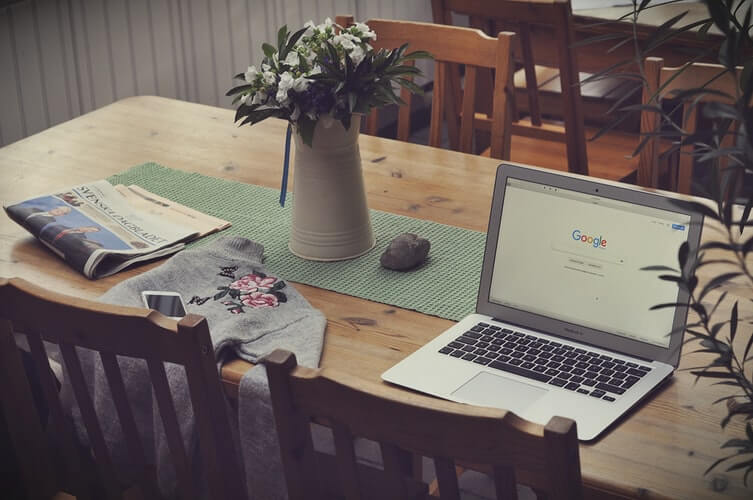 Virtual working provides many advantages, including saving time and money, the flexibility of setting your own schedule and allowing you to start a business with minimal overhead. 
However, being productive in a home office requires creating a space that will promote efficiency in a non-traditional work environment. This is about separating your business issues from personal life.
Remote work is often routine for many adults. Location, colors, surroundings, lighting, and confinement of clutter are critical. The goal of this post is to define solutions for setting up your home office so that it works just how you need it.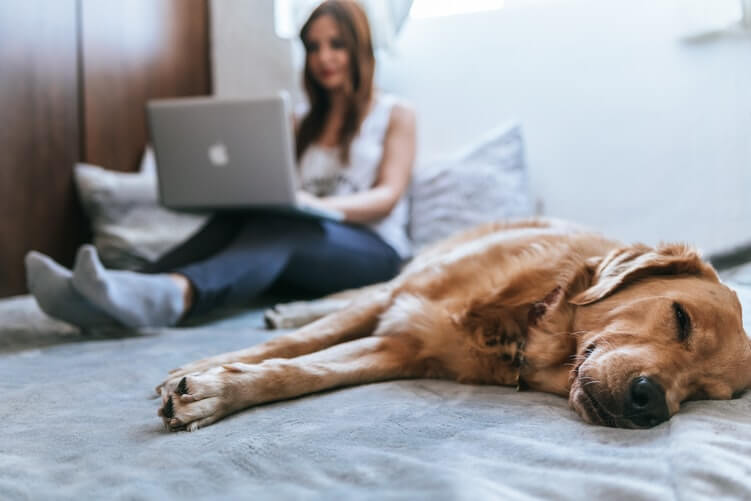 Why Home Office is a Trend
Here are some vivid reasons you will feel beneficial for working from home at least once a week:
You waste less time commuting.

You get a huge morale booster and a huge time saver when you cut out a commute.

You become more productive. There were many studies that stated that employees who work from home are more productive compared with their in-office colleagues. After all, in many cases, working from home improves team communication efficiently. 
You become happier.

The work-life balance is a very actual topic these days. There's no better way to improve this balance than to let yourself work from home.

You do not need to pay for office space

. Working remotely means no office or a lot fewer office spaces. If you don't want to switch to a completely remote environment, try to minimize the staff working in the office to save on office space.

There is no need to pay for office supplies.

Ordering office supplies is not the best responsibility for sure. Working from home, you can cut out a lot of these useless expenditures.

You save time avoiding useless meetings.

Often people increase their productivity by cutting all the useless meetings and other time-wasters. The most important meetings can be run virtually. Luckily, there are many

efficient group meeting apps for business

nowadays.

It increases your loyalty.

Most people that have had a chance to work from home would never dream of giving it up. By giving you this chance, you and your teammates will be extremely loyal to your company.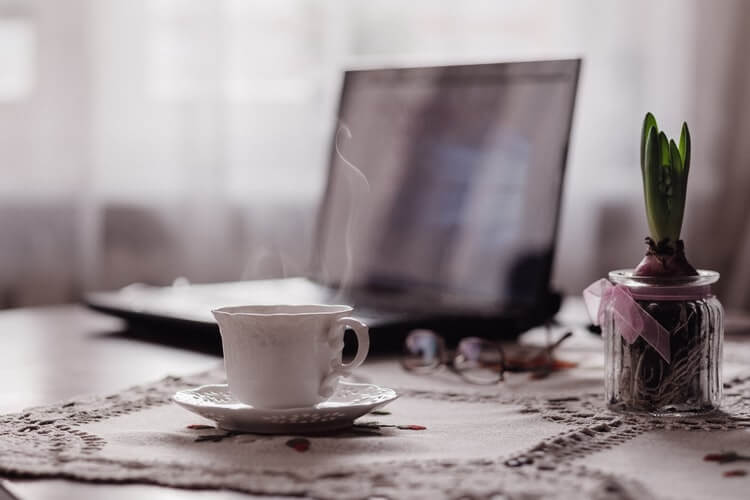 11 Tips on How to Create or Improve Your Home Office
1. Define your needs
Identifying what you really need will depend on the type of work you do. Your home digital workplace will probably require a small desk for your PC or a laptop or a larger table or workspace to organize your artwork, for example, if you are a graphic designer. If you an accountant or a consultant, you might require additional space for file cabinets. Photographers will need a special space for props and lighting equipment.
Try to figure it out ahead, compiling a detailed list of your needs for a home office and setting up a space that meets all your requirements.
2. Choose the appropriate space
In the ideal world, your home office is located in a quiet area that allows you some privacy. You will quickly feel the importance of this moment if you live with a spouse and children. It's better to have a spare room with a separate door that will help to decrease noise from the rest of the house (especially in the case when you need to be on the phone frequently). 
Perhaps, you will need a dedicated studio that's separate from the rest of your home. This is mostly relevant if you need to spread out the design or tech equipment.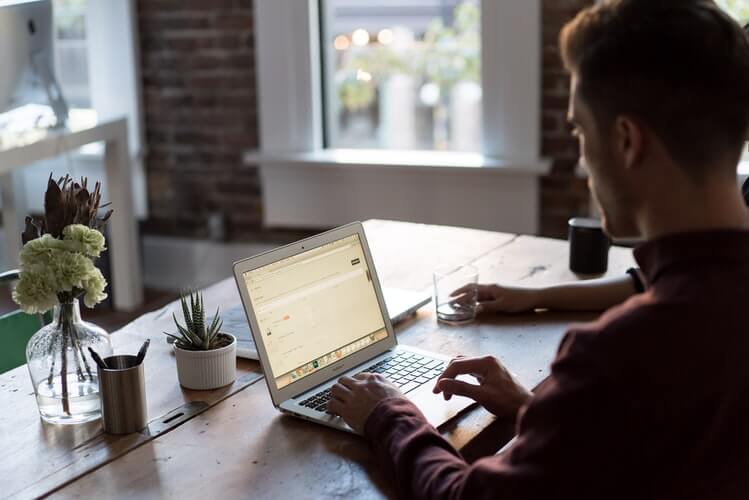 3. Use dedicated gadgets
Working remotely is reduced overhead. However, the initial savings you might have by sharing a phone line between your home and business can ultimately cost a lot.
Using the same landline for your home and work is not good for your business reputation. After all, your child or another family member can answer the phone and it will confuse your clients or partners. That's why having dedicated gadgets for your home office will allow you to separate your work and personal life.
4. Pay attention to the light
Lighting can be extremely important when you build a home office. In order to reduce eye strain, you can install lighting over your reading area, on the computer, and behind you. 
Do not forget to locate the monitor at a comfortable distance from your chair. This will prevent you from squint or using reading glasses to read the screen. Windows and exposure to daylight are also impactful.
5. Use small-space furniture
Too much furniture can make your tiny office room feel cluttered and cramped. Try to avoid the claustrophobic feeling using leggy furniture without visual heft.
6. Have a way to keep time
If you get up and move around a bit throughout the day, you will definitely be more productive. Do not forget about simple breaks and productive hobbies that may help you to fresh your mind for a time. Brief mental rest sessions and useful hobbies will break up the workday and improve your focus.
Often remote workers are more likely to overwork than employees in a traditional workspace. Try to find a way in place to track time in your home office, whether it's a simple clock on the wall or smart time management software. By the way, we have recently written about the best time management apps for increasing productivity.
7. Hide everything that can irritate and disturb
Offices require having lots of cords. Use a power strip behind your desk and plug everything into that and try to place all office equipment in a compact way.
8. Plan for visitors
In case you need to have clients in your home office, keep things as professional as possible. Make sure your guests will not have to walk past a sleeping baby or a crowded kitchen to get to you.
Your workspace should be private. If clients need to wait for an appointment, provide them with comfortable seating and relaxing literature.
9. Make it greener
Plants and flowers do not only add comfort to the room, but they also make people happier. With their help, you can bring what's outside your window into your home-made office. Most plants can go a couple of days without water, so you will not need to go into your office on weekends.
10. Make it hygge
Comfort includes not only plants and a compact table for work. Hygge is a Danish phenomenon that applies to wellness and creating a happier life in general (that is actually why Hygger.io got its name).
It can be also visually embodied in decor. It's always about a cozy, candle-lit sanctuary that's simple and full of inspiration. Such a convenient atmosphere is your home office will positively influence your productivity and creativeness. Add some candles, cozy pillows and interesting textures, vintage accessories, display treasured memories in family pictures, etc.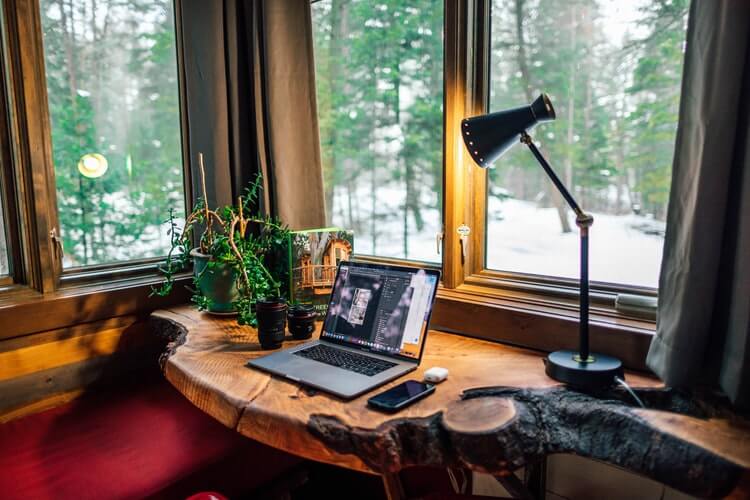 *the photo source – thelightingjudge.com 
11. Apply powerful collaboration tools
Modern collaboration software for remote teams are aimed to let you focus on what really matters even if you work remotely.
Hygger is one of the most convenient and multifunctional tools widely used by remote teams. For many employees, Hygger has become their "virtual office"—a place where remote workers can get instant feedback and connect with their colleagues, both one-on-one and in groups. The platform proposes beautiful roadmaps, Kanban boards with WIP limits and Swimlanes, timesheet reports, to-do lists, powerful prioritization frameworks, and many more. This robust functionality is able to empower your home office and help you to get all things done easily.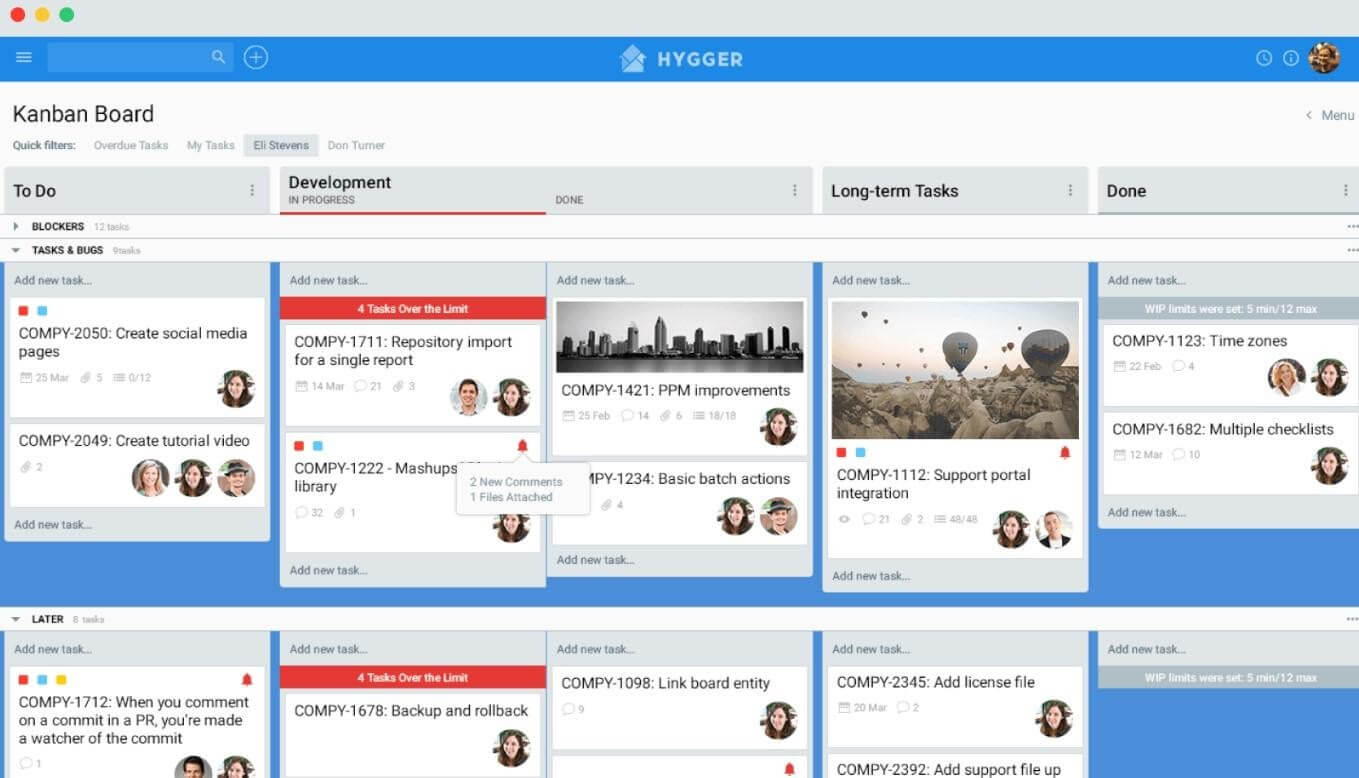 Remote work should neither be too strict nor too relaxed in order to create an optimal work-life balance.
Feeling inspired? Let us suggest you a great source of home office inspiration – lots of pictures and examples of how it may look like.
*the pictures used are from unsplash.com, pexels.com, and thelightingjudge.com