What is the Product Backlog in Product Management and How to Maintain It?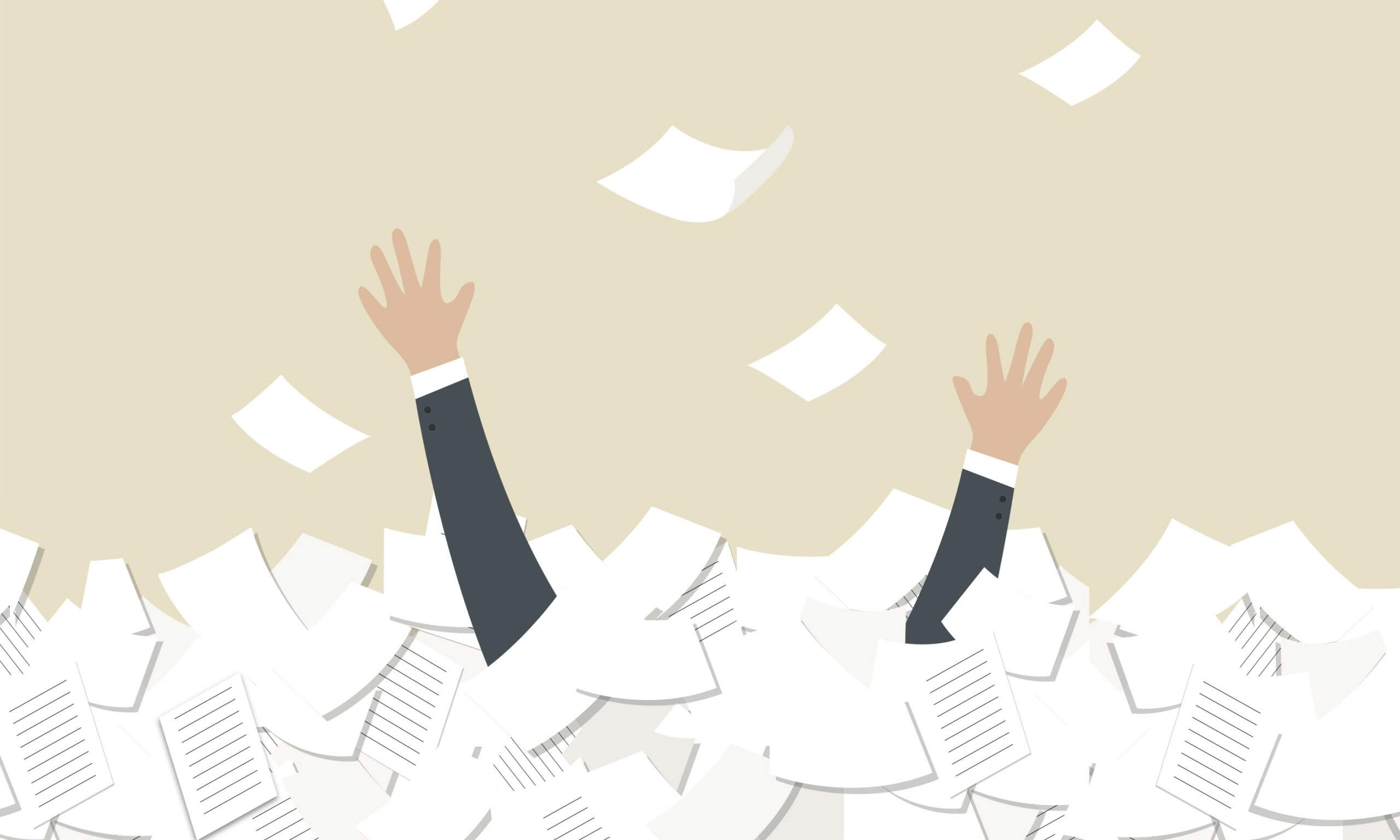 A well-prioritized product backlog was invented not only to make releases and iteration planning easier but also for broadcasting all the things product teams intend to work on.
The product backlog in product management is an ordered set of items that might be needed in the final product. In other words, it's a kind of a wish list or a prioritized features list, containing short descriptions of all desired product functionality.
The product owner performs the product backlog and describes it top items during the sprint planning meeting. He/she describes all items in a simple business language without technical specifications. Any changes and requirements should be reflected in this product backlog.
What is the meaning of the product backlog?
Working on an Agile project, you do not need to start it with lengthy efforts to document all requirements.
Usually, a product owner and other team members begin projects by writing down everything they need for backlog prioritization. This backlog seems enough for the first sprint. Then it is allowed to grow and change.
A usual product backlog includes the following items:
Product features (for example, the forms of user stories – the descriptions of the desired functionality)

Different bugs

Knowledge acquisition (for example, upgrades of workstations)

Technical work (for example, any useful researches)
The product backlog cannot be ever complete as it is dynamically changing and improving.
The items in the backlog are ordered depending on their business value. The higher the specific item is, the sooner developers will work on it. The top-located items will be more detailed and clearer in comparison with the lower items. All of them should be clear and easy to understand for non-technical stakeholders.
Every item in the product backlog has a work estimation that is done by developers. The estimates are used for determining the number of items that will be selected for the certain sprint.
The team adds details and estimates to the backlog items through the project that is called product backlog grooming. It shouldn't cover more than 10% of the development team's working time.
The product backlog is built based on discussion rather than documentation.
What is product backlog refinement?
The product backlog refinement is the act when you add details, estimates, and order to product items.
This permanent process means the collaboration of the product owner and developers. All items are reviewed and revised during this refinement.
How does Agile product backlog differ from a simple to-do list?
There are some certain properties in the Agile backlog:
Any entry in the product backlog adds value for customers.

All entries in the product backlog are estimated.

The entries are prioritized and ordered accordingly.

The level of detail depends on the position of the entry within the Scrum product backlog

The product backlog is a living document with no action-items or low-level tasks.
What should be done if the product backlog rapidly grows?
Focus on key priorities is one of the key objectives of a product manager or a product owner. Sometimes they have no time to learn and track all of the new competitors' features. Users suggest improvements and give advice. Team members offer new ideas all the time. New updates happening constantly. How to succeed everything?
When product backlog increases – it becomes difficult to control it.
The solution can be found in Hygger.io functionality. We offer the systematic solution for the issue of making a choice:
Backlog structuring based on the Kanban board, Labels and Swimlanes.

Ideas assessment (according to Value and Effort criteria).

Visualizing the most important ideas with a Backlog Priority Chart.
Backlog structuring
A plain list of ideas is shown as a two-dimensional board in Hygger backlog. Here you may find Labels and useful Swimlanes. You may use the columns on Backlog board to visualize working stages for ideas:
Collect ideas for gathering all your ideas

Review ideas for the reviewing and making the ideas clear

Score ideas for evaluating your ideas

Approval stage

Developing

Done stage
Hygger Swimlanes can be used for arranging product ideas. These horizontal columns on the Kanban board are used to separate different kinds of issues that team members use. They help teams to see which issues they should work on next.
Labels option can be used to tag ideas from particular users or from particular employees.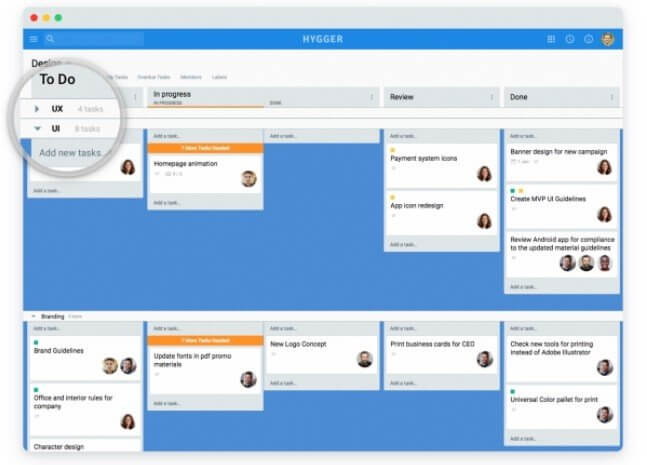 Ideas evaluation
In Hygger, you can rate all your ideas using 2 criteria: Value and Effort. Comparing the Value and Effort combination of each task will help you prioritize the tasks better and choose the most important tasks for development.
Value assessment will show which business value the feature can bring to your product or your business.

Efforts measure the resources needed to complete the task.
Backlog Priority Chart
All estimated ideas can be shown on a Backlog Priority Chart. The chart is useful for evaluating ideas relative to each other.  It proposes Value and Efforts scales and 4 quadrants:
Quick Wins for ideas with a really high value and low efforts.

Big Bets for ideas with high value and efforts.

Maybes for ideas with low values and efforts.

Time sinks for ideas with low benefits but high labor costs.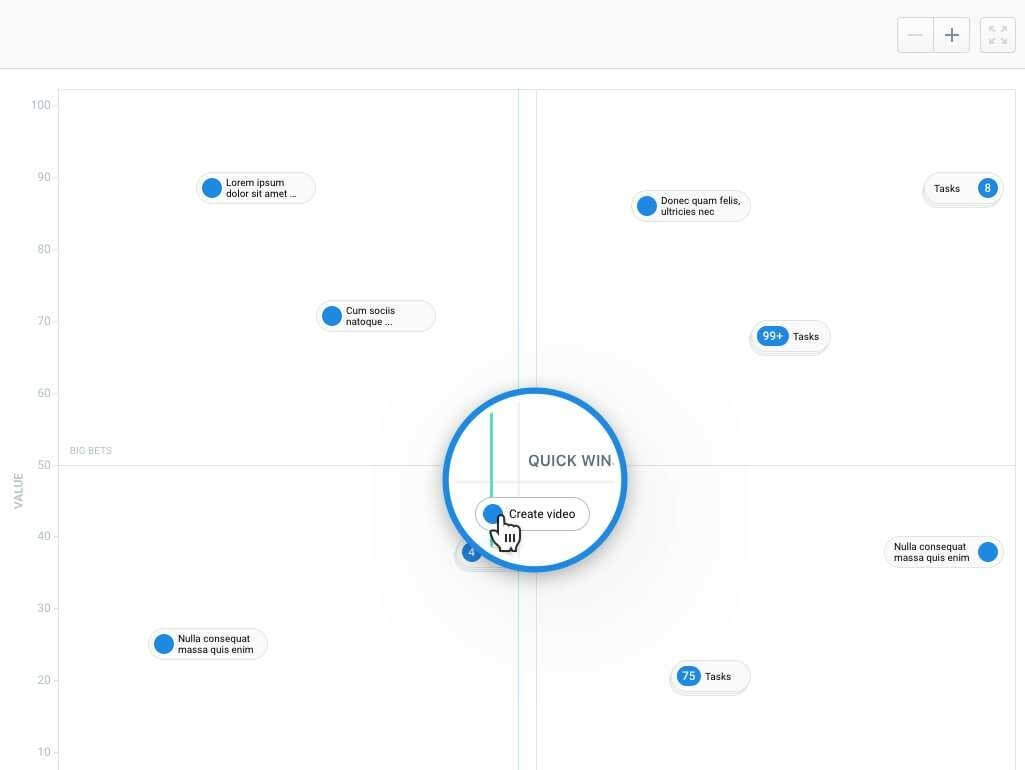 Learn more about managing product backlog at Hygger University.