What Team Collaboration Tools Make an Ordinary Staff Feel Like a Dream Team?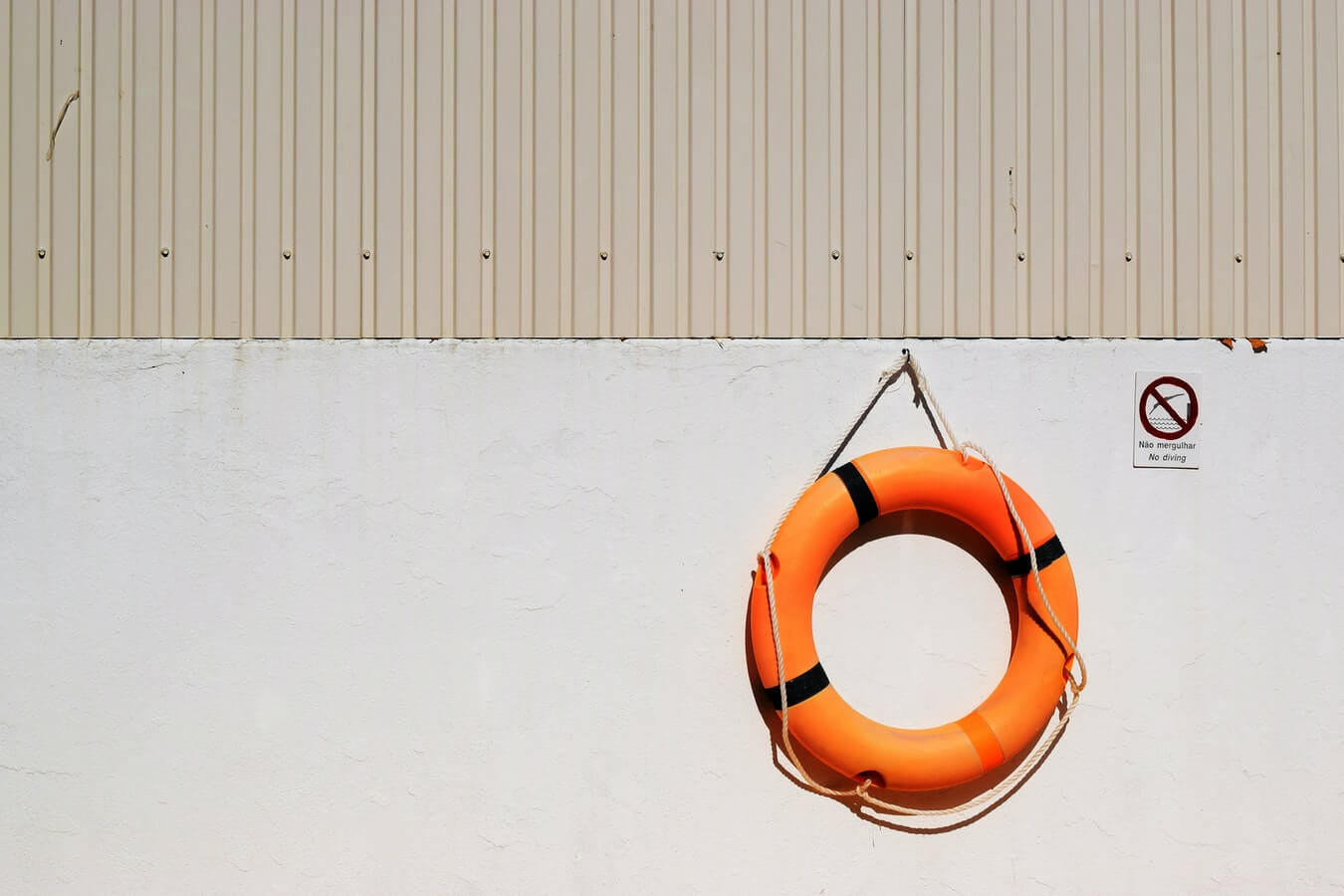 Could you estimate how many of your successfully implemented projects were carried out by yourself, and how many required team efforts? I suppose the answer is obvious: a good team leads to success.
Any motivated product manager should not only improve his/her skills, learn new methodologies and apply innovative Growth hacks, but also try to build a strong and successful team.
What is the power of a strong team? Let's say, a well-functioning collaboration is one of the key aspects that help teams to cope with difficult tasks and withstand any troubles.
*the article was originally published on DZone
What are the best tools for team collaboration?
In fact, any professional tool is only the part of the collaboration concept. Product managers should build a great team, starting with corporate brainstorming. Moreover, even after a successful release, when the whole team celebrates success within team buildings, you should think about collaborating.
However, in this article, you'll find 9 types of tools for product managers which definitely assist to create a strong collaborative team. These tools have different purposes, some of them are paid, some are free, some fit all products, and some seem specialized.
This list is rather subjective, so after each example of the tool, I'll offer several alternatives so that any reader can choose the best option. Are you ready to build a dream team? Then let's study these tools.
As it was mentioned above, here you will find the following kinds of tools: tools for real-time communication, project and product management platforms, tools for organizing remote communication and video conferencing, services for working with documents, time tracking tools, systems for databases and knowledge centers, special tools for file sharing, internal social networks, and smart tools for mock-ups and prototyping.
Communication tools
Example: Slack
Slack is a real-time chat service for companies. The app has been spread from Silicon Valley startups' corporate traditions.
This app operates in channels and includes voice and video calling, although these options are not so popular as text chatting. Here you can add pictures, emoji, GIFs, share documents and arrange group chats.
How does Slack work?
You can use Channels as chat rooms or public communication streams. It's easy to do with just a couple of clicks.
Direct Messages are also available. Your private conversations on Slack are searchable content for you and your team members. You can attach documents and files here.
Private Groups option helps to arrange conversations with specific team members. You can invite developers, sales, HR specialists and so on.
All content in Slack is searchable from one search box. All conversations, links and files or even tweets. You can also use an agent called Slackbot that can give you more info about things, reminds you to do urgent issues, and much more.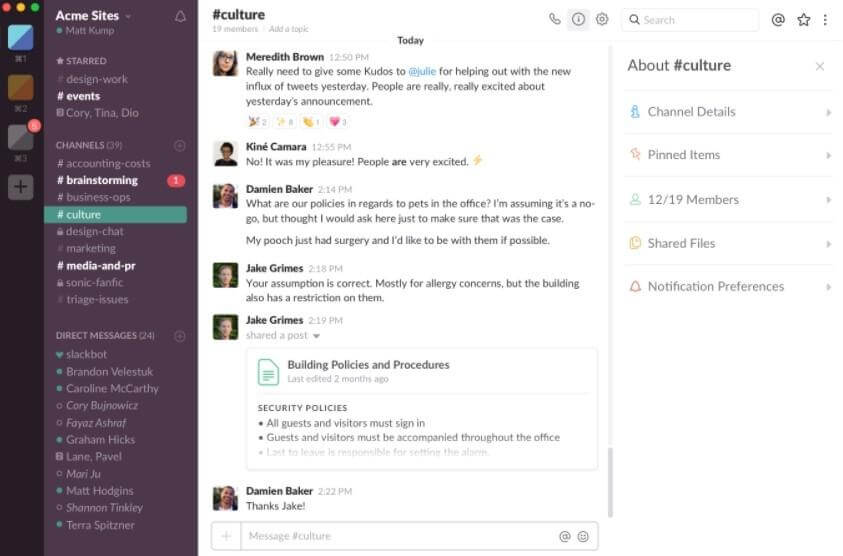 Alternatives: HipChat, Microsoft Teams
Tools for product management and project managers needs
Example: Hygger.io
Hygger is a complete product management platform for growing companies. The platform can be used for collaboration goals by small and large teams. It includes:
Friendly Kanban boards with WIP limits, Swimlanes, sub-columns, time tracking for programmers working according to the Kanban method.
Sprint board, based on Kanban boards, for programmers working according to Scrum methodology.
Backlog board for collecting and structuring insights and ideas and the Backlog Priority Chart for visual ranking and selection of ideas.
The method of ranking ideas by evaluating their degree of influence and labor costs.
A

smart Roadmap

for planning future releases, projects and initiatives.

Reports Burndown Chart, Velocity, Time tracking for monitoring the development proceses, and much more.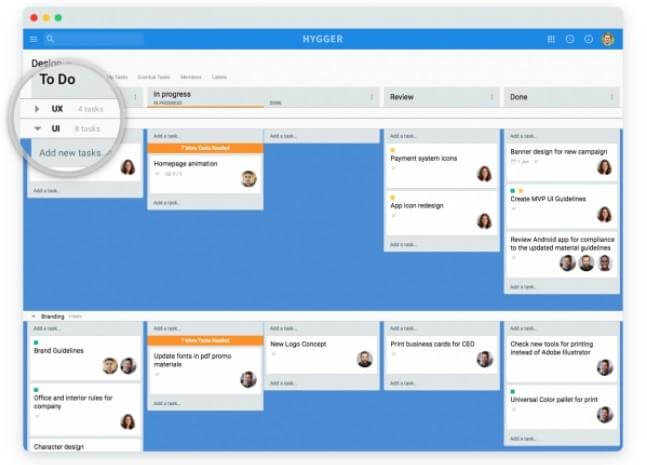 All these features and propositions assist to manage your product lifecycle and collaborate within the team and track every step of each team member without losing any small detail.
Recently, the platform introduced the latest update with new interesting features: My Tasks, Tasks Browser, Quick Filters for Roadmap and Backlog Chart, and more.

Alternatives: Trello, Aha, Asana.
Tools for organizing remote communication and video conferencing
Example: Hangouts
The service is used by companies for internal remote communication as instant messaging for video conferencing and screen sharing. It helps to keep meetings and presentations organized without the need for a separate planner or scheduling tool. You can send invitations to any team member and manage them directly on their sidebar.
Face-to-face chats allow team members to collaborate on a group project, communicate with employees, customers, or other team members, make some revisions or putting together documents in Google Docs, and so on.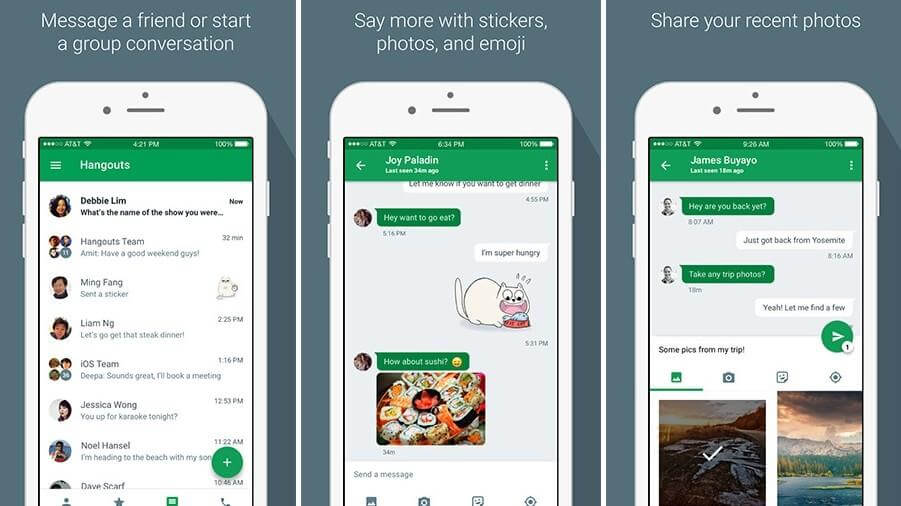 Alternatives: Skype, Amazon Chime, Join.me, Zoom.us
Tools for working with documents
Example: OneNote
OneNote will be helpful if you need to take and manage notes and share them with your team. The shared notebooks feature makes OneNote easy to disseminate entire collections of data with team members.
OneNote is more than just a note-taking service. Many companies use it as the ideal collaboration tool for managing projects in teams. This tool is free. Using OneNote notebooks, sections, and pages, you can provide your team members with relevant information anytime you need. You can keep multiple sections within each notebook and create sub-pages.
OneNote allows you to share information from almost any device, simply organize your data in lists and friendly tables.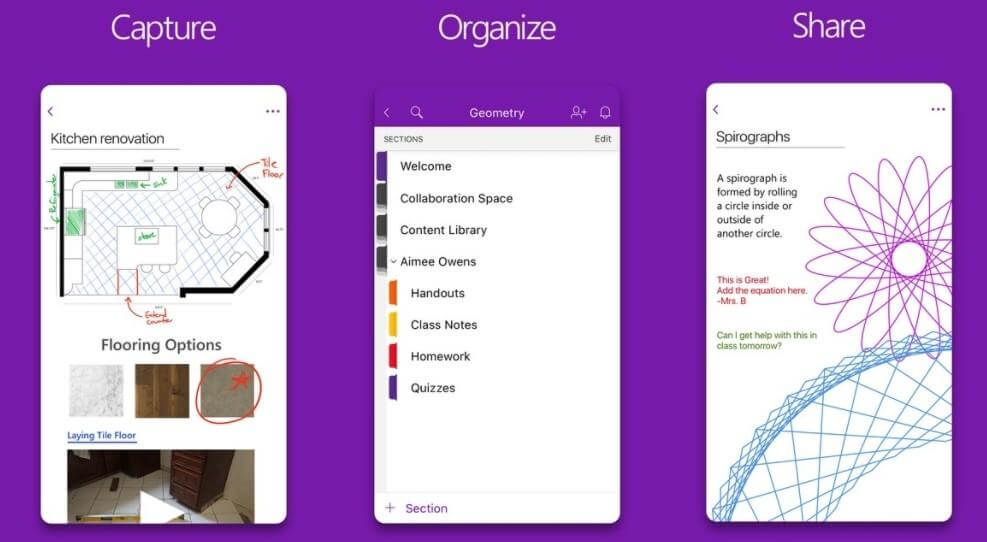 Alternatives: Evernote, Quip, G Suite/
Time Tracking Tools
Example: TimeCamp
TimeCamp is a timesheet app that automatically tracks time in a non-intrusive way and fills out timesheets for you. Your team can use it to boost productivity, improve time management skills, and bill clients accurately.
Team members can see the progress of work in real-time, track time against estimates, and prevent scope creep. Other features include reporting, tracking time offline, invoicing, or integrations with other productivity apps. People can also set and track goals to stay motivated. TimeCamp helps to reduce workload and streamline processes. And there's nothing more tempting than having your timesheet filled out automatically.
Alternatives: FreshBooks, Click time, Scoro, Hubstaff, Toggl
Tools for databases and knowledge centers
Example: Confluence
Most of the large corporations know about Confluence. This tool helps teams to be organized and keep centralizes all information required to stay up to date.
Confluence offers a friendly interface where you can create meeting notes, set project plans or product requirements, use templates, pin comments and get feedbacks. All in one place. Here you can also use add-ons, such as Team Calendars for events scheduling or Questions discussions and voting.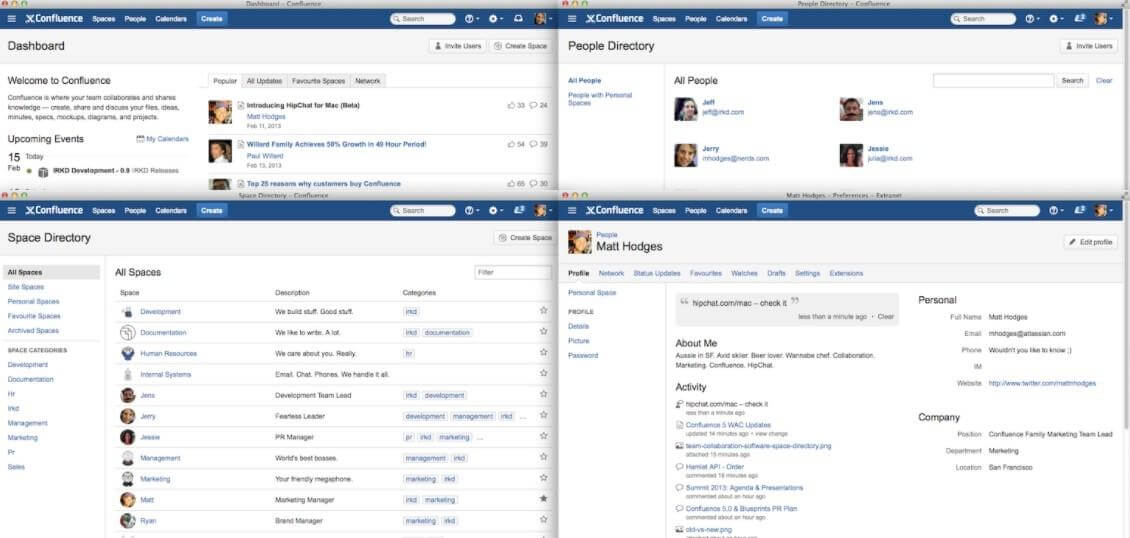 Alternatives: Guru, Bloomfire, Nuclino, Crowdbase
Tools for exchanging information (file sharing)
Example: Dropbox
This online storage service is used by 500+ million users worldwide. Dropbox allows not just store all your files together in one place but share them with other team members as well.
You can send links via emails or chats, leave feedbacks and share access to your documents from any device.
Dropbox is free for individual use, but you should pay for a business plan to get more space and support more sharing.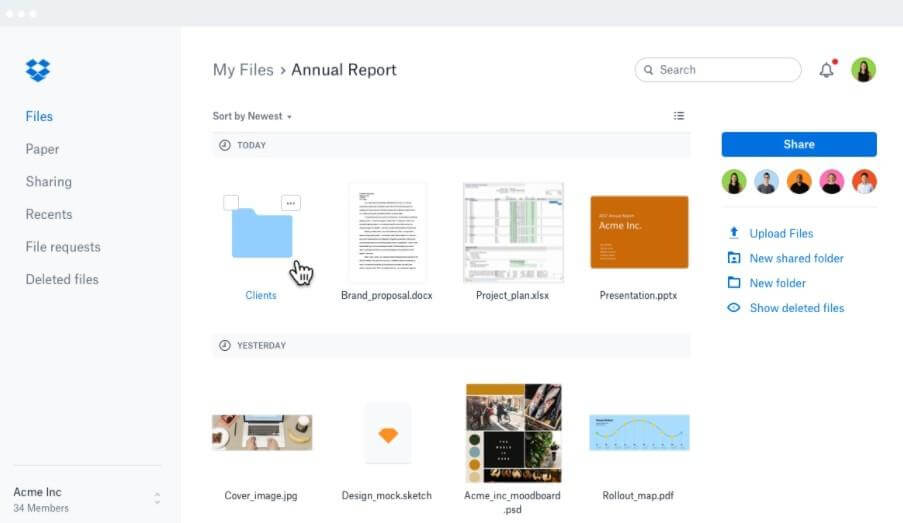 Alternatives: Hightail, MediaFire, Tresorit, ShareFile
Example: Yammer
You may say that this is a great old school example. Actually, Yammer is one of the first social networks created specifically for internal office needs. Team members can post updates and communicate in groups and channels, using this tool.
Three main advantages of using Yammer for internal and even external collaboration are ease of use, mobile app, and collaborating with external users.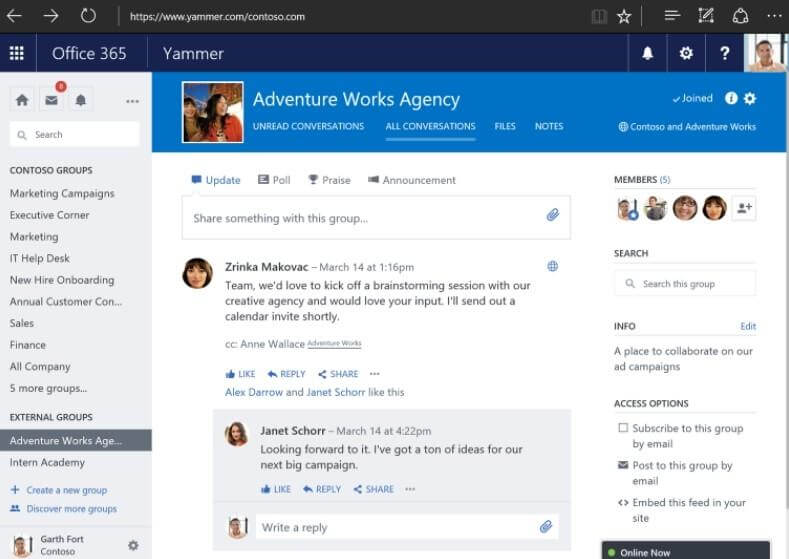 Alternatives: Jive-n, Facebook workplace
Tools for mockups and prototyping
Example: Marvel
Marvel is known worldwide as one of the easiest mockup business software. It helps managers and teams to create and collaborate on mobile, tablets, and desktop prototypes of apps and websites.
If you work with different departments or clients, the tool lets you organize your company in a more efficient way.
You can add your feedback directly to prototypes and annotate areas which you want to highlight. Clients can leave comments without having to sign up to Marvel. Seems easy and useful.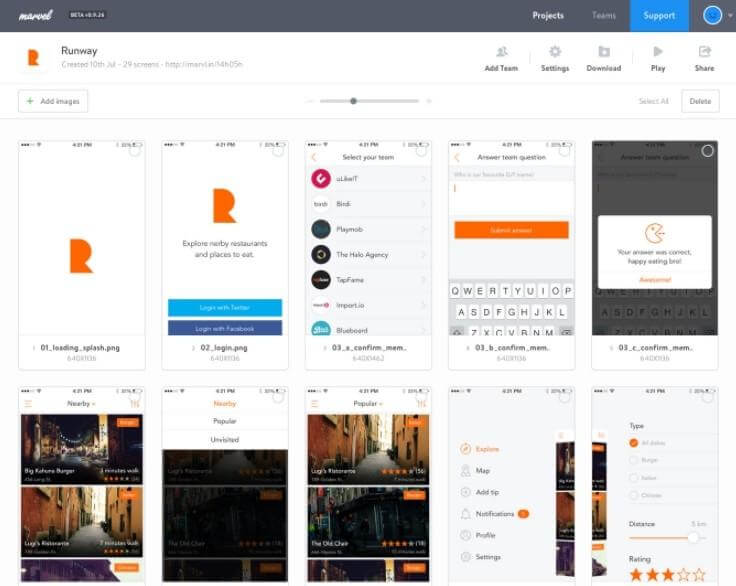 Alternatives: Mockup.io, InVision, Flinto.
How many of the listed items do you use? Did you find the proposed descriptions helpful? Or do you think that alternative tools are more powerful? Please, share your ideas in comments.