What Are the Factors Affecting Software Product Managers' Salary?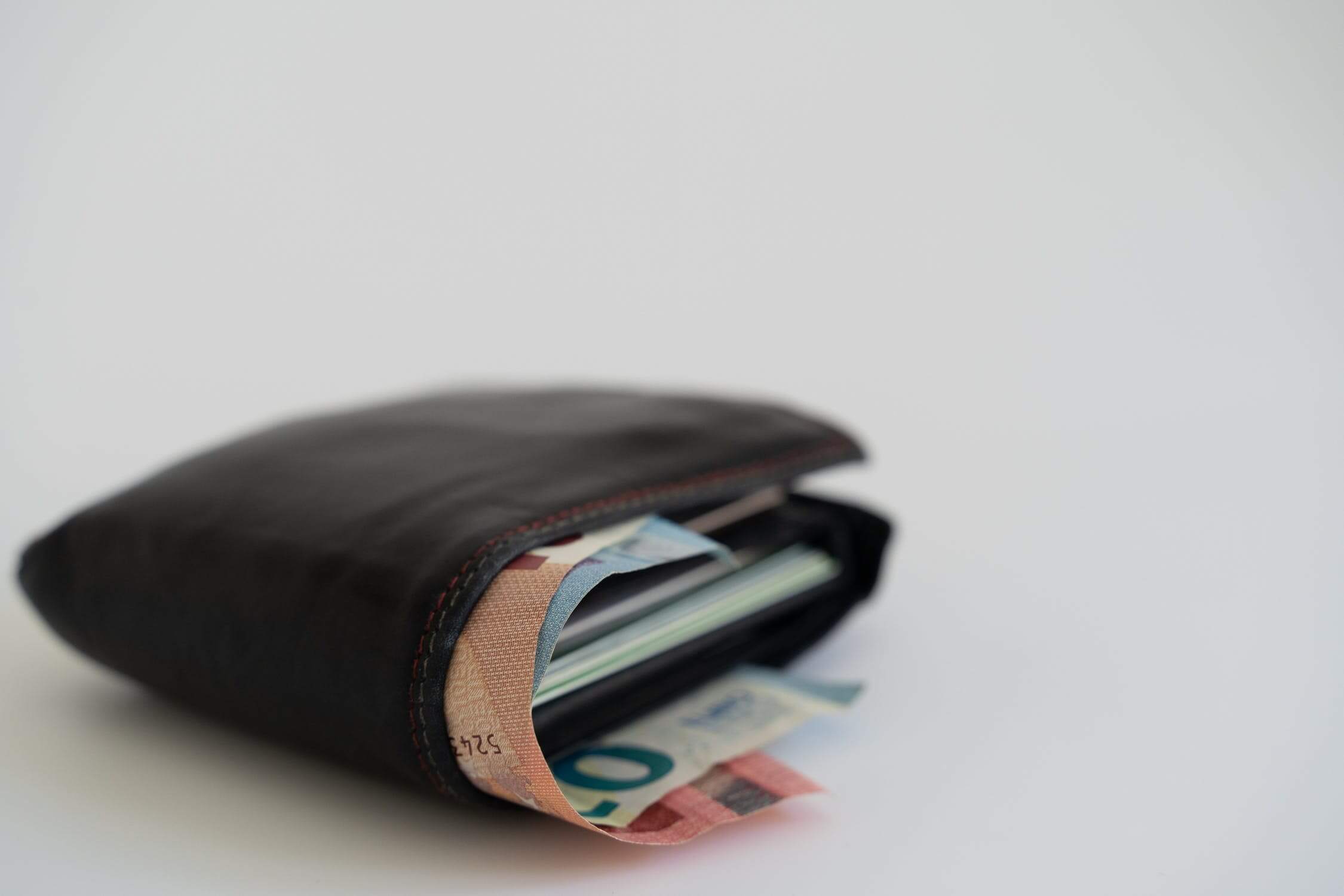 The salary of product managers in software development companies grows together with the popularity of the profession. This is the proven fact. What are the reasons of high PM salaries?
Software product managers are responsible for managing software products' development. They communicate with internal personnel and relevant external parties and stakeholders. They meet with prospect and current customers to make sure the product meets all their needs. Software PMs also work with marketers to effectively present software features to clients.
They often help to optimize the development process and assist in creating a business plan to commercialize software programs. These managers often need to attend and arrange industry meetings to be aware of current trends. And, of course, they know exactly how to get great results using smart tools and product management platforms.
According to different statistics, the salaries of product managers are growing or remaining stable at the level of the previous month. This indicates that the profession is in priority, and the role and importance of product manager in companies are estimated not less than the role of CEO.
In the United States and Great Britain, the product manager is now considered one of the highest paid professions in various fields.
The typical Product Manager salary in Google is $145K. This estimate is based on Google Product Manager salary reports estimated based upon statistical methods or provided by Google employees.
PM Salary statistics
The research conducted in 2016 by Glassdoor, shows that in Silicon Valley the highest paid workers are not software engineers anymore.

Another statistics, updated in May 2018 demonstrates the following data: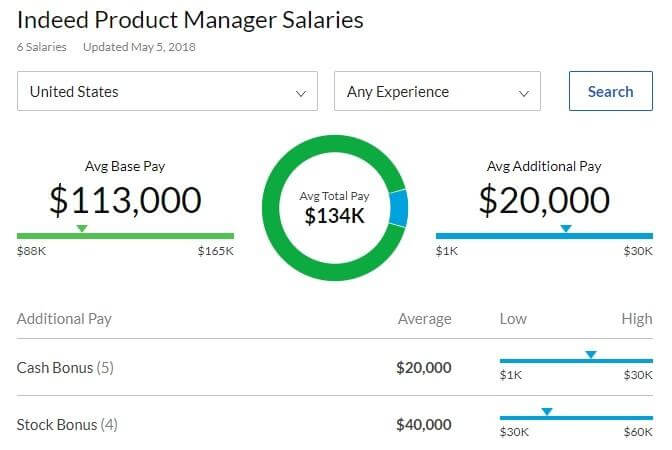 The typical product manager salary in the US is $113K. But depending on the locations and industries it can range from $87K to $165K.
Key factors affecting the growth of PM salaries
Nowadays analysts and large companies' representatives, in general, identify 4 main factors that affect the salary level of the PM's:
Education and professional background

The role in the company's hierarchy or a management status

Location of the company

Industry/sphere
Education
Most product managers have a college/university degree and additional education. But this background itself will not have a large impact on salary without working experience and knowledge in associated disciplines.
Today you may find many successful product managers with a degree in computer science, finance, marketing or business. This can serve as a helpful foundation for developing the analytical skills for managing a product.
Some schools and colleges offer specialized courses for a career in product management. They are available in Northwestern University's Kellogg School of Management, Harward Business School, and other popular educational institutions.
Product managers can also get professional certifications and periodically graduate some education courses.
Role in the company and experience
Seniority is one of the key factors that influence PM salary.
There are a lot of professional roles in product management you may find in companies all over the world. No matter what industry a PM is in, seniority is the main driver of salary ranges. However in a fast-growing tech sphere seniority usually does not require decades of experience.
An associate product manager, a Senior product manager and a VP PM earn different salaries. The options in the career path of product managers with different levels of salary should motivate them to constantly improve and grow up.
Enterprise companies usually offer generous salaries and packages that include great bonuses.
Here's the statistics from payscale.com: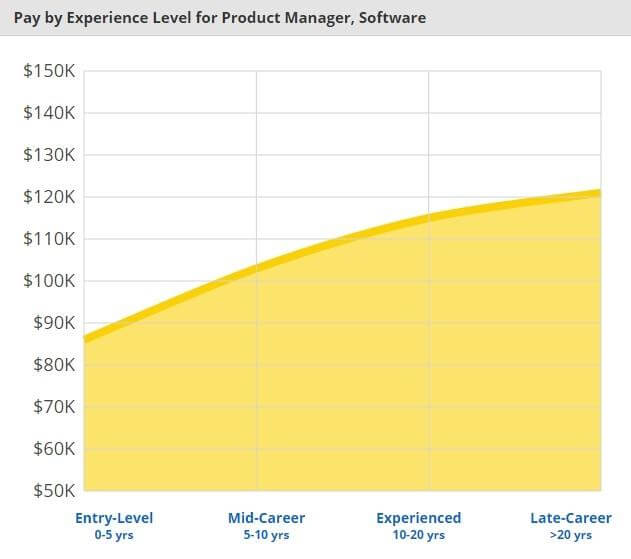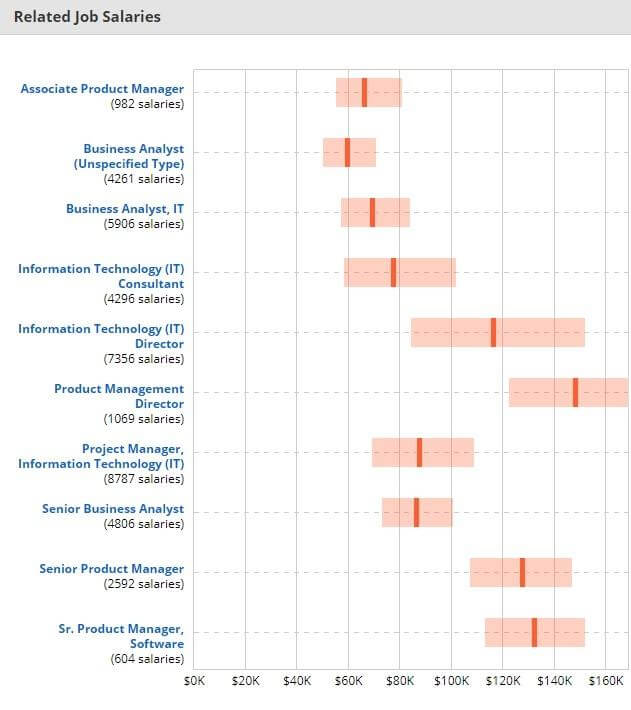 Location
Location is a one more important factor in product managers' salaries.
Industry standards and demand & supply factor vary from place to place in different countries. Even in the USA reality, pay differences can amount to almost 20K per year.   
So location impacts salary in two ways.
Cost of living is one factor. Product managers in Silicon Valley should earn more than a product manager in East Europe.

One more way location can impact salary is demand. In big cities such as London or New York where the demand for advanced product managers outpaces the supply, salaries naturally go up.
The other statistics show that in 2016 in Europe the most successful countries in terms of average wages were Luxembourg, Denmark, Sweden, Finland, and Germany.
As for product managers: in that year, the average PM salary in Germany, for example, was: $ 57K.
Industries
PM roles in different industries vary a lot.
If you have a lot of knowledge in a specific field that is valuable and companies are willing to pay for it. Salaries in software development, manufacturing, finance, transportation, non-profit, information services, healthcare, aviation, biotechnology will definitely differ. You may continue this list and will see that PMs in different spheres will get different salaries.
Conclusion
As you can see, product management is currently one of the best-paying spheres in companies. However, as a great specialist, you'll admit that the best part of this job is not the salary but the real opportunity to turn great ideas into reality.