Why Do Projects Fail? Main Reasons and Ways to Spot Project Failures
Failures are unavoidable. Each year, businesses face various project failure rates, often wasting millions of dollars per failed projects. 
Some of them agonize over the failure causes and seek expensive consultants to assess and recover failing projects. Some abandon the initial plan, destined for success.
Have you ever found yourself in a boat trying to move upstream without a paddle? If so, then you were familiar with failures and you did not pay due attention to managing resources and risk management.
Unfortunately, there is no single method that can be applied to manage projects to success. Companies all over the world handle projects differently. 
No matter what arrangements of the functions your company has, there are defined organizational needs that can be used to save or manage projects. The list of these needs contains the following basic project management functions:
to gather and maintain technical and non-tech resource skills.
to manage the allocation of scarce resources.
to collect operational metrics to support project decision making.
to provide effective and continuous communication.
to choose technology-related project management tools, etc.
Why Do Projects Fail?
It's fine to celebrate success but it is more important to heed the lessons of failure.

Bill Gates
There are many reasons for project failures. Sometimes the reason can be out of control of a project manager and team members, but in most cases, failures can be controllable. Very often, unsuccessful projects get prescriptions for quick fixes that usually prove to be ineffective and can lead to disastrous side effects. In many cases, classical approaches and powerful interventions fail because they are inappropriately applied.
Often the errors made by management, project managers, and team members disturb the goal of project management to produce a successful product or service. That's why it is crucial to identify the common causes of project failures to find ways can be used to mitigate their occurrence, repair the damage, and recover the project.
What Are the Reasons Why Projects Fail?
1. Poor initial focus
Even a young project manager without experience needs to have a clear picture of what he/she is going to do, as early as possible. It's rather important to understand what project success looks like at the very beginning and don't lose this focus until the end. If there is no clear focus at the earliest stage of your process, you will make things harder on yourself. Perhaps, you need a special meeting with stakeholders to discuss their expectations on time frames, costs, and product quality.
2. Unclear documentation
Managing documents is also a responsibility of project managers. In order to understand whether they are meeting expectations or not, they should constantly track project milestones. Proper work with docs and straight monitoring allows managers to identify where more resources are needed to complete a project on time.
3. Weak leadership
The efforts of any motivated team are 50% of project success. And there are people – not only project managers – who at each management-level have a responsibility to ensure that the project is successful. Effective management is not about micromanaging but about providing support to ensure that the PM is able to follow through with the expectations placed upon them.
4. Lack of skills and experience 
Project managers have numerous responsibilities; no matter they work in software development or run projects in the healthcare sphere. They should have matching education and experience and be capable of managing projects. However, the key is to keep them at a level where they can succeed.
In fact, the lack of professional knowledge is not such a big problem, as today you may find many useful sources for managing products and projects – from the best-selling books to the latest podcasts and videos on social networks.
5. Wrong cost estimations
Your cost estimates can be completely off. Any project will face failure when resources run-out. The aim of a project manager is to timely prevent this by identifying the lack of resources.
6. Bad work with parameters
This is a crucial skill for any project manager to be able to work well with your team. If project tasks or goals are not met to standard, there should be ramifications. That's why it's important to always remember about the power of prioritization, rank tasks and assign them to the most proficient team members.
7. Competing priorities
If a business experiences a lack of resources, there's bound to be competition between personnel resources and funding. This problem can be solved with proper cost estimations and setting clear priorities at the start.
8. Lack of communication at management levels
Poor communication is always a big problem, whether it's between upper management, middle or with the team. Everyone should be able to express their opinion and propose suggestions. When everyone in a team is on the same page, the workflow is at an optimum level.
9. Ethical/Cultural misalignment
Any organizational culture must be comprised of professionalism, competence, and proactiveness. Otherwise, its team players will not be motivated and productive. Every person involved must be invested in his/her part of the project to successfully complete it.
10. Ignoring warning signs
Warning signs do always appear before a project is going to the verge of failing. When you take action immediately, you can save your project and avoid unnecessary losses.
Project failure example
Let's remind any vivid example from history. The story of the Stretch project is a good one.
The Stretch project was announced in 1956 by IBM computer scientists. They strived to build a supercomputer – the world's fastest computer ever. The result of their project was the transistorized supercomputer IBM 7030, known as Stretch. 
It could handle a half-million instructions per second. Stretch became the fastest computer in the world up to 1964. However, this project had deemed a failure. The goal of Stretch was to be 100 times faster than what it was built to replace. The supercomputer was only about 30-40 times faster. The price dropped to $7.8 million, although the planned cost was $13.5 million. Only nine computers were built.
The reason for failure is obvious – the project did not achieve the goal, though IBM could salvage from the project. However, that was a creative project that might not have met its objectives but created a range of useful technologies.
What Are the Tools to Eliminate Project Failure?
All the points mentioned above demonstrate various aspects of how project failure may happen.
There are many smart software solutions that can help in many of these failures and worth to be considered. Hygger.io is designed to professionally set your projects on a successful path.
How Hygger helps to prevent failed projects
Nobody really wants to be a loser. Hygger.io keeps projects from failing with a set of smart project management features that are able to lead these projects from initiation to a successful close. 
Plan, schedule, track and prioritize work using Hygger! 
Plan in detail
Every efficient project starts with a strong plan. However, it's quite difficult to keep all the tasks and due dates working together on a realistic schedule. 
Hygger roadmaps based on online Gantt charts functionality will plot your tasks across a project timeline, link dependencies and break your projects into milestones.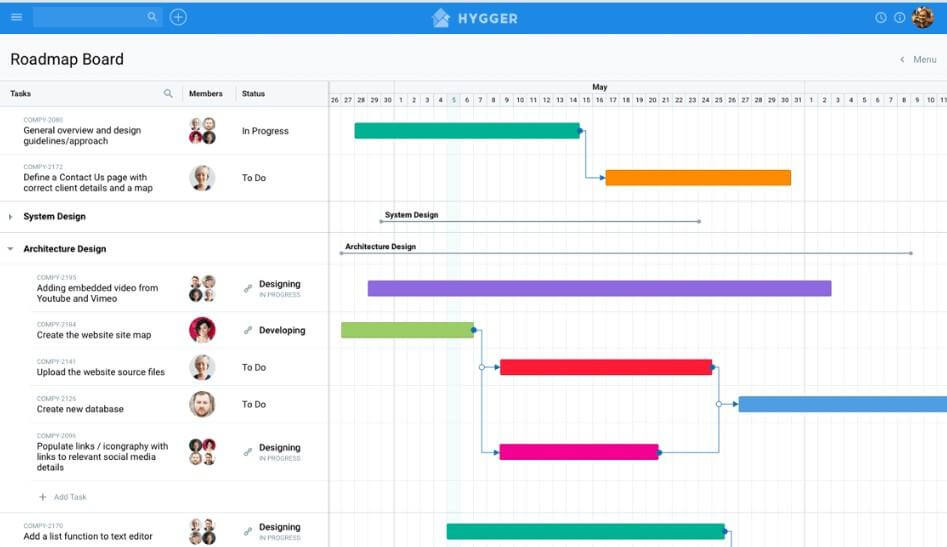 Track progress
Once the work is being executed properly, it can quickly follow the wrong way if left unwatched. Projects may move away from the plan, schedules and costs can be messed up. 
Hygger helps to keep you on track thanks to the high-level tracking via the real-time dashboard. If your projects start to veer off track, you can easily get them back on course.
Improve workflows
If you care about keeping your projects from failing, you should also pay attention to keeping teams focused on the task at hand and managing their workflow, so no one is tasked with more than he/she can handle.
Hygger proposes convenient Kanban boards that keep teams working with the right amount of resources. A colored board with such features as WIP limits makes it easy to see at a glance who has too much work.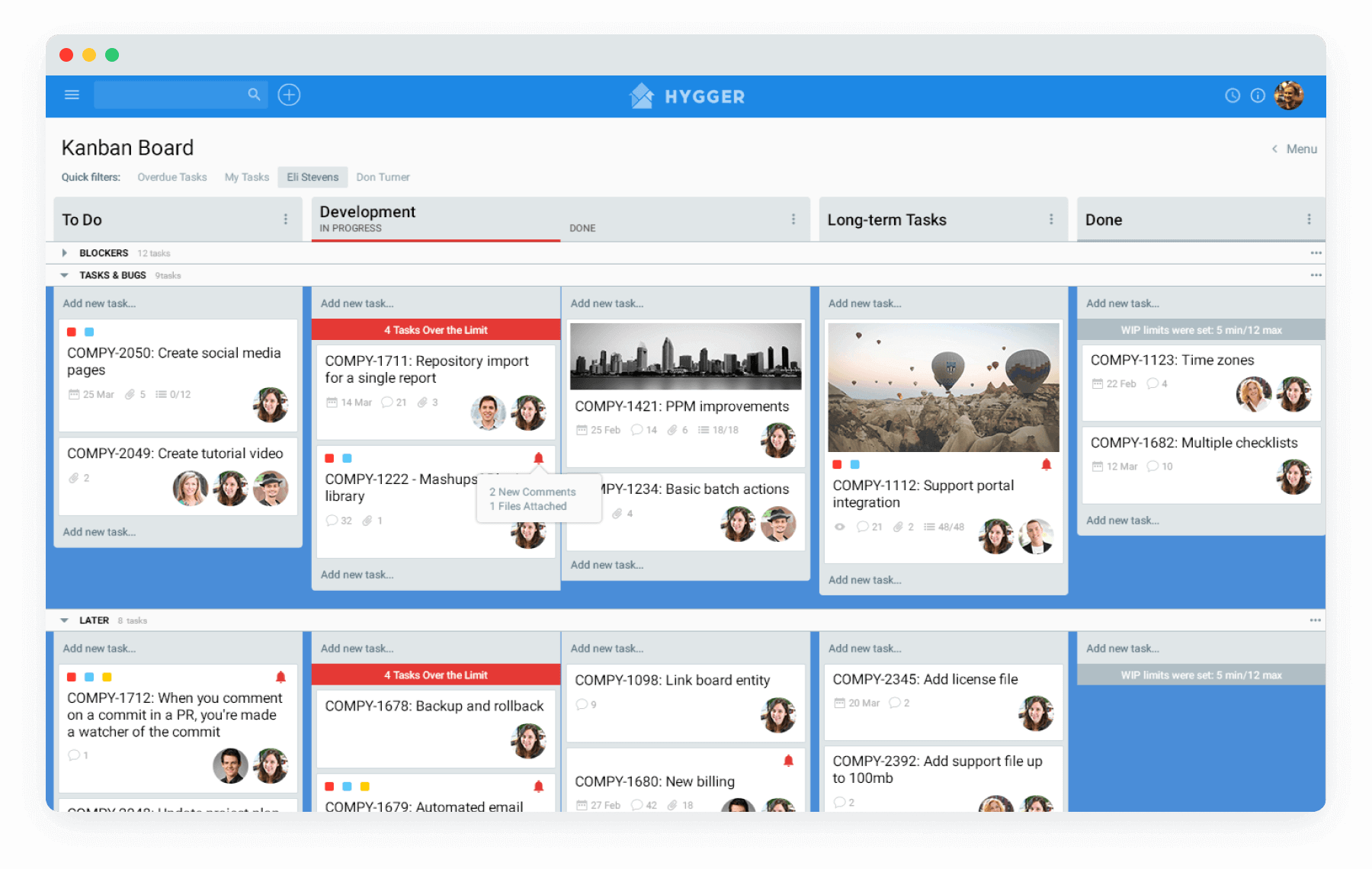 Hygger provides project managers and their teams with the power to work together and more productively, adjust schedules and resources, so projects can succeed.