Best Prioritization Tools to Find a Balance in Product Management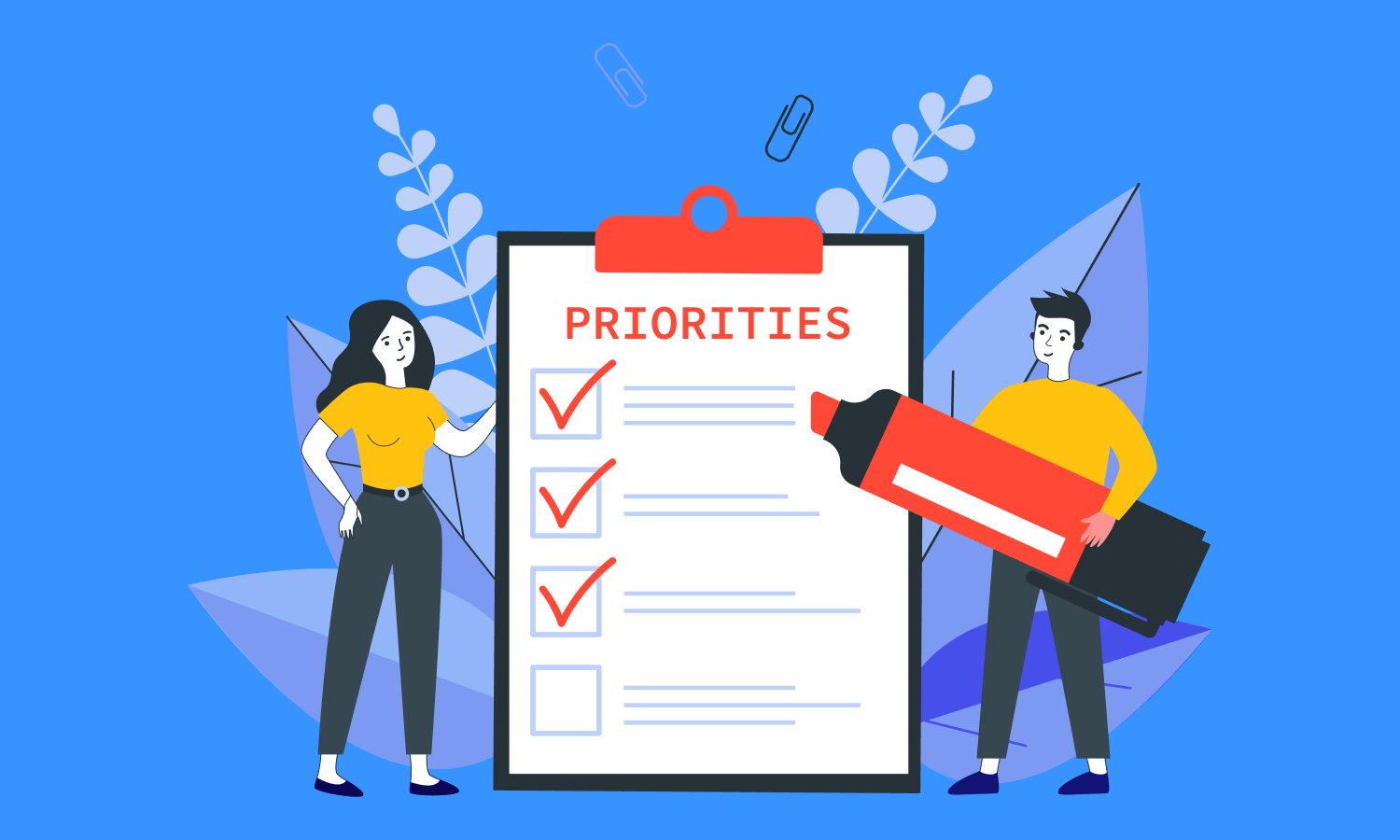 Prioritization means organizing things so that the most important thing is done or dealt with first. Is it always easy to deal with this in a stream of routine and when there is always too much to do?
Prioritization often involves organizing a group of tasks that need to be completed and ranking them in accordance with different factors including criticalness, time-sensitiveness, and how long it takes to complete each task. This helps in determining what should be focused on to reach maximum productivity.
Why Prioritize?
Companies all over the world have a lot of features, enhancements, and new products they want to deliver, and not enough resources.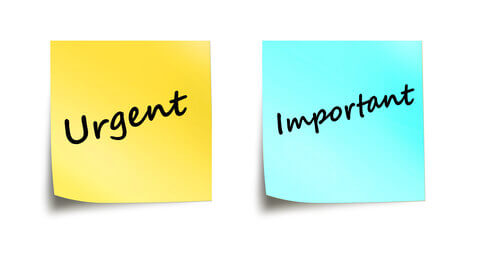 Which possibilities should be delivered? Delivering the wrong ones might spell doom for the product. Making good prioritization decisions may results in growth, maybe that even can change your life.
One of the most important skills for project managers and for product managers is to be able to defend and justify priorities to their supervisors, business, and people who are executing the work they have specified.
There is no one-size-fits-all approach that will address all your prioritization needs. Of course, you may use (and definitely should) some well-known prioritization techniques and methods, for example, the MoSCoW (Must, Should, Could, Won't) concept.
These techniques are great but to deal with your prioritization challenges better, in 2020 you need to be familiar with some of the best online solutions for defining, setting and managing priorities.
Best Tools for Prioritization in 2020
If you realize the power and relevance of the process of prioritization, then you should know more about the best software to lead cross-functional teams, keep everyone on pace with your product's strategy and be able to prioritize professionally. 
Here are some top resources and a couple of words about how to use them most effectively.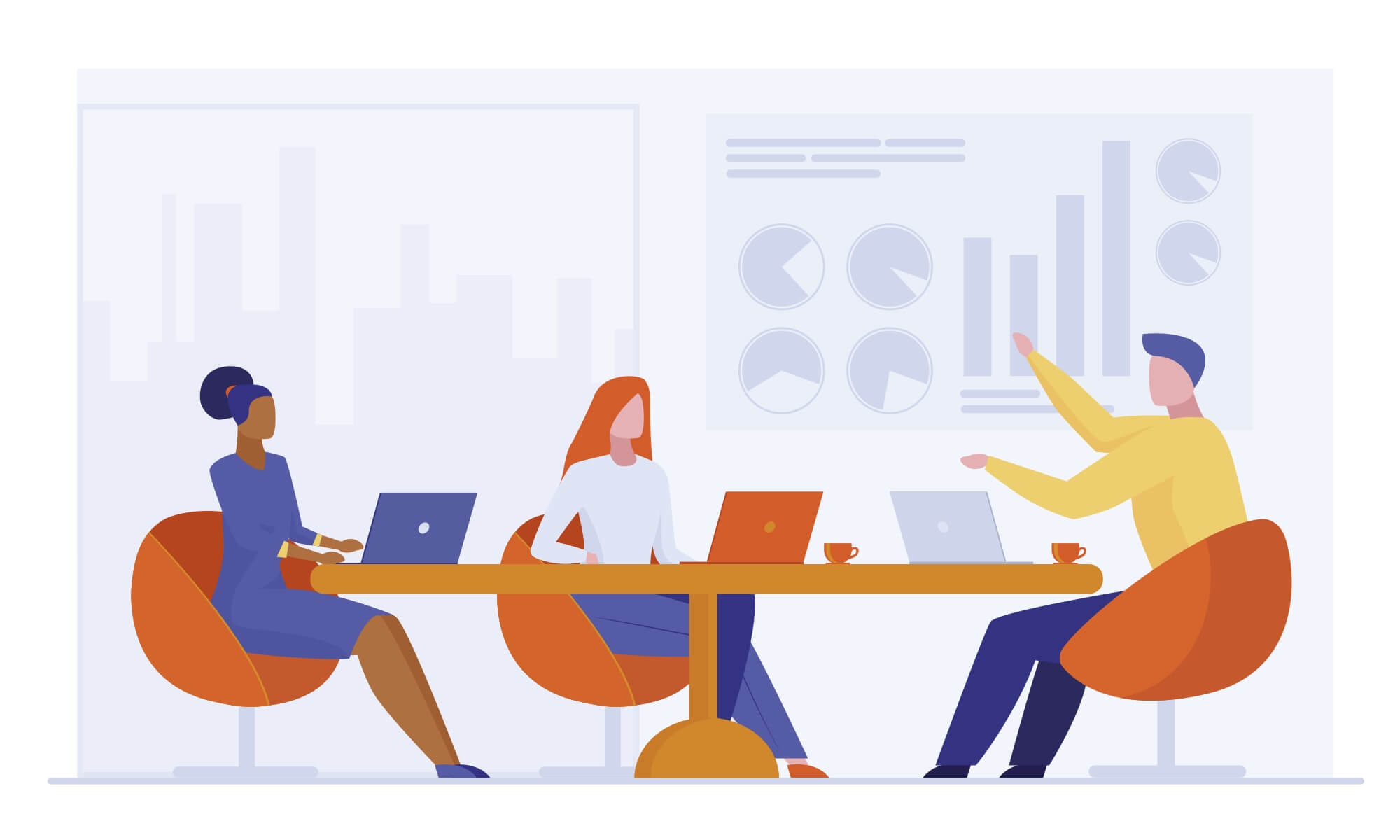 Hygger & Six Prioritization Frameworks
If you manage an Agile team, you can't miss this tool. Hygger is one of the best new-generation project management tools out there to help teams plan, track, and release projects and products. 
Regardless of the Agile methodology you prefer (Kanban, Scrum, etc.), Hygger features are friendly and flexible that makes it a powerful tool for various teams to use. There are many cases of using Hygger in healthcare, education, construction project management, and of course in the IT sector. 
More and more companies are becoming to use Hygger where the prioritization needs to be reflected. Having the ability to keep a backlog in the proper, prioritized order makes Hygger planning a real benefit.
Hygger proposes to apply the Backlog Priority Chart to optimize priorities by defining important and less important tasks: Quick Wins (features with a lot of value but which can be very quickly realized), Big Bets (features that can bring much value, but difficult to implement), Maybes (features that do not bring much value, but are easy to implement), Time Sinks (features that do not need priority).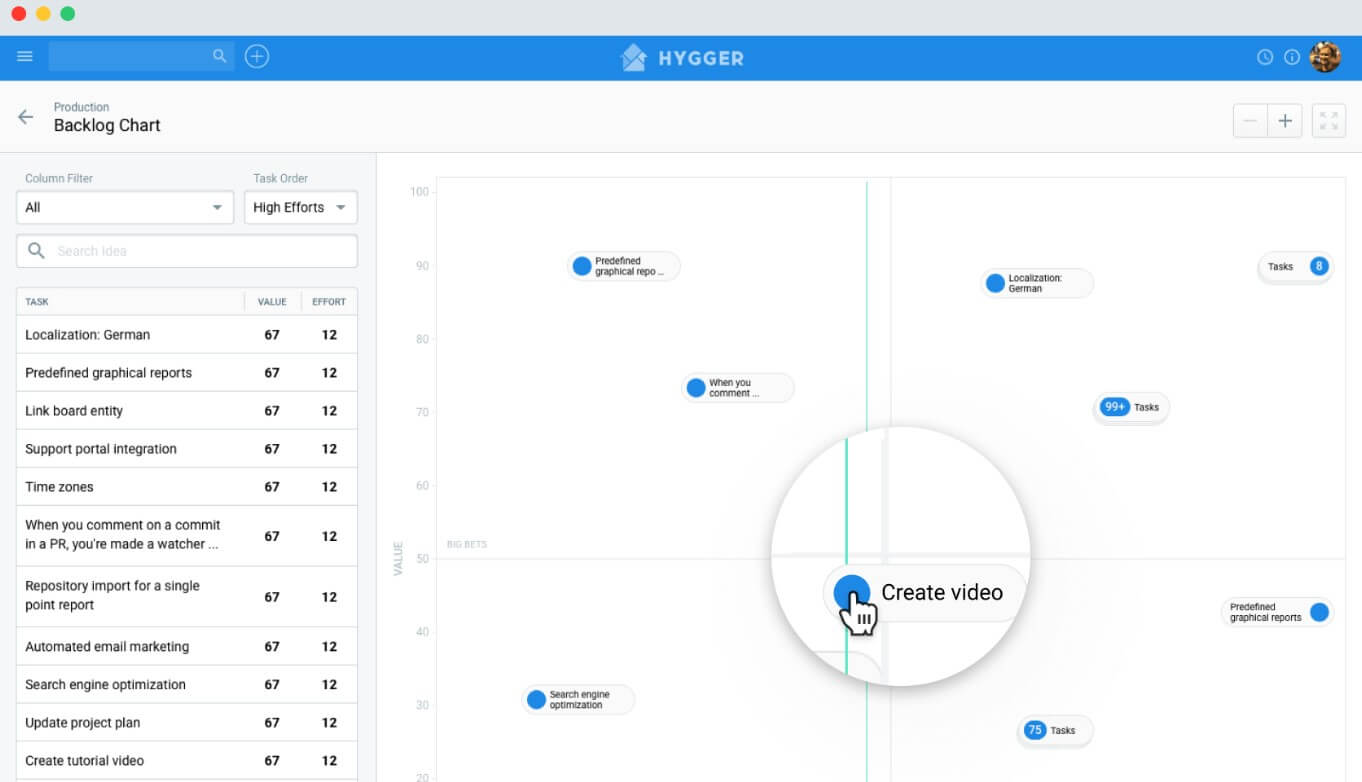 With Hygger you can also prioritize your backlog with the help of six outstanding prioritization frameworks.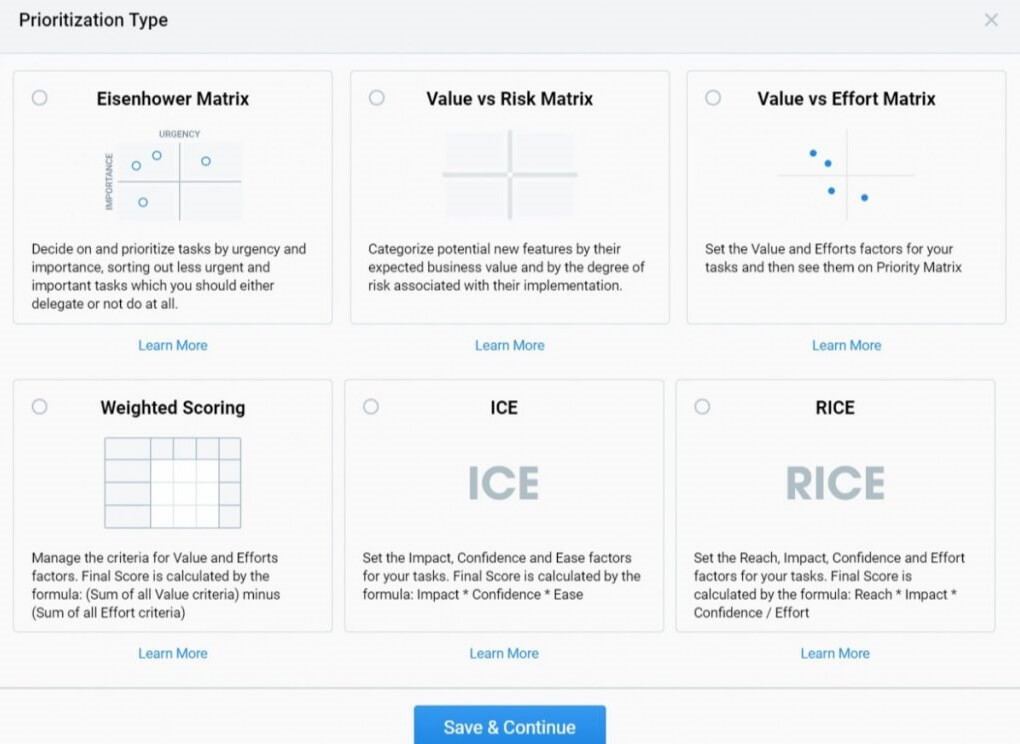 Aha! & Scorecard Equations
Aha! is also a good choice in case you are aimed to set a great strategy, capture customer ideas, create handy roadmaps, and manage breakthrough projects.
Nowadays Aha! is one of the fastest-growing software companies in the USA and its functionality is able to satisfy various teams and companies.
This cloud-based tool allows discussion, decisions, and documentation to happen simultaneously. It helps to improve project management processes of small, midsize and large enterprises. You may find it in many industries including marketing, education, finance, government, legal, IT services, energy, etc. The primary features include Kanban boards, task lists, product roadmaps, collaboration, and analytics.
Aha! also proposes to manage feature requests and prioritize a roadmap, applying multiple scorecards intended for multiple workspaces or record types. The score equation editor in Aha! allows defining an equation to calculate the scores of features and ideas that use the scoring system. Scores are calculated using some combination of user-defined metrics.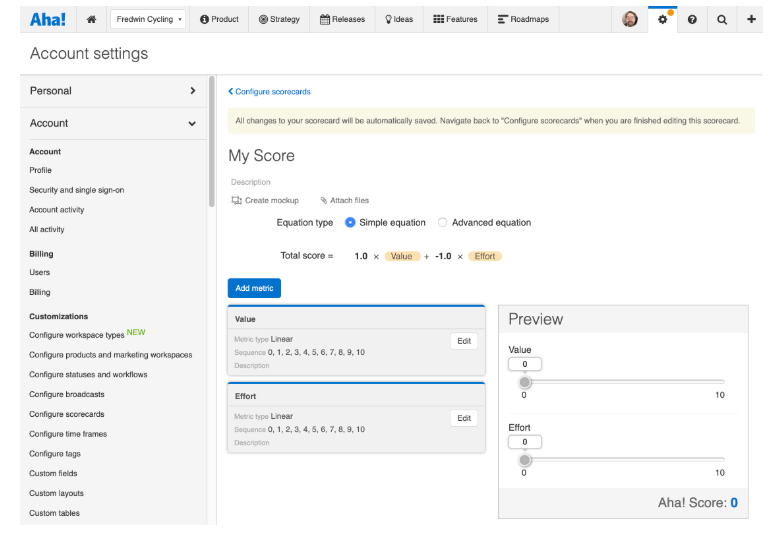 Airfocus & Highly-Customizable Scoring Board
Airfocus also positions itself as a powerful prioritization and roadmapping tool for decision-makers and teams of any size. These are typically product and project managers, CXOs and startup founders.
The tool enables you to prioritize projects with an advanced but easy-to-use scoring system. You'll be able to create and drag and drop user-friendly roadmaps in minutes and integrate with such tools as Jira, Trello, and others.
Prioritize based on advanced scorings and Priority Poker, visualize the big picture and set the right priorities, and build real-time roadmaps in minutes. 
The customizable scoring board lets users prioritize opportunities based on a defined set of values and cost criteria. The equal or custom weightings will help to define what is important and urgent for your company.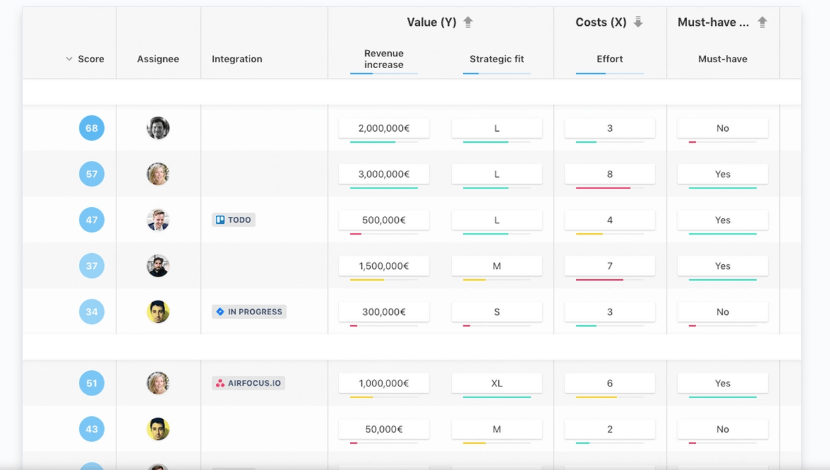 There is also a prioritization chart with the algorithms that score items based on the input and visually map them out on an interactive prioritization matrix. You will see what are the high impact ideas, quick wins, low-value projects, and assess them against each other.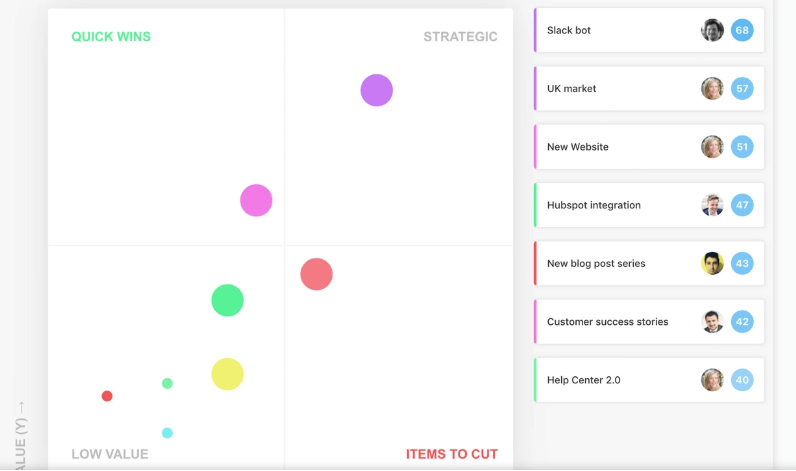 Productboard & Smart Matrix Grouping
Productboard is also a popular software solution that appropriates everyone who wants to get powerful product management and roadmap functionality. The tool easily helps to understand customer needs, market prioritization, progress, and improvements. 
Productboard enables Agile product managers to use data and insights for the development and launch of customer-oriented product roadmaps. It is designed for startups to large enterprises.
A robust prioritization matrix is what Productboard offers for visualizing the value/effort tradeoff across all an objective's features. The matrix is a grouping option on the features board. With its help, it is quite easy to spot low-hanging (high-value or low-cost) features.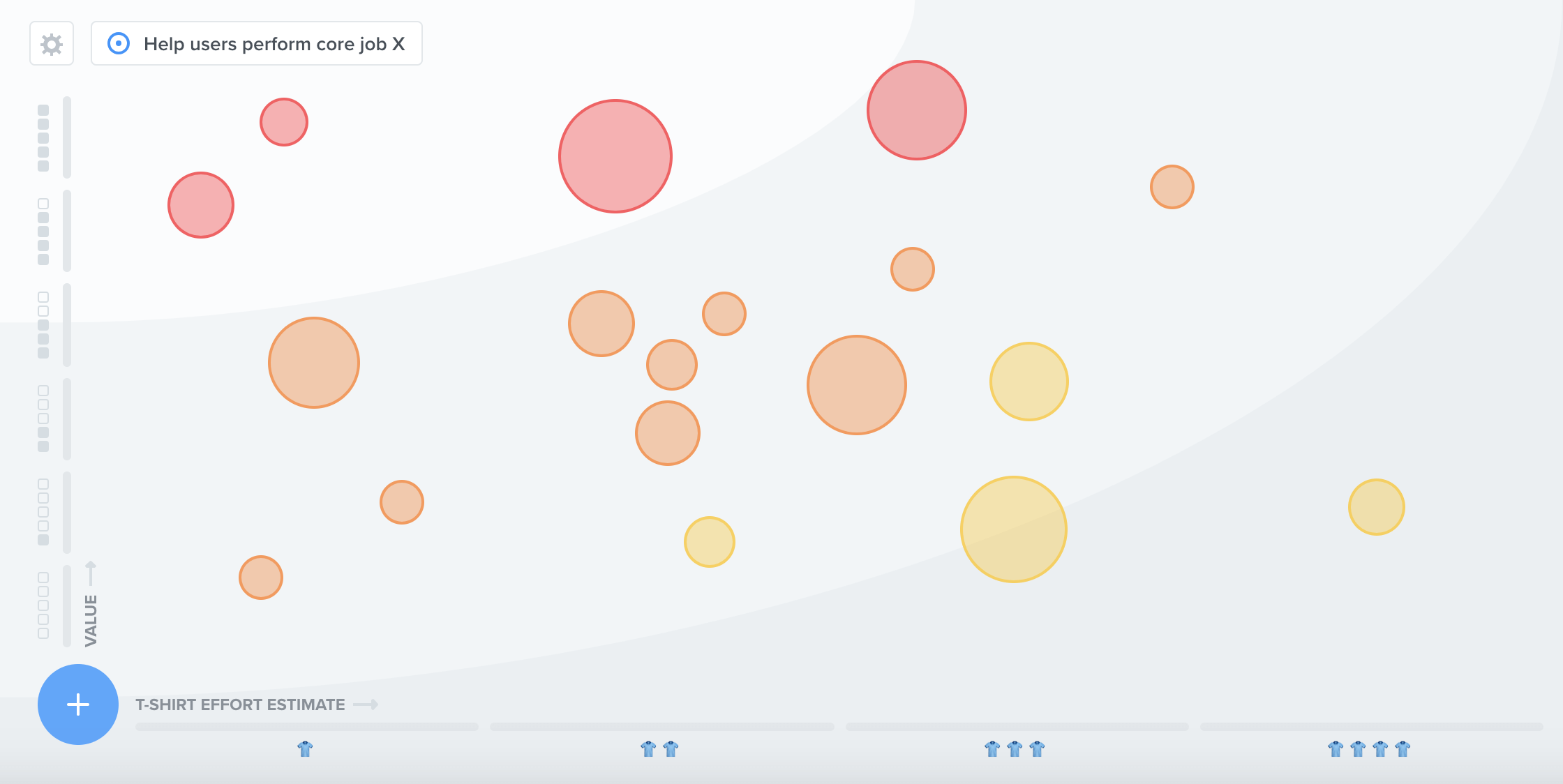 ProdPad & a Visual Chart for Idea Prioritization
Product managers widely use ProdPad to collect and prioritize ideas into a clear and accessible roadmap. This end-to-end software supports the complete product journey, allowing to grow ideas with internal comments and voting, mockups, user personas, feedback, and then map them out on a flexible roadmap. The platform integrates with the most demanded tools.
You can also estimate the power of prioritization functionality in Prodpad. Good prioritization requires balancing quick fixes that you expect will have an immediate impact on your clients.
A simple priority chart will help to visualize your ideas in relation to each other, which helps to identify: Quick Wins and Time Sinks.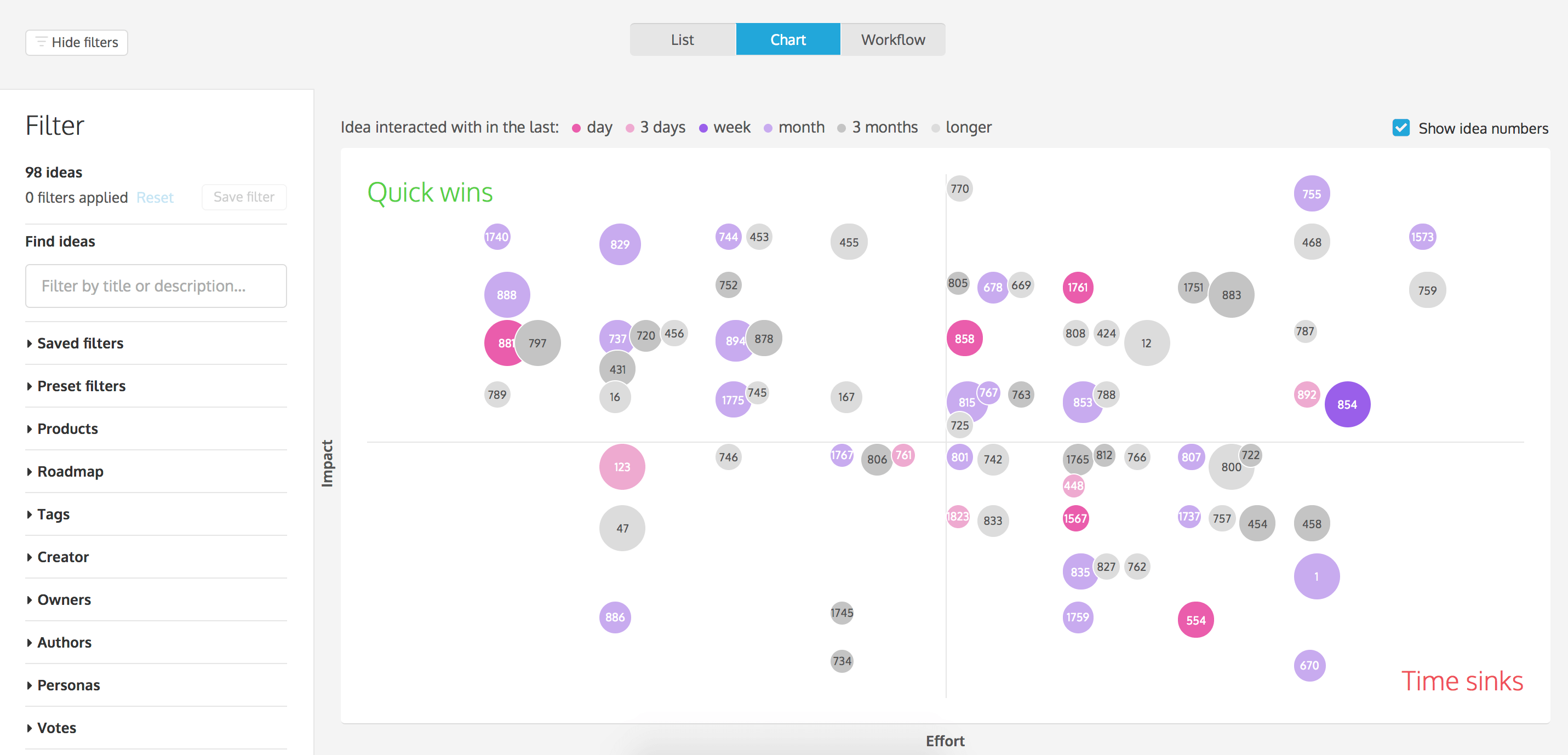 Ducalis & the Fastest Issue Prioritization for Jira
The last point in our list is Ducalis.io – a newcomer in the prioritization management world. Its creators started from the fact that doing unnecessary tasks is the biggest theft of time in any company.
When working in Jira, you can use priority markers and a sprint system. All this can help, but unnecessary tasks will most likely continue to be accidentally taken from the backlog and go into development.
The system of weighted scoring of task prioritization formed the basis of Ducalis. The tool takes into account the different and changing views on the priorities of the company and shows the most important top tasks to work on.
Ducalis solves the problem of incorrect priorities with the help of the RICE scoring system. As you remember, RICE prioritizes by scoring the items according to four factors: Reach, Impact, Confidence, and Effort. It enables managers to make better-informed decisions, minimize personal biases in decision making, and help them defend their priorities to other stakeholders.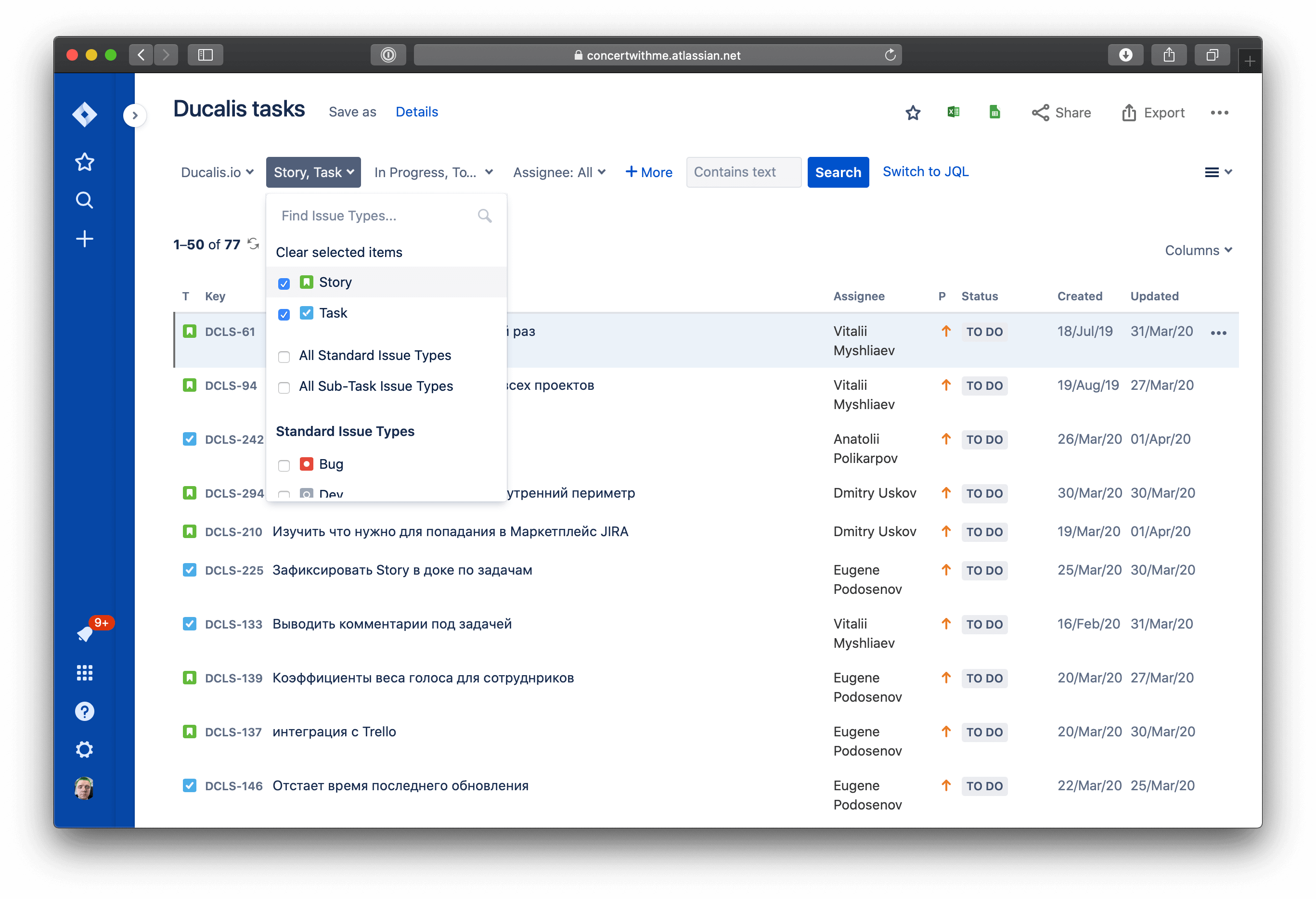 What prioritization tool do you use?
Finding the right solution to fit the exact needs of your team can be difficult, but we're confident that the tools we've compiled here are a great place to start for product and project managers out there.
This list is not exhaustive for sure, but you freely may try all of the tools mentioned above for prioritizing anything in your project, career or even life. Please, let us know in the comments if you prefer to use other software solutions for prioritization.