What is the "Monkey on Shoulder" Concept in Time Management?
People often feel like they spend the whole day dealing with other people's to-do lists instead of their own. Does it mean that they are doing more but accomplishing less?
It is probably so. In order to protect your own life from losing control over it, it worth paying attention to the art of monkey management.
Have you ever heard about the concept "Monkey on the shoulder?
What does it mean to have a monkey on your shoulder?
When you keep the monkey on your shoulders, you are robbing yourself. How to remove some things from your to-do list and get them to the right people? Analyzing your to-do list for this week and evaluating how it will all be accomplished might be the place to start. Just look at what you have to do and then who should be doing it. What's more?
We often hear from the professionals that they want to delegate more but they can't because:
It takes too much time and they can get it done faster themselves.

They do not have anyone to delegate to.

Their team is not ready to do particular things they do.
In many cases, managers lack time while their subordinates don't have enough work. It's rather important to care about time management and correctly divide time among managers, directors, colleagues, and subordinates. But how to do it professionally?

There are 3 types of working time spent in a managing process:
The time spent by a manager on doing a task he/she has received from a manager. There will be an instant reprimand follows if the task is not fulfilled. 

The time spent on tasks laid on by a system. It means active support to manager-colleagues when they need it. It will be also a reprimand (though not so direct and instant as in the first case) if you neglect this work type.

The time spent on doing your own tasks or tasks the manager agrees to complete. However, a part of your own time will be spent on work with subordinates.
What is Monkey Management?
One of the all-time best-selling articles entitled "Managing Management Time: Who's Got the Monkey?" was written by Bill Oncken, Jr. and Don Wass and published in the Harvard Business Review in 1974. Then it was re-published in 1999 with special commentaries by Stephen Covey.
The fabulous article contains some interesting things about managing monkeys that still hold true today.
Monkey management means maintaining the principles for how to handle the common problem of taking on other people's monkeys.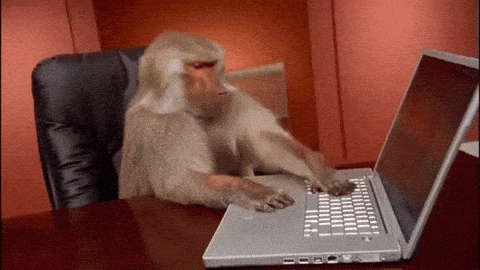 The authors of the initial text defined five rules for Monkey management. These rules then were reconsidered in the book "The One Minute Manager Meets the Monkey" with the co-authors Kenneth Blanchard and Hal Burrows. 
The definition of a "monkey' has recurred in both the Harward Business Review article and the book. The authors define a Monkey as "the next move".
Monkey management: how to make it work for you?
After the rules revision in the One Minute Manager book, the following principles were defined:
1. Describe the Monkey
It means you must always confidently describe the appropriate next moves before assigning the monkey.
2. Assign the Monkey
The monkeys should be owned and looked after at the lowest level of the organization. It means that the individual who gets the monkey must act the next moves without risks to the company, themselves, or to you as their supervisor. This is often about a sufficiently small and safe next move – just to be sure that you don't end up with the monkey.
3. Insure the Monkey
Risk management is one of your responsibilities as well. Make sure that each monkey you assign to a person has its own insurance policy. The book identifies two levels of authority that you delegate:
Recommend, then act

Act, then advise
There are also five degrees of initiative you can delegate (from the lowest to the highest initiative):
Wait until told

Ask what to do

Recommend, and then take resulting action.

Act, but advice at once.

Act on own, then routinely report.
4. Check on the Monkey
Never forget that everything your team members do remains your responsibility. Make sure you properly exercise follow-up. Ensure every monkey stays healthy.
When the Monkey is not assigned clearly
What happens when you do not assign the Monkey clearly?
The most common trap relates to the fact that managers often do not understand who gets to look after the monkey. They want to care but do not want the monkey. They think they use weasel words but they actually convey mixed messages.
It means, you go one way up the corridor, and your colleague goes the other. The monkey is in trouble and it soon gets uncomfortable. It is unloved and uncared-for and soon starts to suffer.
Your strength is the solution
Are you taking on the monkey too fast? In those monkey-moments, lean on your strong sides and be a great coach instead of taking on more work. Teach your employees and ask useful questions to let them go figure it out instead of trying to solve it for them.  All these will make your team stronger.
What is your experience with Monkey management? It'd be great to receive your feedback and experience of managing monkeys. Feel free to leave them in the comments below.