Best Kanban Apps to Accelerate Your Workflow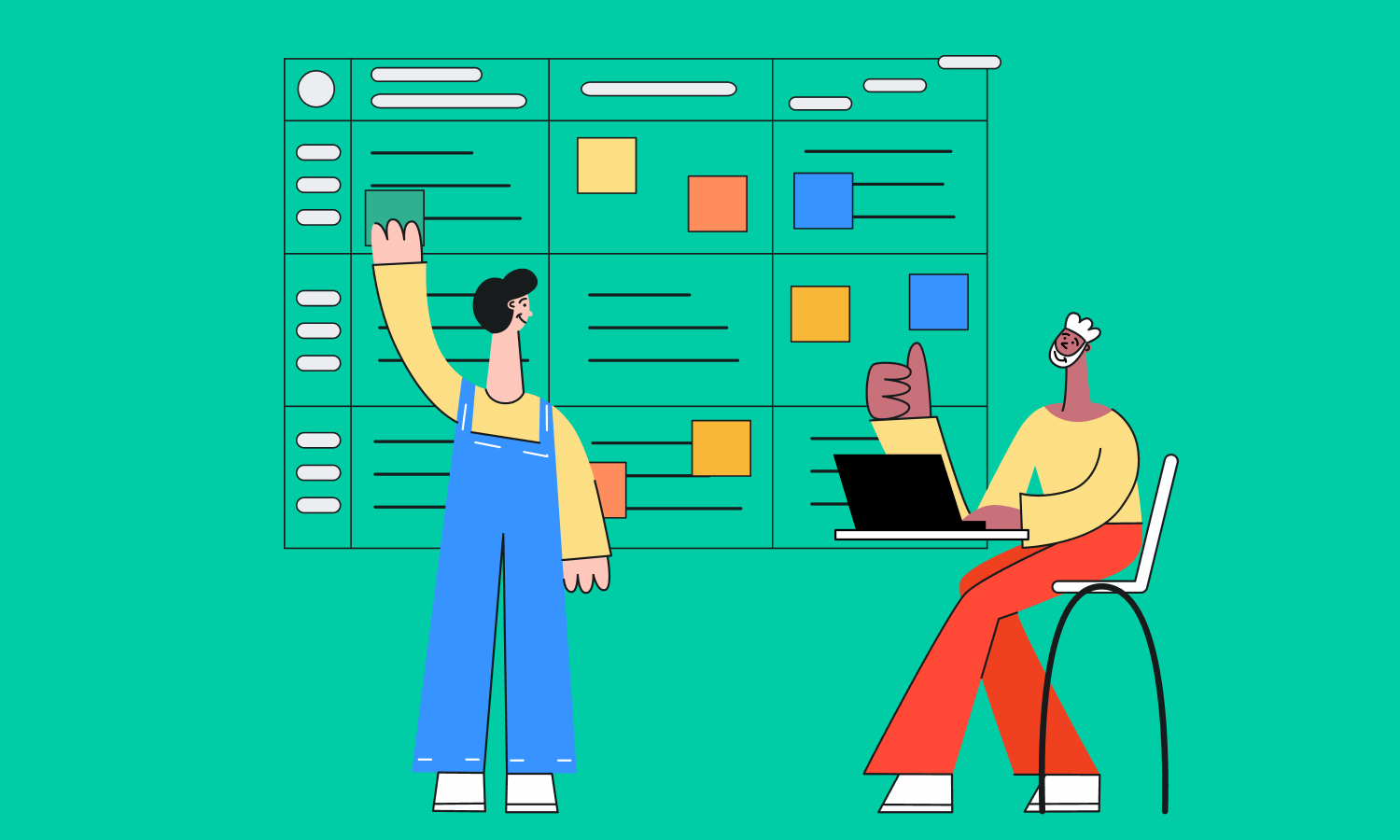 The work-management concept with the Japanese roots known as Kanban is a reliable way to help teams keep their work on track without getting overloaded. 
Kanban refers to distributing the work in a way when small tasks are developed until they reach a final product, all while every part of the process is visible to the team players.
If you need a magic tool to keep track of all the tasks you and your team are working on at the same time, all the tasks that are yet to be started, and a complete picture of all the tasks, you should think about a smart and helpful Kanban application.
We have tested 10 excellent Kanban apps that are able to improve your workflow and increase the productivity of your entire team. Let's get started with some theory inputs.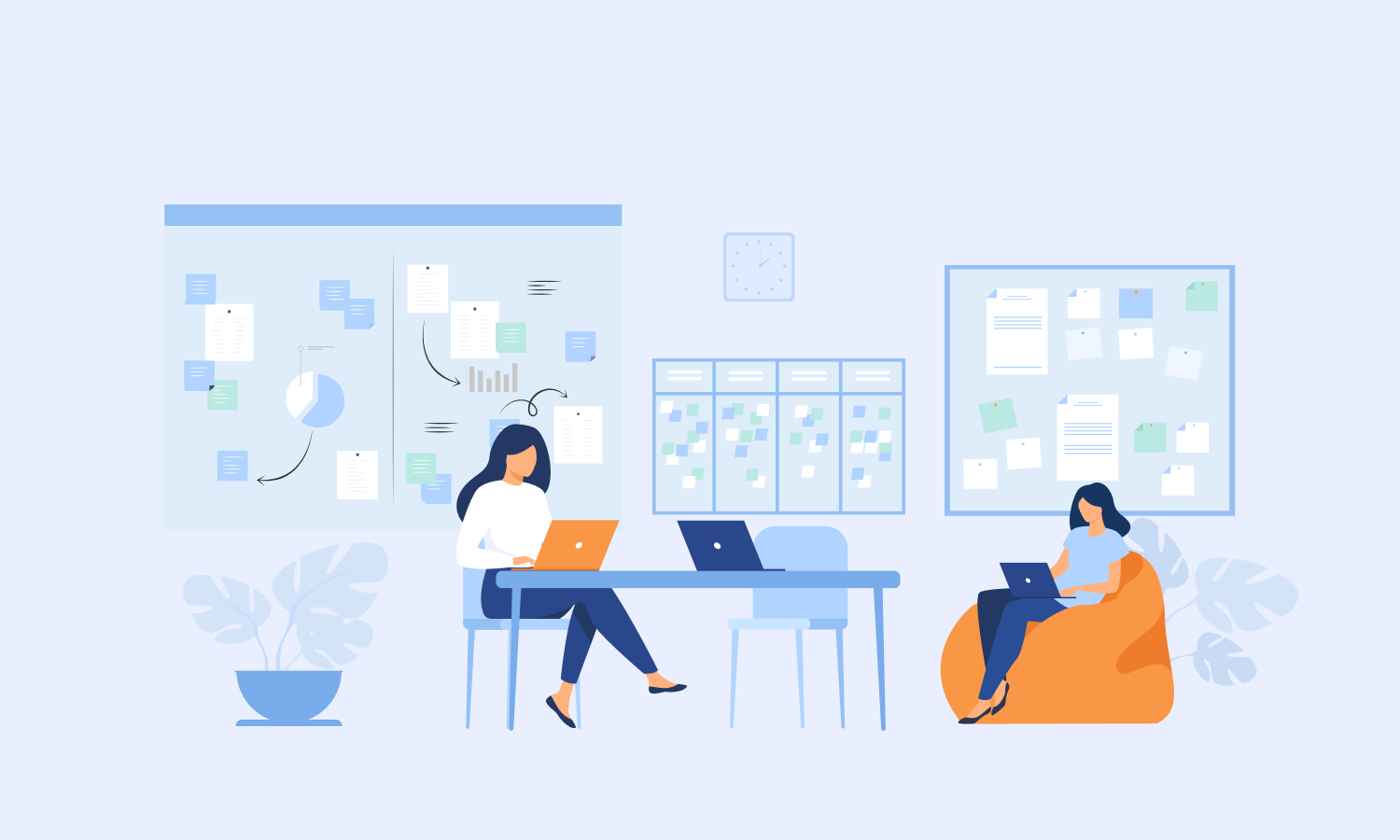 Kanban Definition
What is Kanban? This popular word in the Agile management world means a workflow method based on a work management system developed in Toyota manufacturing in the 1960s. 
Kanban allows you to minimize multitasking, streamlining work in progress, and improving the speed and quality of the work. The method also requires a high level of collaboration and self-management.
For an in-depth understanding of what Kanban is, please, check out our breakdown of this workflow methodology in our Quick Kanban Tutorial.
Nowadays Kanban concept is presented in many online software solutions. According to the trend of application development, Kanban apps are becoming more and more popular.
What makes a great Kanban app?
With an appropriate Kanban application, you can control a steady flow of work, focus on priorities, keep your team in the loop about what's current and what's coming up, and what is most relevant nowadays – make all these actions remotely. In conditions when working from home and self-isolation are not strange, virtual collaboration with the help of online tools and applications becomes a real solution for many companies.
Kanban apps are often used to manage Agile development. They allow applying activity streams, swimlanes, charts, cards, and a range of additional features for visualizing and managing workflows.
The needs are unique; however, let's define some common Kanban software criteria to score each application:
User Interface

. Most popular apps like Hygger or Trello offer a handy and easy-to-understand interface. Some solutions offer a really beautiful and amazing UI.

Usability.

The competition among popular Kanban-focused solutions is pretty fierce. However, the Kanban method is rather simple and intuitive—and luckily, most applications are too. Looking for the best solution, pay attention to the apps that make everything possible in terms of usability.

Functionality. Kanban boards and Kanban cards are the main features that help to organize the Kanban process. With the help of the boards, you can organize cards with WIP limits, swimlanes, sub-columns, column categories, tasks, checklists, attachments, and time tracking. Kanban cards offer different views, the ability to link tasks, add hierarchy, assign to resources, etc. Choosing the best Kanban app, it's also important to think about its analytical possibilities and reporting. Automation and customization are also important.
Integrations.

The apps for project management focused on Kanban methodology often need to be integrated with Google apps (Calendar, Google Drive) or any time tracking software, for example.

Pricing.

It depends on your requirements in features, the industry you represent, and other factors. Try to give higher scores to apps with transparent, clear, and flexible pricing.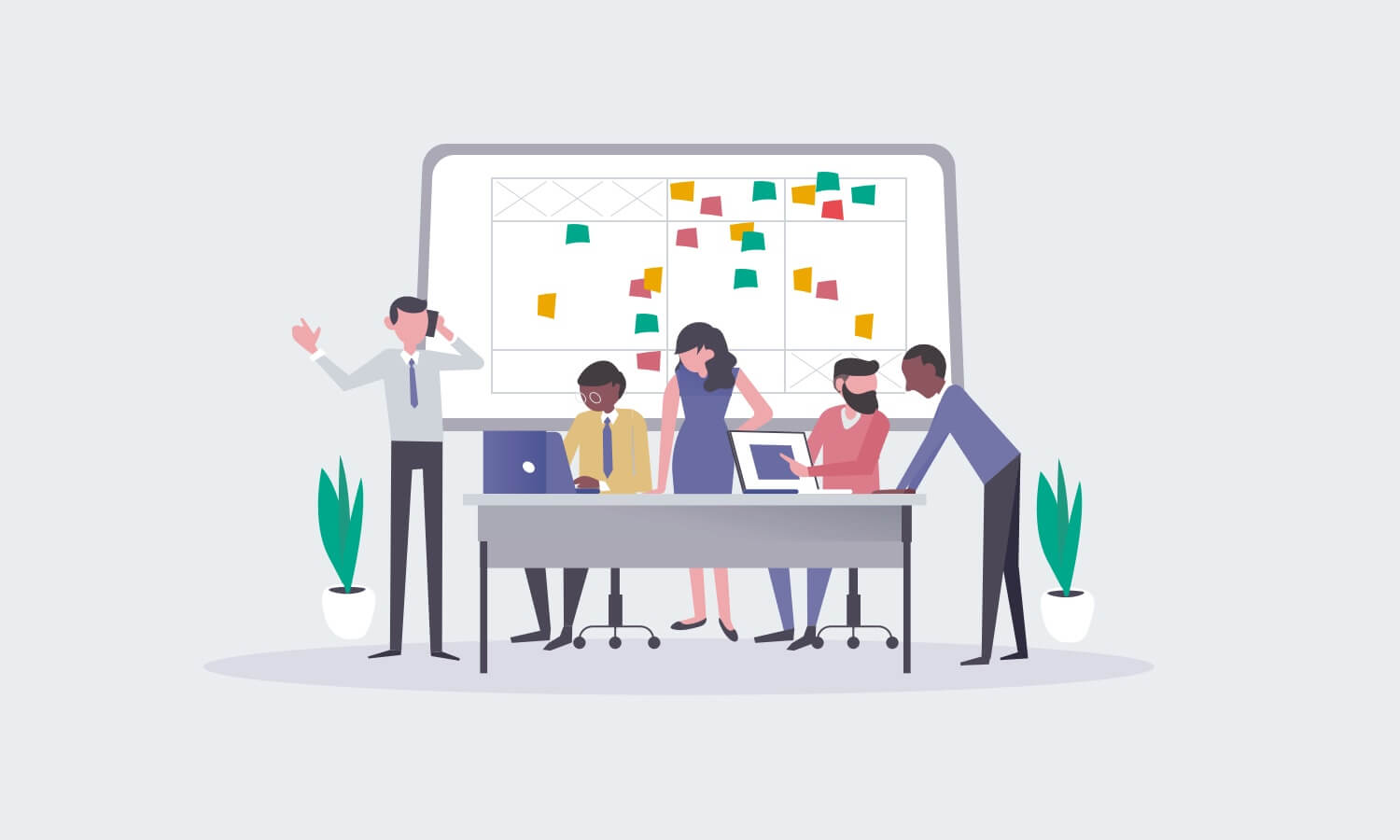 Kanban apps advantages
The key benefit of online Kanban boards (in comparison with physical ones) is that they are much more convenient as they offer many helpful features that can save your time.
With the help of a Kanban app, you are able to visualize, organize, and manage work in a proper way. You may easily focus on work that brings real value to your clients. To generalize this, here are the key advantages of Kanban apps tool for project management:
Accessibility from everywhere

Availability for remote teams

Immediate updates

Opportunity to share attachments
Top-10 Kanban Apps to Improve Your Workflow
1. Hygger
Our list of the best Kanban apps would not be full without Hygger. This platform deserves to start with it because it is confidently on a par with major players, offering excellent functionality for project management, including beautiful Kanban boards.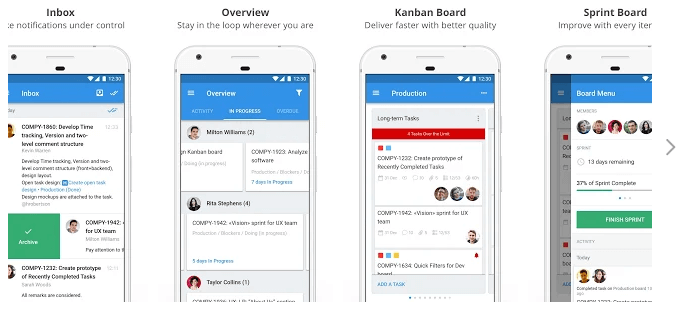 KAN means visual, while BAN means cards, that is represented by tasks in Hygger. The app is aimed to increases the team's productivity and have a huge impact on its efficiency. There are three main columns that help to keep an eye on tasks developing – To Do, In Progress, and Done. Such visualization of cards and statuses gives more control over the working processes while its transparency gives the whole picture on the organizational level. 
Optimize your workflow, set priorities, create complete, and realistic timelines, and many more with the help of Hygger. Loaded with innovative features, Hygger provides at the same time a clean and user-friendly interface. Integration with the most demanded platforms is also available here.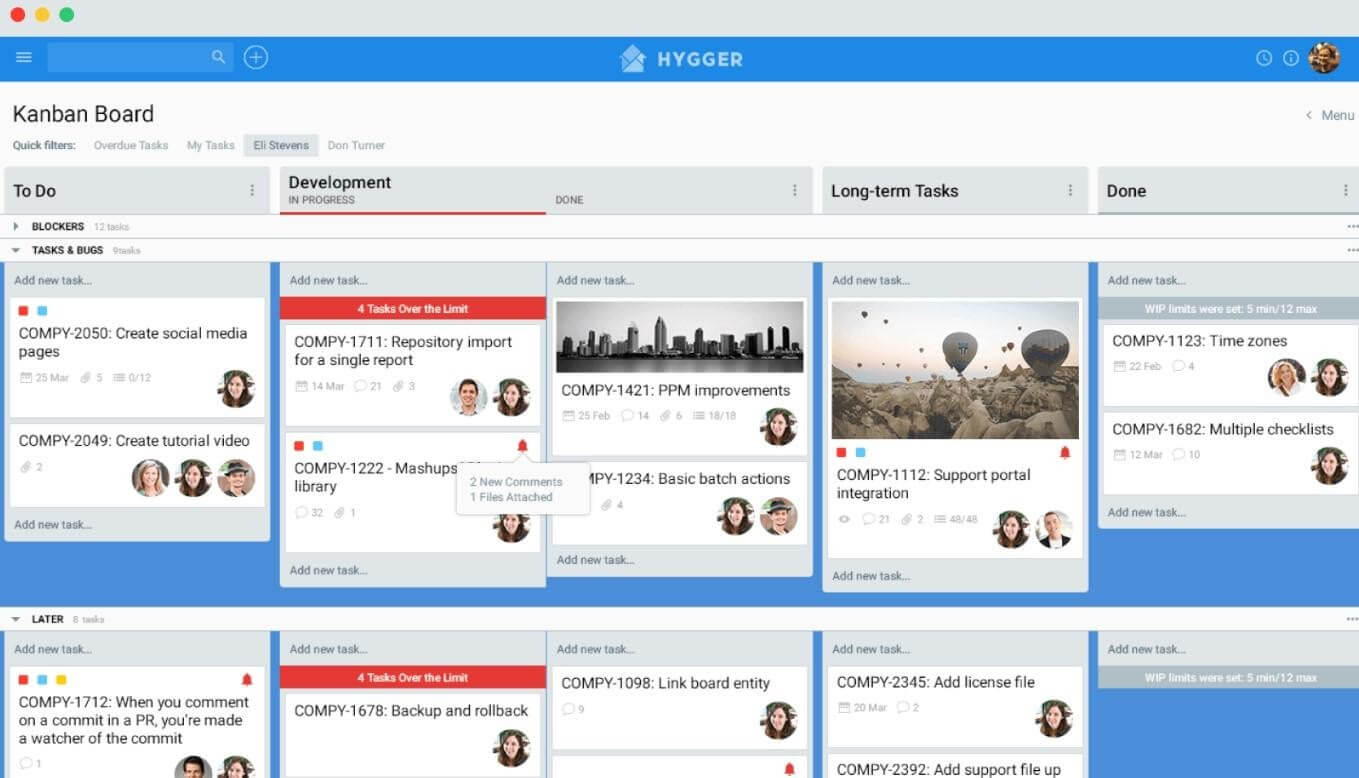 2. Monday
Monday is a reliable platform designed to give a flexible and transparent way to organize one's work. It has a highly visual interface and customizable workflows. The app can be easily adapted to the unique way members of your team approach their projects.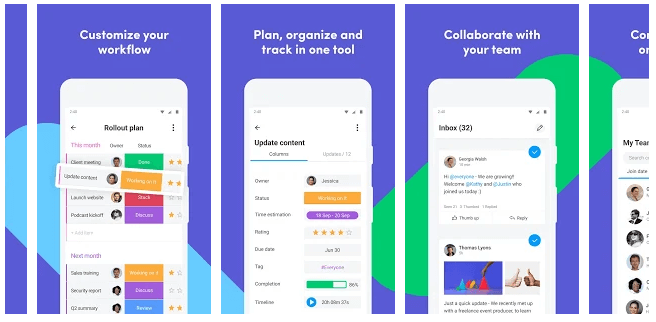 Monday actually offers quite a bit more than its many competitors. You will get different views of work (a list, a map, a Kanban board, a spreadsheet, and other views). It allows attaching files to cards, making comments, mentioning teammates, and more. You'll also use a nice project reporting dashboard that can collect data from multiple boards. Monday is integrated with various project management apps like Google Drive, Slack, Gmail, Jira, GitHub, and others.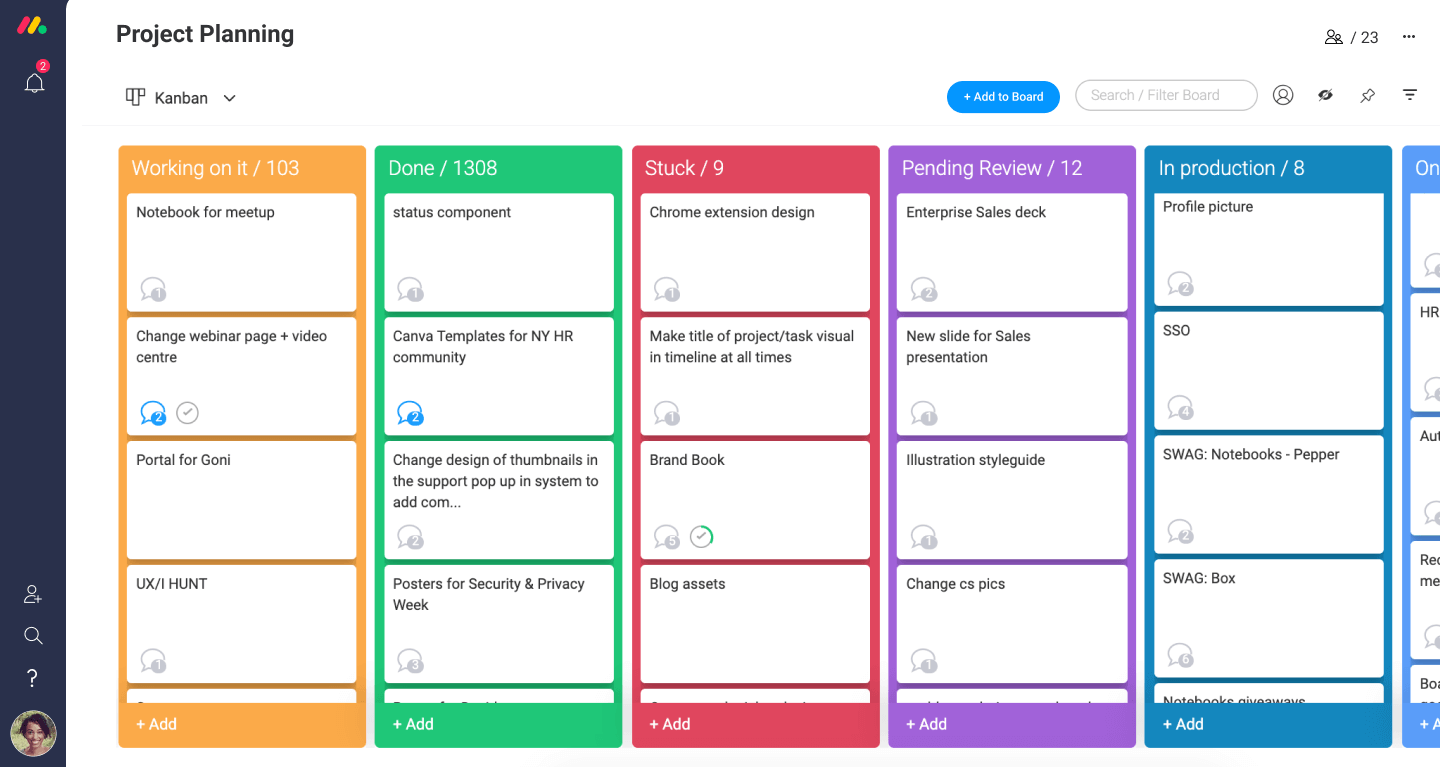 3. nTask
nTask offers complete project management application with Kanban Boards. This app helps individuals and teams to collaborate, analyze, and manage multiple projects in a single view. It allows to schedule tasks, assign to team members, manage budget, generate cost summary, visualize in Gantt charts, and manage workflows with Kanban Board view.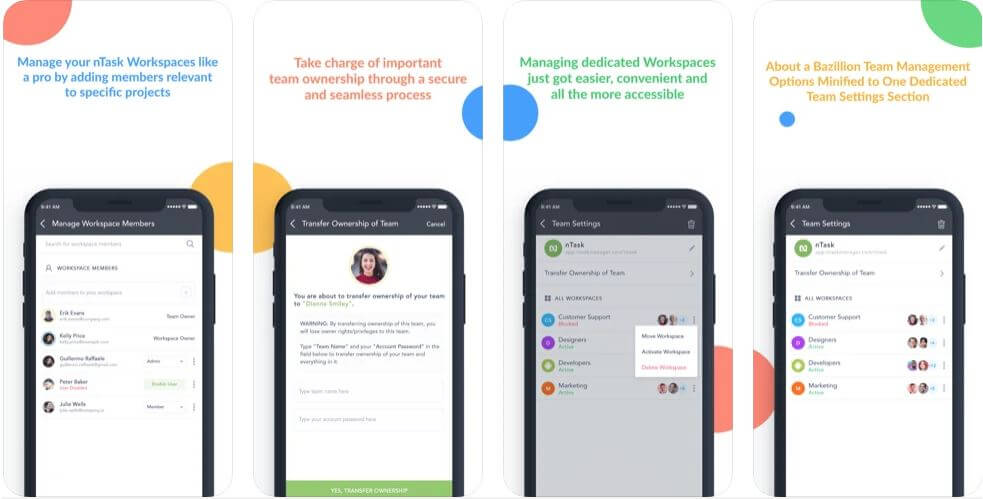 The app offers board templates for each industry to get started easily. Users can set custom status, add as many columns, attach files, set background image or color, set work in process (WIP) limits, create and save your own templates, and collaborate with task comments. Users can personalize their experience with several setting options.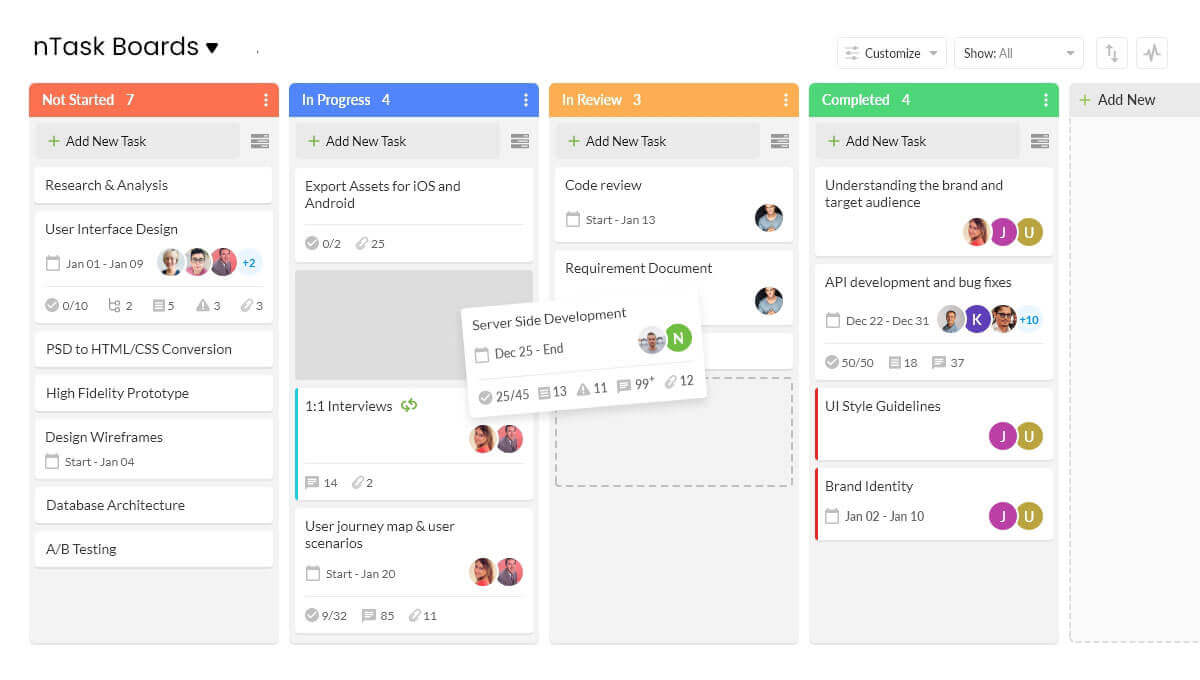 4. Kanbanize
This tool looks good in case you don't want to get into the hassle of integrating third-party apps for creating a perfect workflow. It contains a powerful feature set designed for handling multiple projects simultaneously.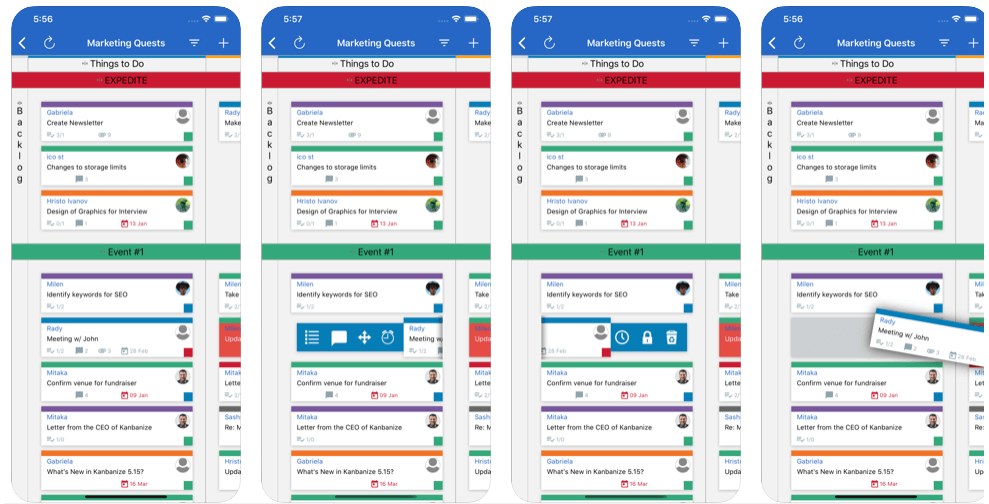 Users all over the world have already tried linking card functionality to visualize task dependencies. You also may get the best of this Kanban app. It's so easy to define the number of cards your team members can add in a column to identify the amount of work an individual has on their plate.
Kanbanize will let you get real-time updates by easy time tracking with tasks, and get your hands on some intelligent reports.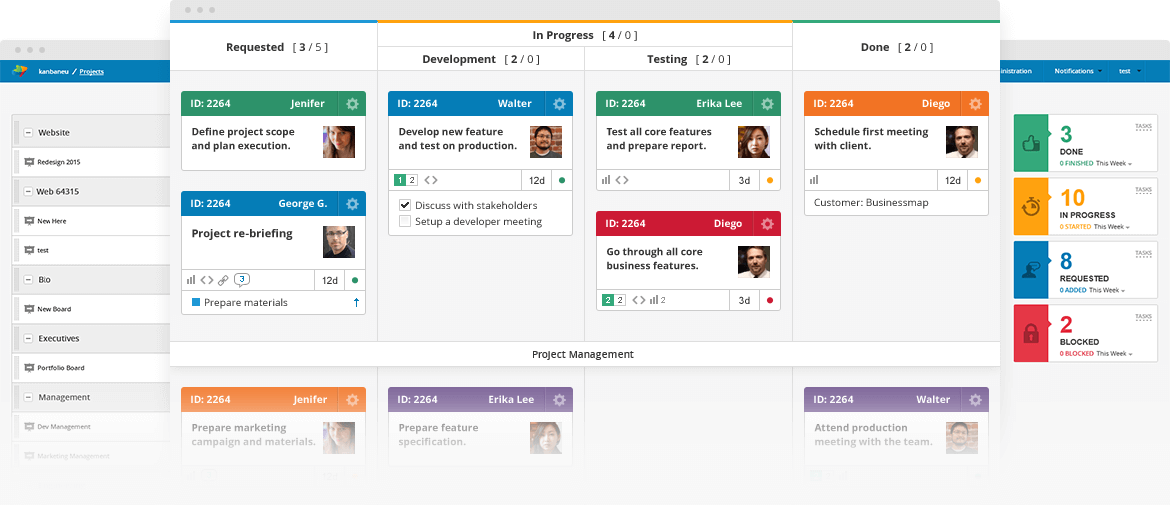 5. Zoho Projects
Another powerful project management app designed for small and midsize companies. Zoho offers scheduling and budgeting features, which allows project managers to define tasks, assign them, estimate project costs, and follow up on in-progress tasks. Zoho Projects also proposes document management and issue management features that help managers resolve errors in the project tasks.
Zoho Kanban boards will give you the benefits of visuals so you will know who is assigned the task, what deadlines are coming up and you will get a comprehensive view of each project.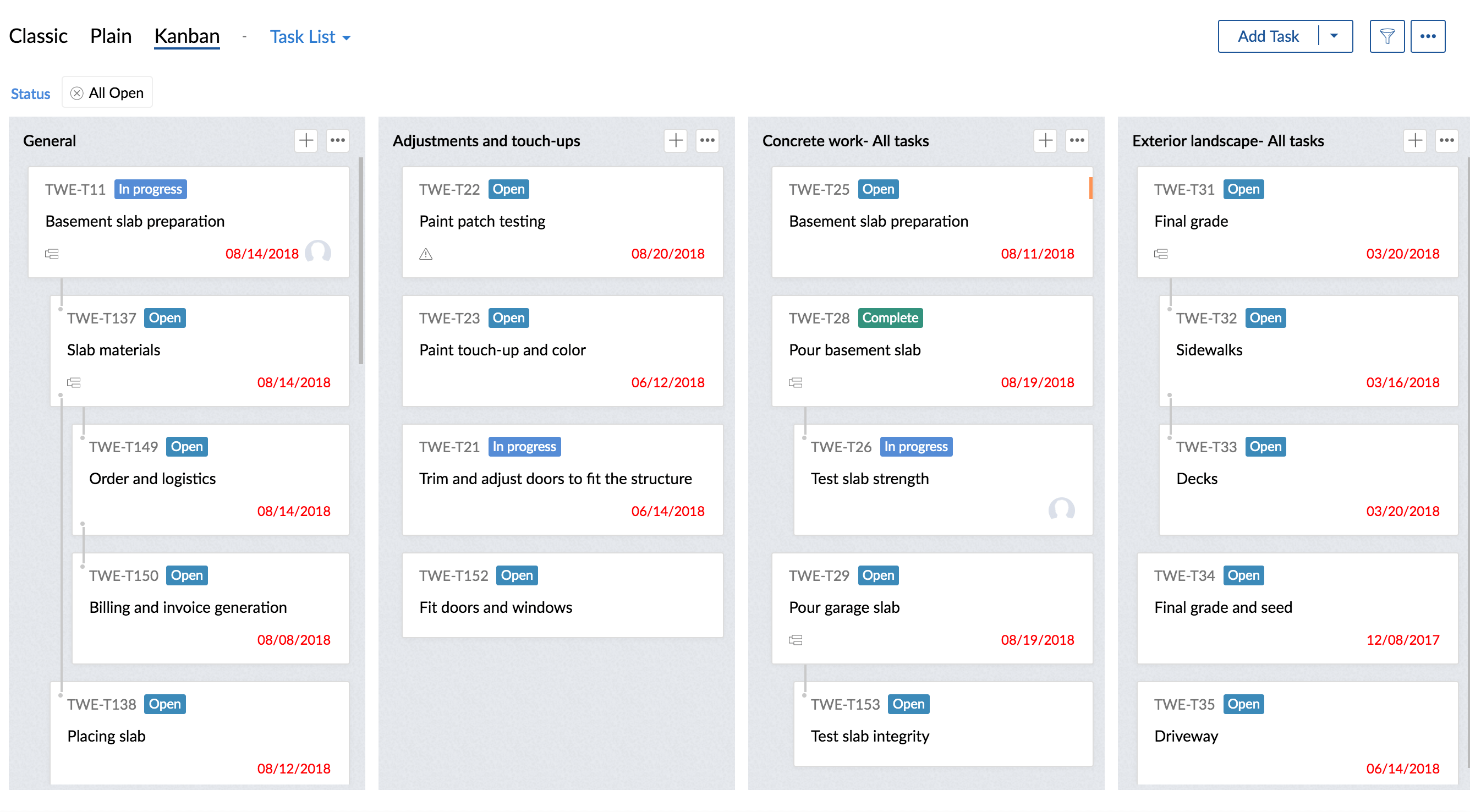 6. Asana
This solid project management application is able to will meet most users' needs. Perhaps it is not as powerful as some competitors, however, it is highly appreciated among the people new to using this type of software. Asana proves how being enjoyable to use can make good software better.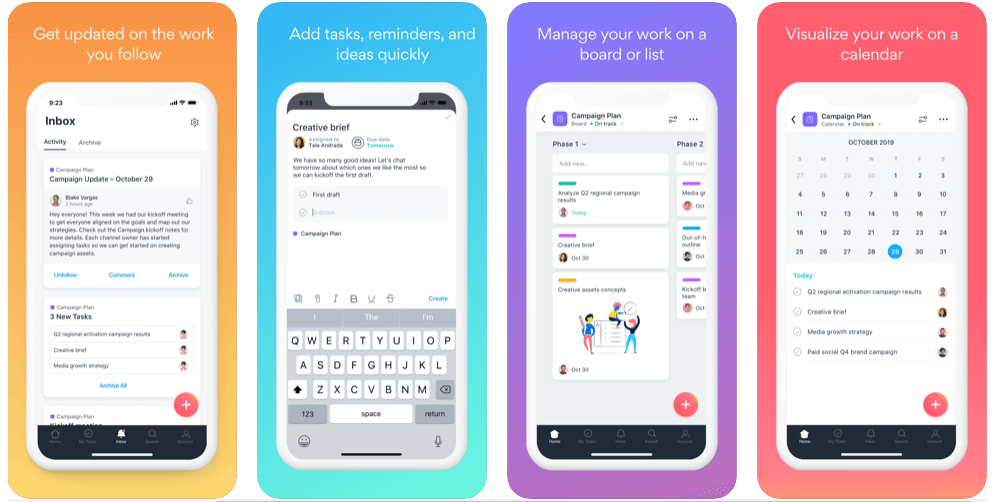 This Kanban-focused app provides a versatile structure and a multitude of options. You can also manage your workflow through project timelines and Gantt charts, customized fields, dependencies, and color-coded project timelines.
Asana allows easy collaboration between team members with the help of tagging, comments, 'likes' and 'follow' along with tagging. Work with multiple teams at a time with numerous settings.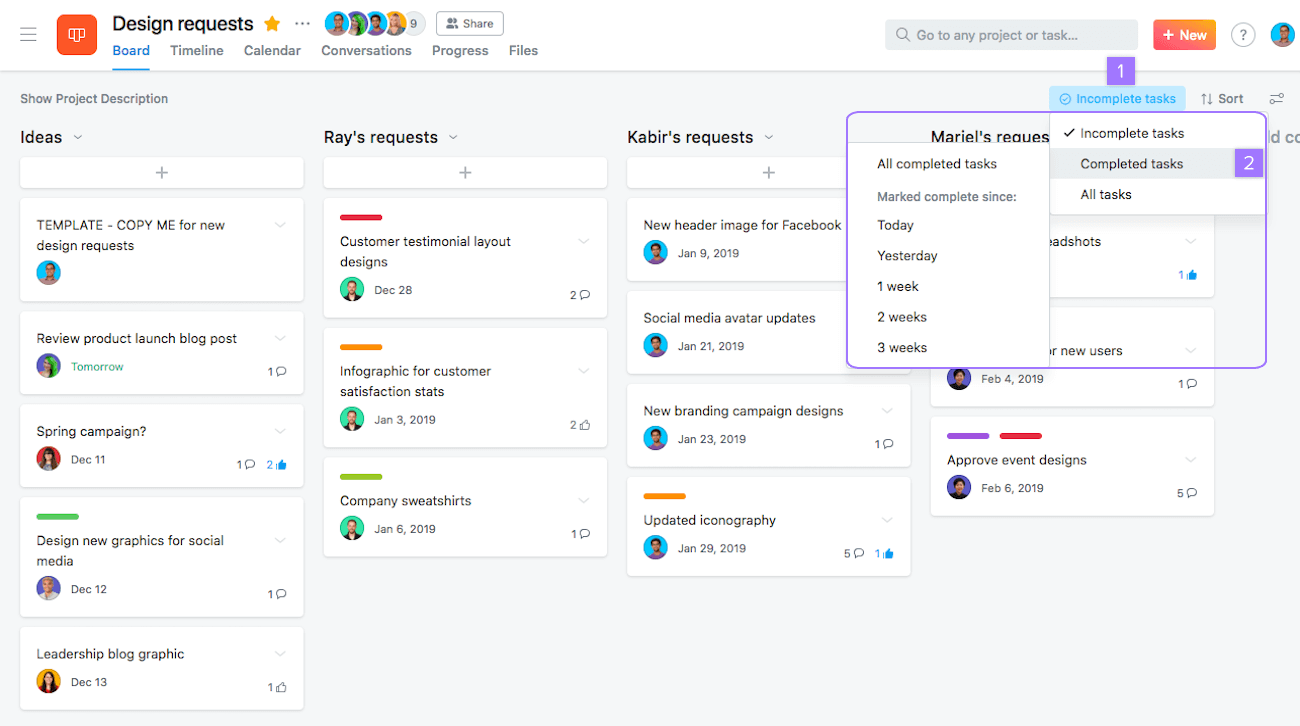 7. ProofHub
ProofHub is also widely used to implement Kanban. This project management software is popular among bot remote and in-house teams. 
The best thing about it is its visual nature. It allows teams from different spheres and industries to self-manage. They see tasks moving through multiple stages on a Kanban board and have a clear work in progress in the workflow. With an online Kanban board, users also get the option to associate a workflow with a list as well.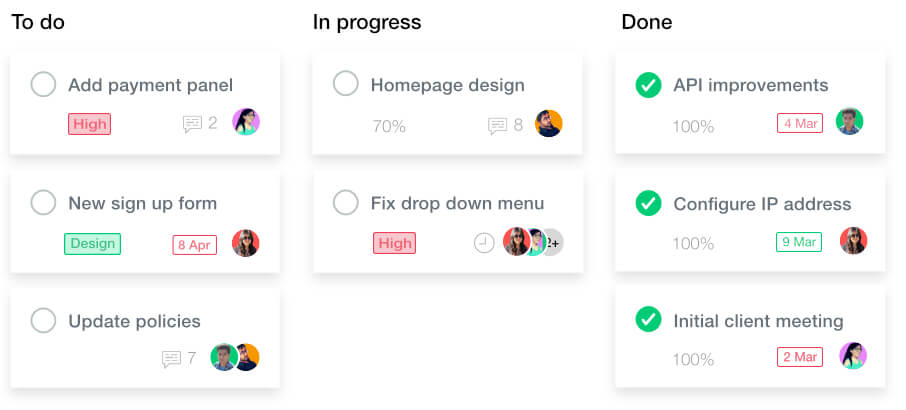 8. Smartsheet
This popular SaaS application utilizes spreadsheets to help streamline project tasks and challenges. It also provides many collaboration options incorporated, planning, tracking, automating, and reporting features. In general,  Smartsheet offers an array of Kanban and non-Kanban task management features for different kinds of teams.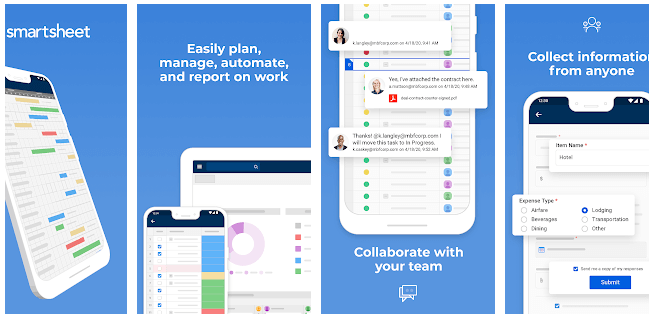 Applying this tool, you can easily create a card view of your tasks from scratch or import from an existing sheet. Create custom filters and keep focus only on important things. The cards in Smartsheet can also be shared with anyone to collaborate on ideas.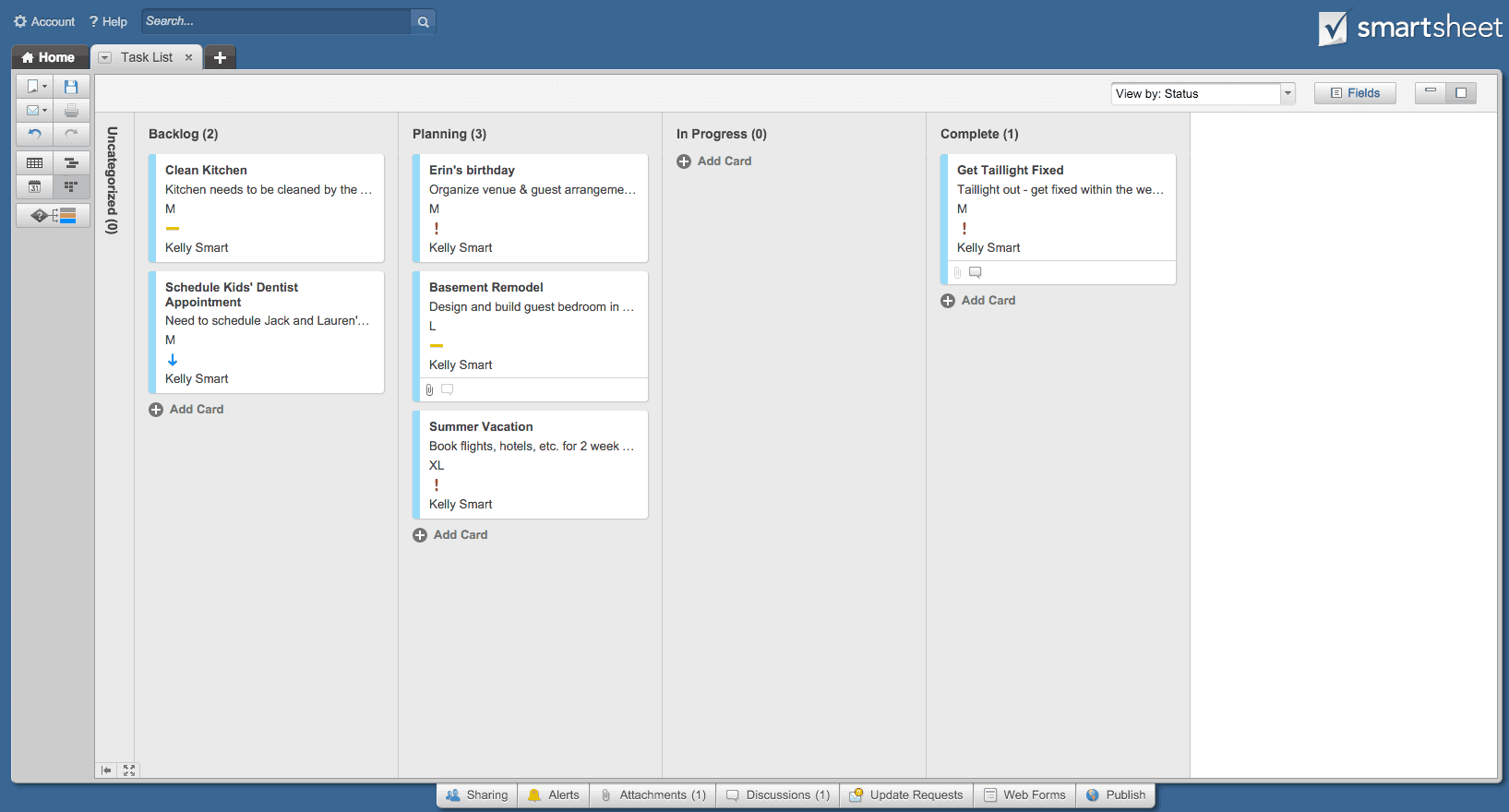 9. Breeze
Breeze is a simple and intuitive app for project management needs that allows tracking projects from start to finish. Managing tasks, realtime updates, handy todos, reports and time tracking, discussions and calendars, – it's all about this app.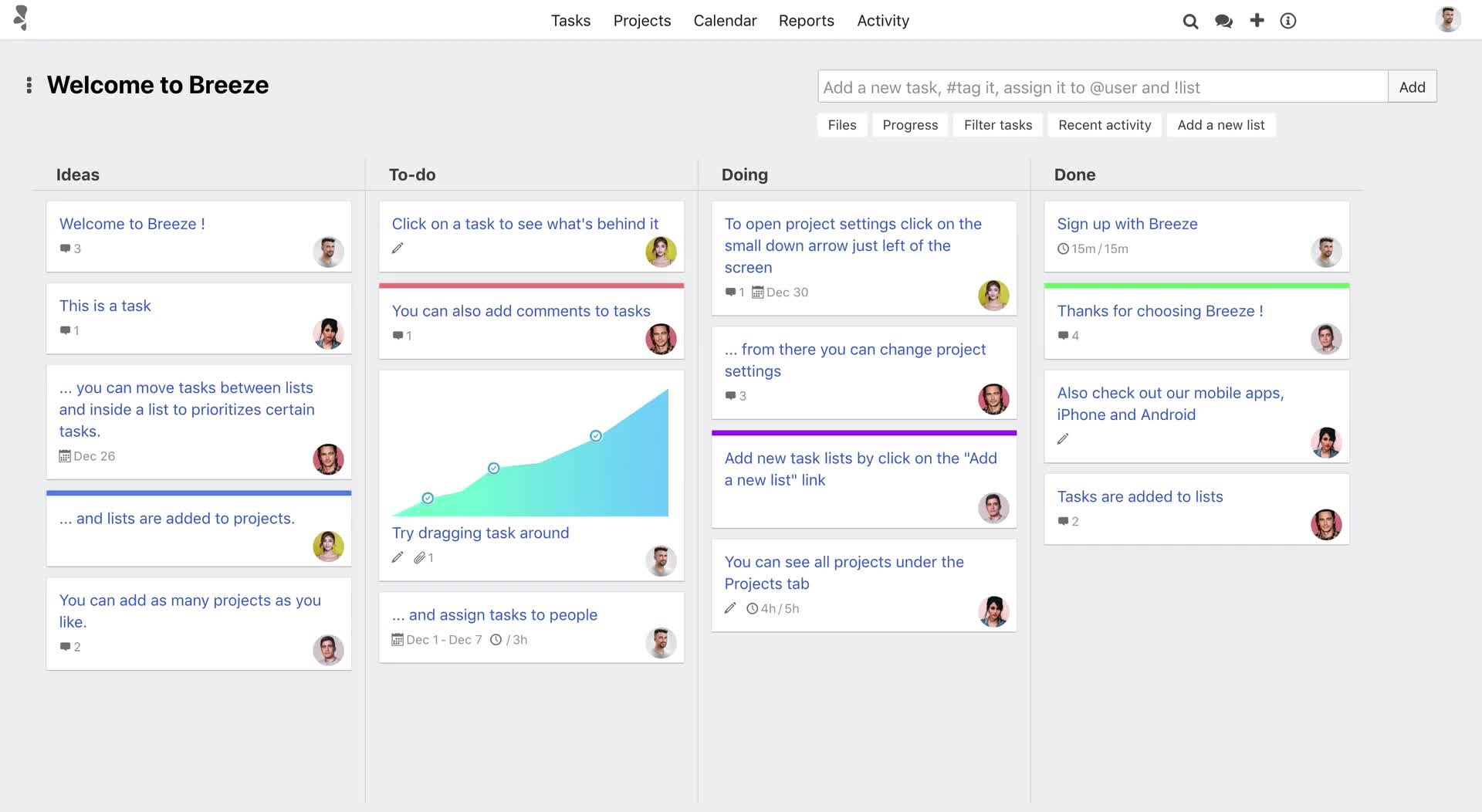 Breeze is used by small to medium-sized businesses and freelancers. The app is popular among software developers, project managers, marketers, accountants, designers, and many more roles. It's designed for customer work, so you can give your customers a holistic view of your team's Kanban board. Breeze has a minimal interface with nice colors and little accents that do not drive attention away from what's important.
10. Blossom
Blossom is designed to assist people who work on software projects. The developers of this app offer a handy and beautiful design that makes Blossom one of the most attractive Kanban board apps available today.
Each list of the Kanban board in Blossom represents a project stage. Your new tasks will be added to the left-most list. Then they are moved right through the project's stages. This concept requires a systemic approach to doing things.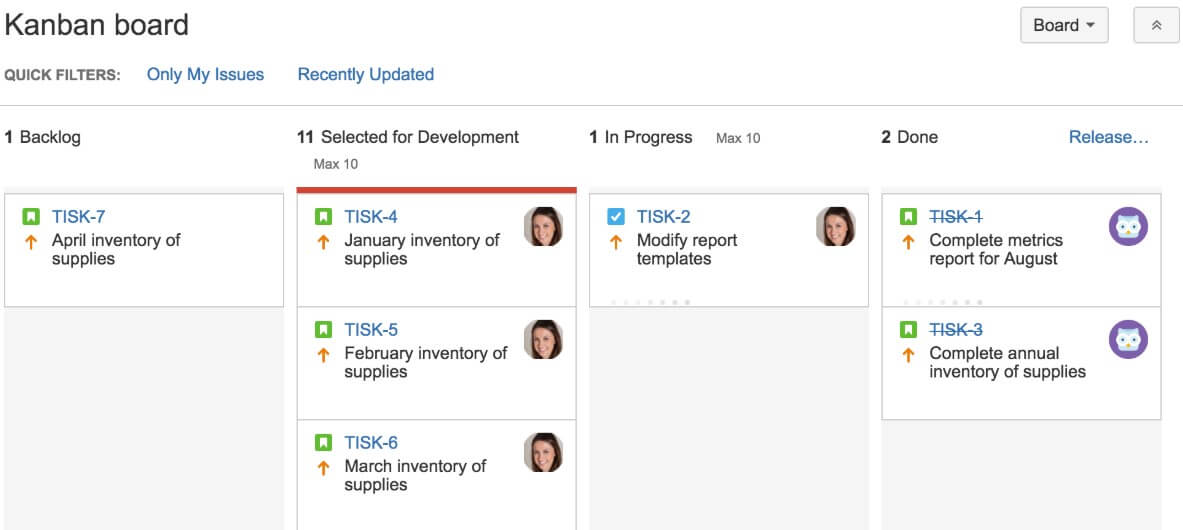 That marks the end to this quick roundup of some of the best Kanban apps of 2020. Of course, our list is not complete. Which app did you like the most? What Kanban app should we add? Please, let us know by leaving a comment below.