Best Examples of Powerful To Do List Apps in 2021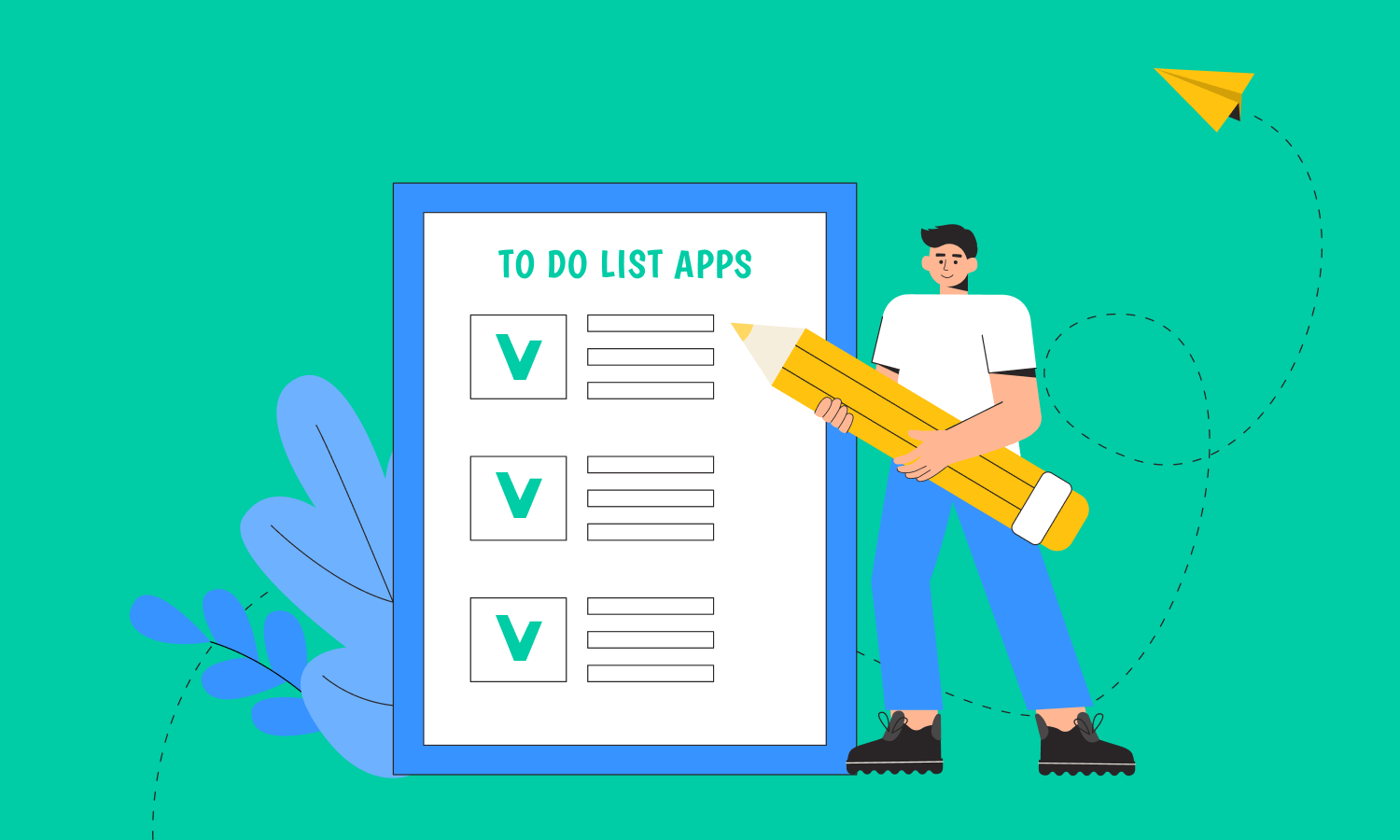 Nowadays almost all people in business need handy online tools with simple interfaces to categorize hundreds of tasks at once. They manage to do lists for themselves, their families, and private staff.
Special business to do list apps allow editing and rearranging to-dos according to priorities, sharing lists with team members or other collaborators, and getting reminders for your upcoming deadlines. Paperless. No matter which device you have at the moment. 
Managing various tasks in an app is more efficient. This is a better way to be more productive than doing it on paper. If you do not agree or have some hesitations – this post will offer some best examples of online to-do list solutions for any business and private aims. Let's get to know more about them!
There are hundreds of smart to-do list solutions out there. Some of them seem too limited while some just perform better than others. 
To help you choose the solid to-do list applications from the rest, we've selected the 10 best ones, including brief descriptions to help you define which may be right for you. But first, let's describe the real power and vivid advantages of such tools.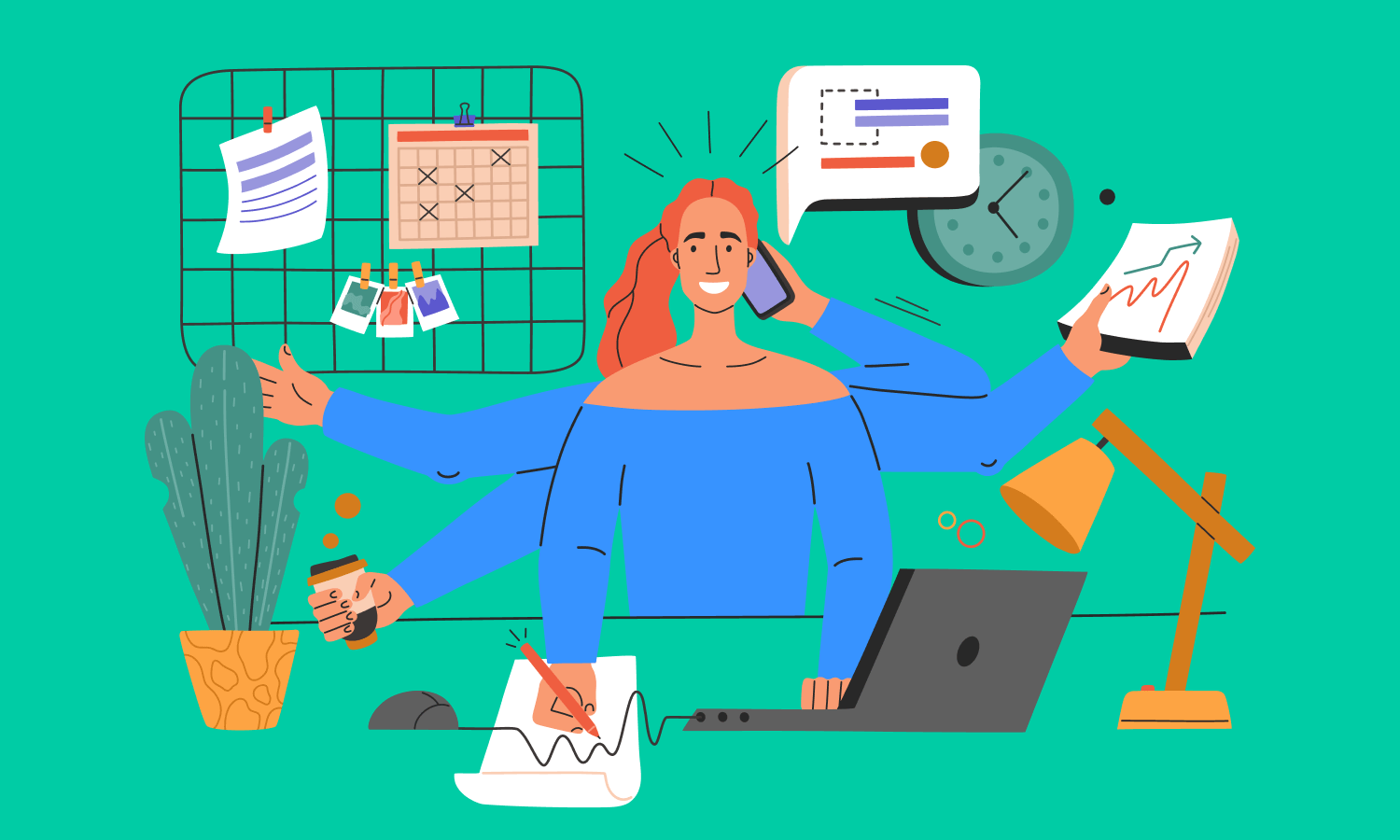 What Are the Benefits Of Daily To-Do List Apps?
1. They bring structure to the day
You can just wing it with whatever comes or use a list of things to be done. A modern to-do list app is like GPS to reach a destination rather than walking down a road not knowing the destination. To-do list tools help to optimize the structure of the working day and improve self-discipline. 
2. They allow holding less in the head
Mentally we often keep mulling about the tasks that need to be closed. A smart online to-do list app will help you extract the tasks floating in your head to find another more concrete place.
3. They provide a sense of accomplishment
You list down your current tasks for any day in your to-do list application and when something gets down, you strike it off. It's just a minor psychological benefit but you feel immense satisfaction and a sense of accomplishment with that striking off.
4. They reduce anxiety
Our brain focusses much more on incomplete tasks. These tasks can appear in our head at unexpected times or continue brewing in the subconscious, leading to anxiety. To-do list apps are aimed to cut down that anxiety.
5. They help to set priorities
Listing down your to-do list, you have one view of all that you have on your plate. You can just virtually strike out some of the tasks on your online list. One more interesting way is to Eat That Frog first by tackling a big or tiresome task first to give a sense of accomplishment making it easier to go about smaller tasks after that. Finally, you can use special prioritization frameworks that some advanced management apps provide.
6. They improve time management
Of course, keeping daily to do lists on your app will help to be better with your time. Often something that is beneficial in your professional life, could be very helpful in personal life too. When you start organizing things in your personal life and keeping a list, you will get far more done at the same time over a weekend.
Check also the lest of the Best Time Management Apps to Increase Team's Productivity
7. They help to break goals into actions
We used to set goals meaning different periods, be it a month, quarter, or year. However, the tasks that go into channeling the effort towards the goal have a higher probability of getting done when they are in a to-do list app.

To-Do List Apps vs Other Project Management Tools
A simple to-do app (especially for personal use) doesn't need to be super complicated the way project management software is. Both software solutions track what needs to get done, when, and by whom. To-do apps and PM apps assist in managing time more efficiently and regulate how many tasks are on our plate at once. However, to-do apps are typically simpler and cheaper than project management software.
One more difference between them is that to-do apps track any kind of tasks whereas project management apps track tasks that are related to projects.
PM solutions usually track a lot of metadata related to the project, too. They help guide projects, which generally have a final due date and deliverable. To-do apps help users to track tasks that need to get done but that aren't necessarily part of something that will one day end, the way a project ends.
10 Best To-Do List Apps Examples
Hygger
Hygger is a multifunctional project management tool that offers handy to-do lists as one of its basic features. The app allows making up digital to-do lists with many creative functions. It looks like a powerful helper in serious business work planning and can be used not only individually but also by all the working staff and teams.
Teams that work according to the Kanban methodology can use Hygger Kanban boards to visualize their to-dos. The methodology focuses on the to-do issues you have to do right now. You may create your own board with cards and manage all your tasks without extra effort. Here're how the boards look like: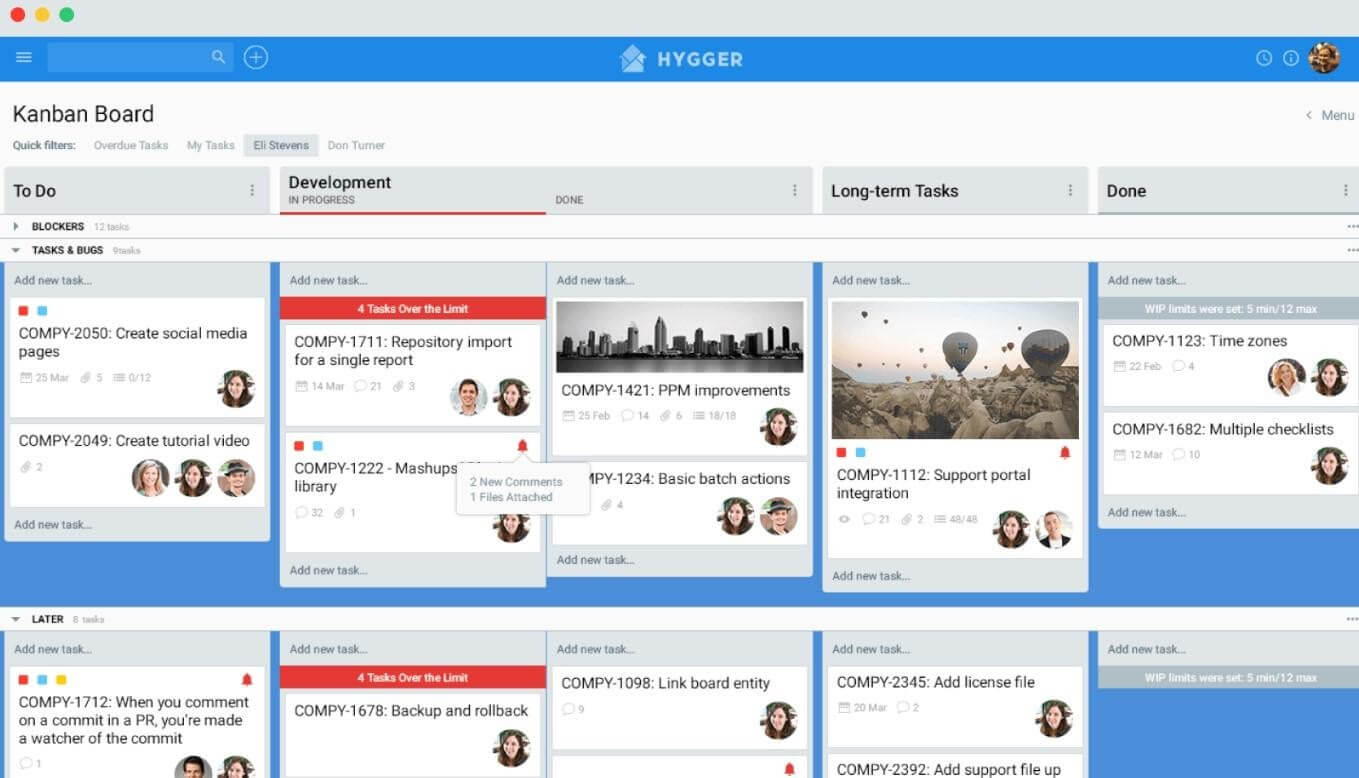 In Hygger, you can add a checklist in any task of the main to-do list: it will help to break one big task to several small and more simple activities. It is rather interesting to check a certainly completed subtask in order to see personal working progress.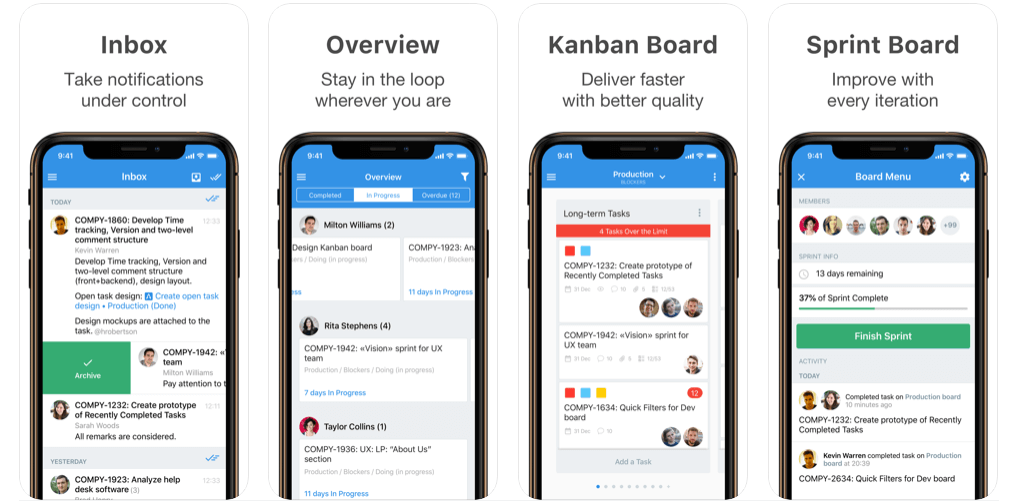 Wunderlist
Wunderlist is an advanced tool that has many visual cues and an easy-to-use interface. It allows easy sharing of a task list and responsibilities with your team members, stakeholders, partners, or family. 
In fact, this app is slowly moving into the project management space, with file storage, assignments, and note-taking capabilities. You can add and check tasks and sub-tasks, add due dates, or reminders. You can also organize lists into folders and insert more items.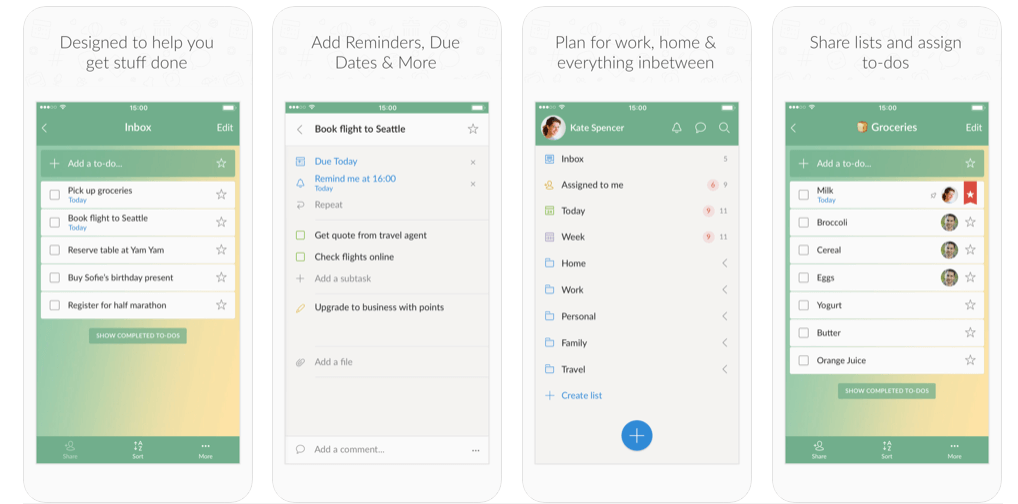 Todoist
Todoist balances power with simplicity and this is a strong selling point—which is why the app is one of the most popular to-do list solutions out there right now. It allows task creation and labeling, task comments, setting priority levels, using a built-in library of project templates, project sharing, email notifications, automatic backups to keep data safe, and many more.
It is flexible enough to adapt to most workflows. You just need to type in the action you need to do, set a due date and it will remind you of when your deadlines are quickly approaching. The app shows tasks that are due today, tomorrow, and within the next week. Todoist integrates with Google Calendar, Sunrise Calendar, and IFTTT.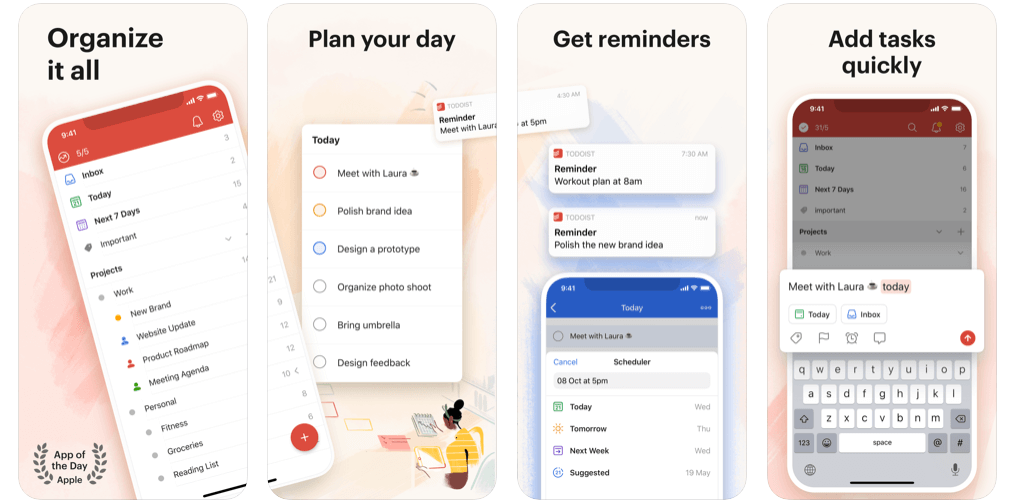 ToodleDo
ToodleDo is often chosen by people who want the application to fit the way their life works. This is a handy app for organizing simple to-do lists on iOS and Android devices and on the web. 
It's mainly focused on tasks, and that's what the application does best. You are able to create tasks, sub-tasks, additional notes, priority ratings, due dates, and reminders. There is also the possibility to organize tasks into different folders. The app can handle complex task management with features like smart sorting and habit tracking.
Toodledo provides all-sized teams with the flexibility of task management in an online to-do list and really increases productivity.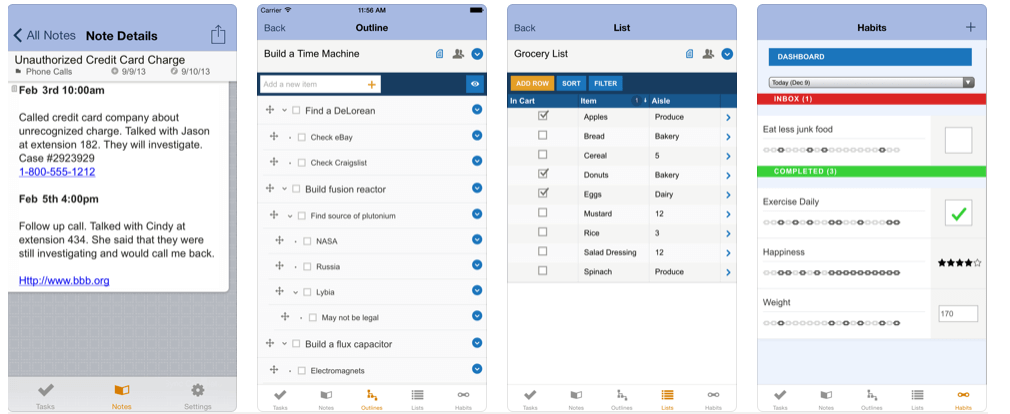 Any.do
Another easy and nice application for creating and managing to-dos. Any.do consists of simple tasks and subtasks folders that help to create and check tasks when done. It comes with an easy drag-and-drop option for files.
The voice-entry feature is what differs the app from others. So if you are tired of typing long to-do lists and prefer speaking, this solution is right for you. A friendly UI/UX design makes the app extremely easy to understand and aids users in quickly grasping the functionality.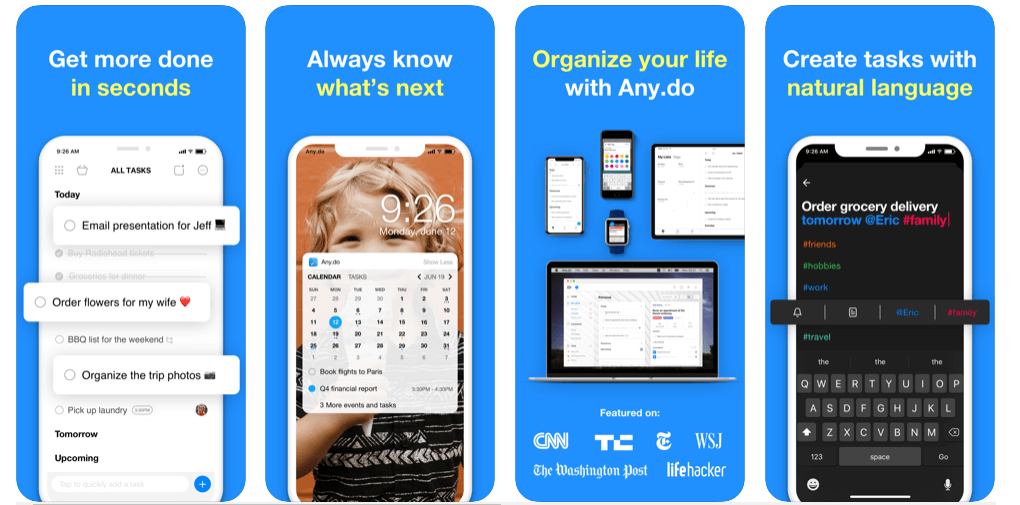 ClickUp
ClickUp provides handy task management functionality with loads of integrations such as Slack or Google Calendar integration.
You can use all the features ClickUp offers or customize the statuses and Workspaces to use only what you need. It is available in your iOS and Android devices, as the desktop and web app.
You can use lists,  start times and due dates, prioritization feature, smart search, custom statuses, notes, and many more. ClickUp is also used for storing information and managing tasks or tracking contacts for networking.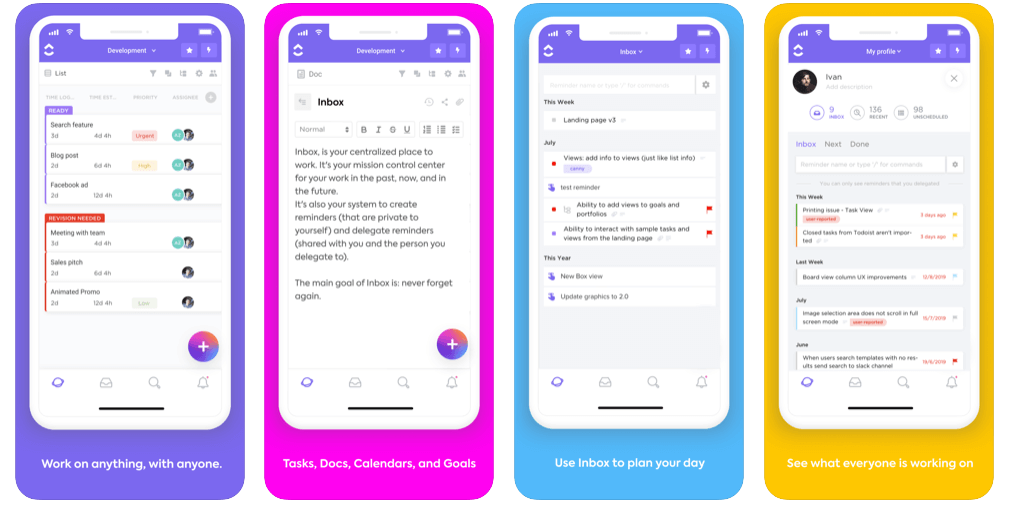 ProofHub
ProofHub has proved itself as efficient task management and project management software that carefully gathers your thoughts and ideas in one place. 
Create tasks and to-do lists, make notes to capture important information, and stay productive all the time. Additionally, ProofHub allows adding reminders and events in Calendar, setting start and end-date to define task deadlines, adding time estimates to make teams accountable, and much more.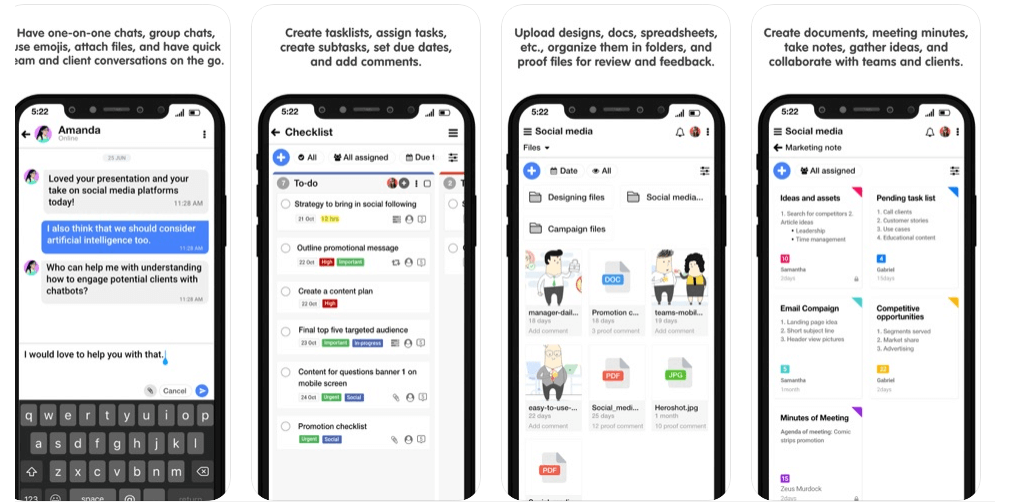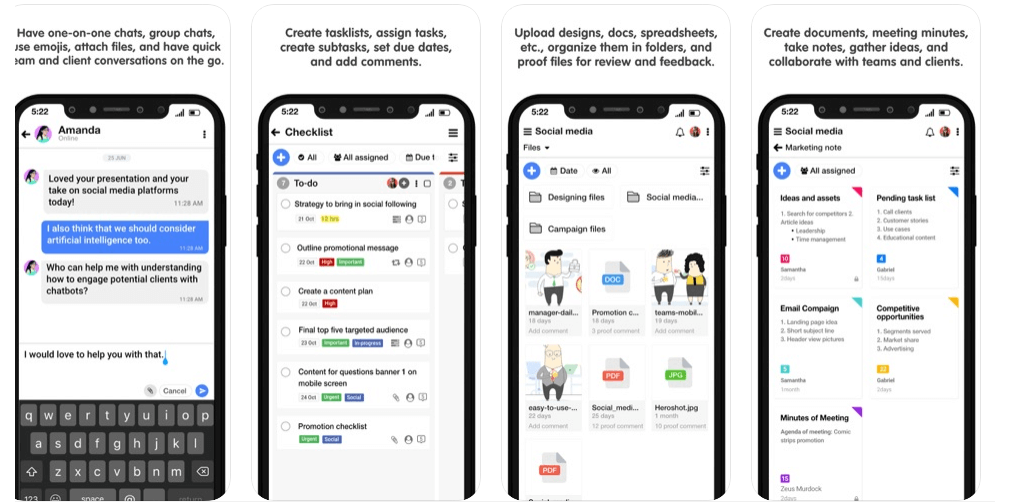 TickTick
TickTick provides a wide range of features on just about every platform. It offers quick task adding thanks to natural language processing. You can organize your tasks using lists, tags, and due dates. There's also the ability to add sub-tasks to any task.
The app also offers some outstanding features that are above and beyond what other solutions offer. For example, a built-in Pomodoro timer that allows 25-minute work sessions for any of your tasks or the integration with different third-party calendars. TickTick is also known for an intuitive UI with drag and drop functionality.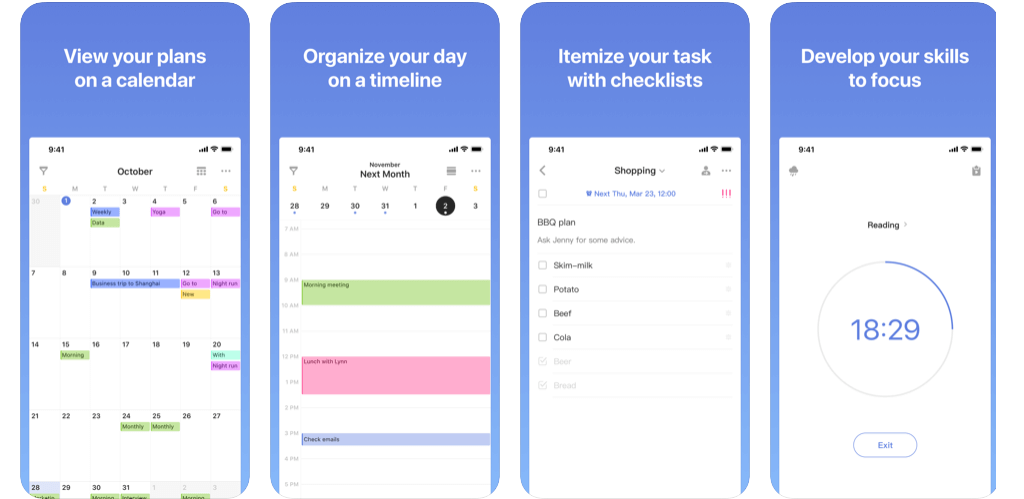 TeuxDeux
TeuxDeux (that is actually pronounced as "To Do") is the application that also allows you to have a visual idea of what's to be done. It allows creating a list of things to do and rearrange them on the calendar.
You can write down your tasks anywhere and later drag and dropped them into other lists. TeuxDeux will automatically roll tasks over to the next day list in case you can't get done them currently. The app supports Markdown. This can be interesting for those who are particular about text formats and presentation styles.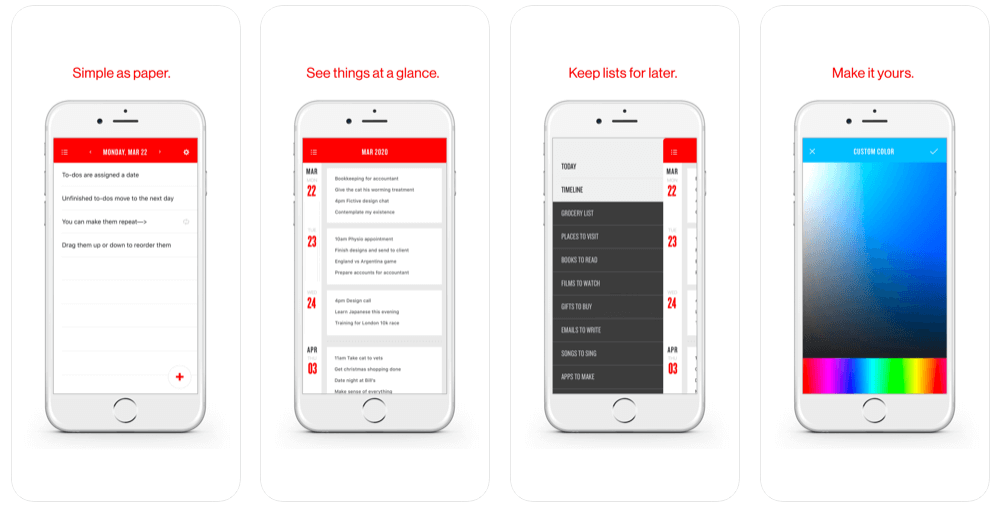 OmniFocus
If you have a lot of projects and tasks to track, and you're looking for an app to organizes all these items in a comprehensive way, then OmniFocus is what you need. The home screen of the app provides a forecast summary of your upcoming to-do's and color-coded badges that show you what needs more attention. 
While most experienced users would prefer something simpler, this application is a smart option for the people who are cool with a bit of a learning curve.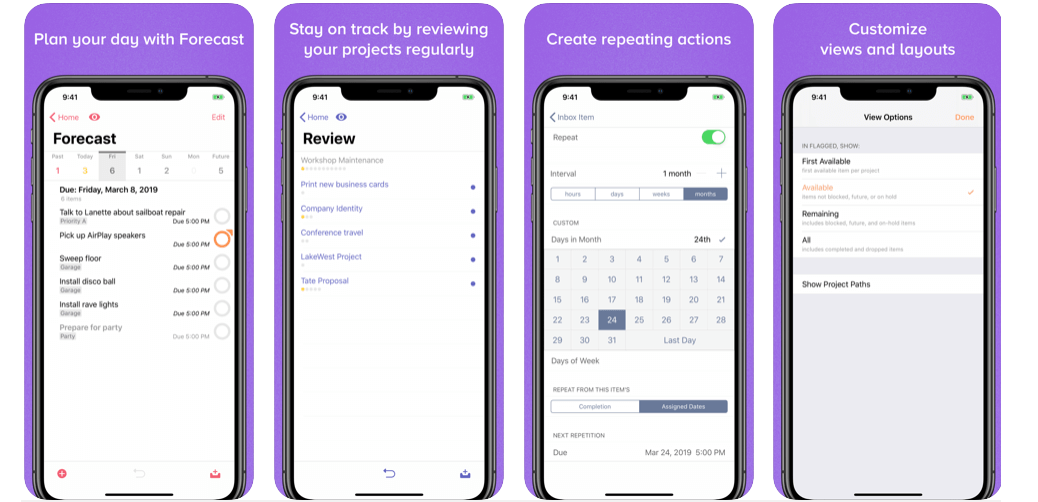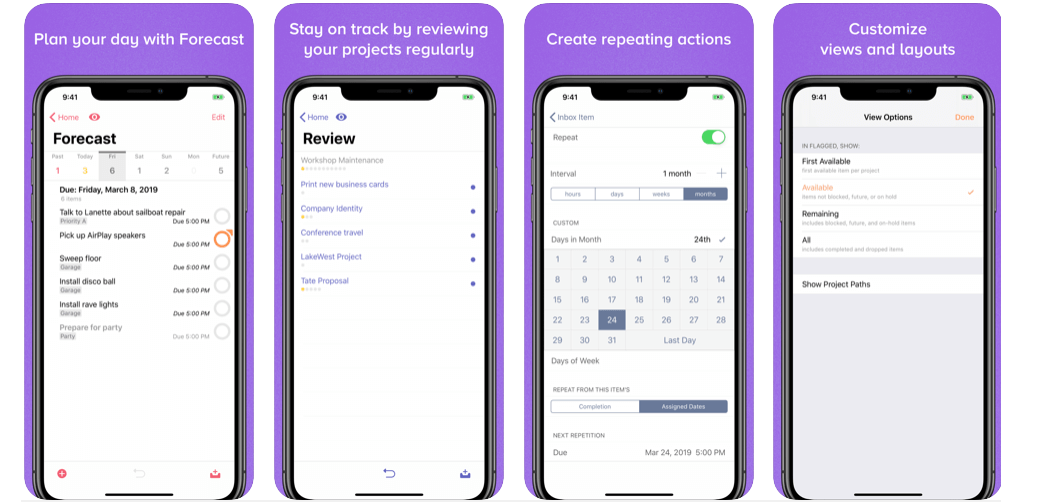 To sum it up
A compilation of to-do lists is a peculiar, creative, and serious process. It is definitely worth spending time on it and making your personal work more consistent and logical. 
Having a great to-do list app can help you get organized and get more done. A smart to do app is as useful as the information you put into it. If you know some more interesting to do list apps, feel free to write to us about it in the comments below!