Vital Solutions for Successful Project Management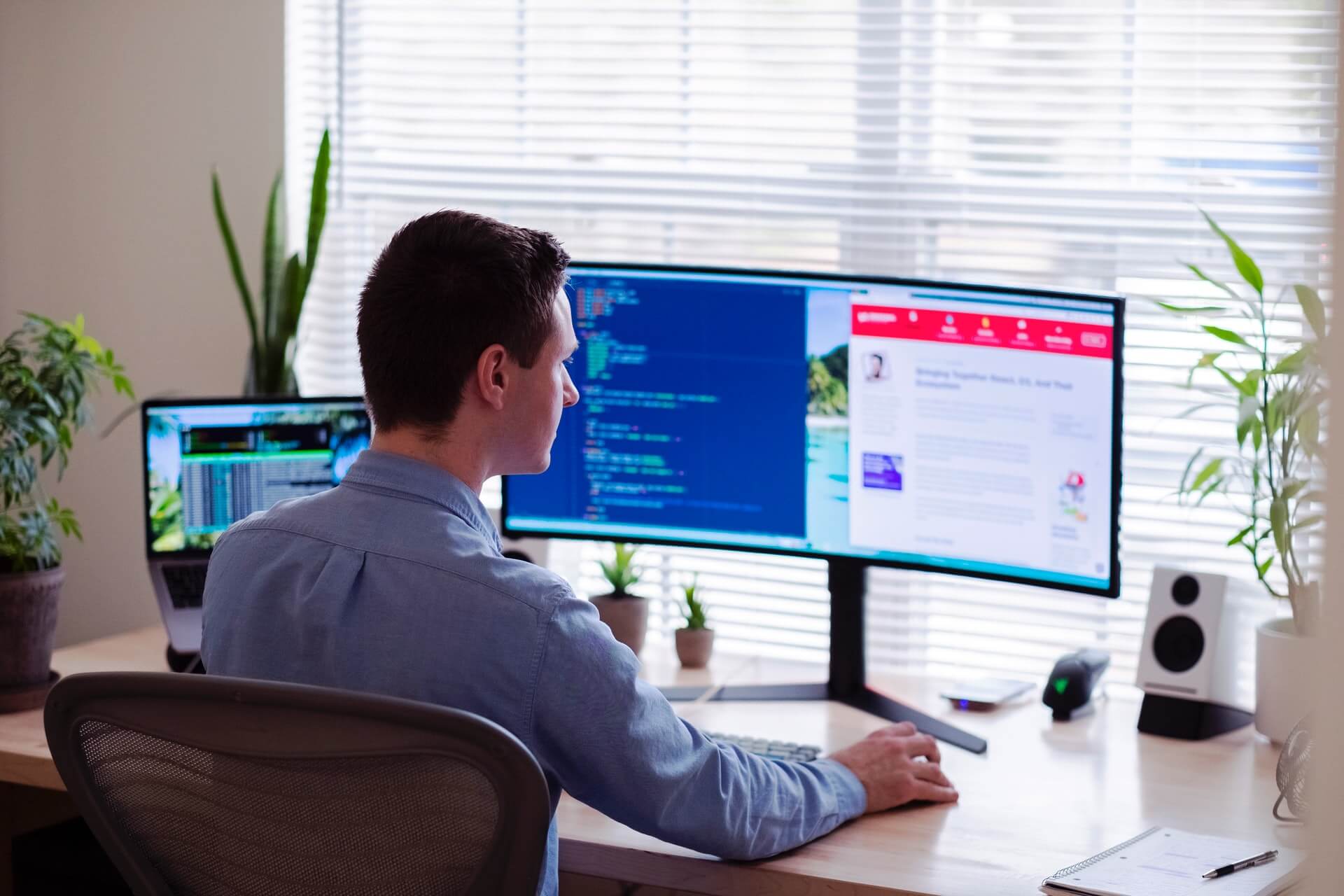 Project management apps are expected nowadays not only to coordinate all elements of a project, facilitate collaboration within a team, and improve understanding between stakeholders but also to simplify the management of conflicts and resources. 
Let's take an ongoing project as an example. You need to decide whether to stay on budget or complete the project later than expected. The prediction generated by your project management solution on the early stage of project fulfillment safeguards it and prevents it from falling in the wrong direction.
There are many factors to consider when choosing software for project managers: feature set, ease of use, flexibility, and customizability. Let's take a look at the 10 best project management solutions that can help you boost your productivity.
10 Robust Project Management Apps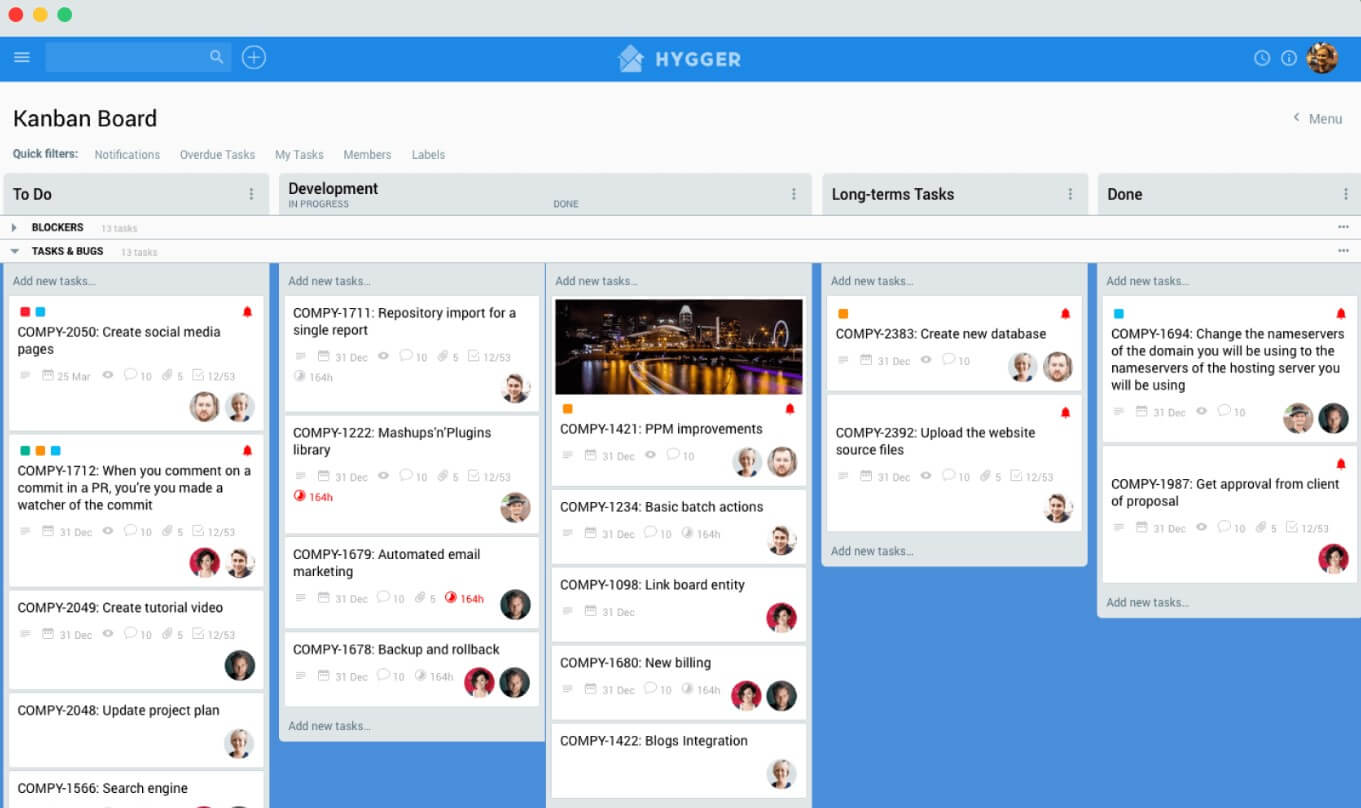 Hygger helps teams to define specific project goals, estimate time, budget, and costs, as well as identify possible risks and ensure the delivery of results on time. It suits the most popular Agile frameworks and allows you to set different levels of access for team members. Hygger provides strong visual planning capabilities and lets team members easily create timelines and Gantt charts. It can also be used to automate tedious work and prioritize tasks, highlighting important and urgent ones. Tracking tools and real-time dashboards keep users informed about the state of projects and processes.
There are 3 possible pricing options: Free, Standard, and Enterprise with quite affordable monthly fees of $0, $7, and $14. Once subscribed, you can add to your account an unlimited number of users free of charge.
#2. Trello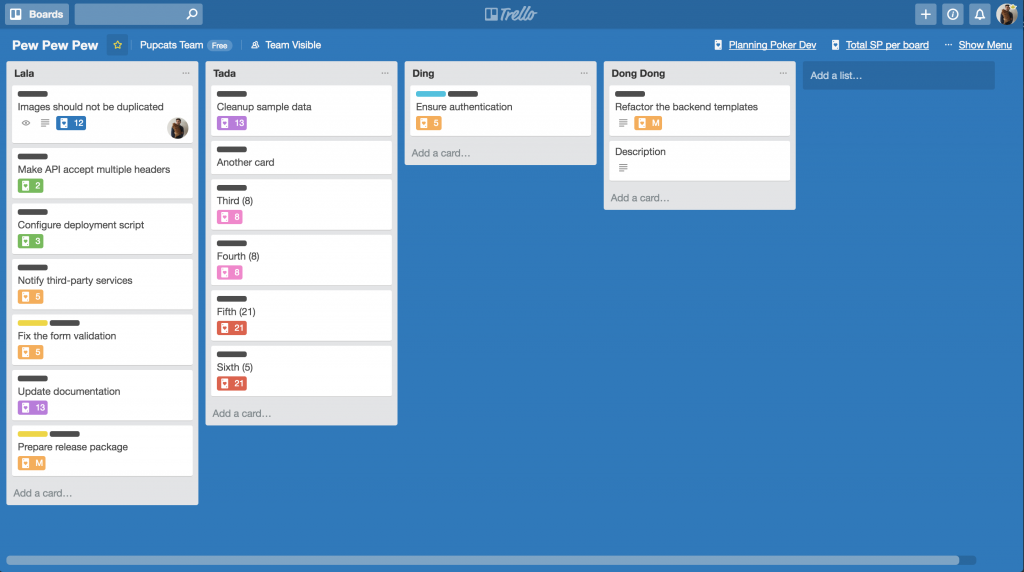 Trello integrates different ways of teamwork with easily customizable workflows. One of its important features is the automation of tedious tasks, which lets users concentrate on the work that matters. It also enables smooth two-way integration with third-party apps such as Asana, Google Sheets, Gira, GitHub, etc.
Trello offers several plan options: Free, Standard, Premium, and Enterprise with $0, $5, $10, and $17,50 monthly fees accordingly.
#3. Asana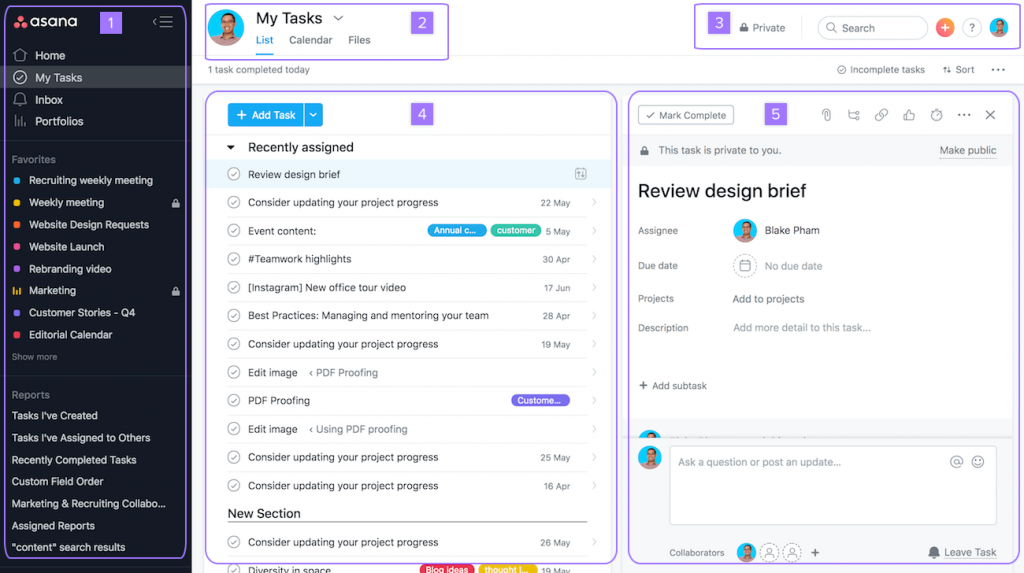 Asana focuses on collaboration and communication within the team. It presents to-do lists, dependent, unscheduled, and overlapping tasks. Asana is also good for time tracking, file sharing, milestone management, and collaboration via messages. The software also allows you to prioritize and automate tasks. To effortlessly manage the team, Asana provides real-time visuals of the completed work.
There are several pricing options: Free, Premium, and Business with €0, €10.99 ($12.30), and €24.99 ($28.20) monthly payments.
#4. ClickUp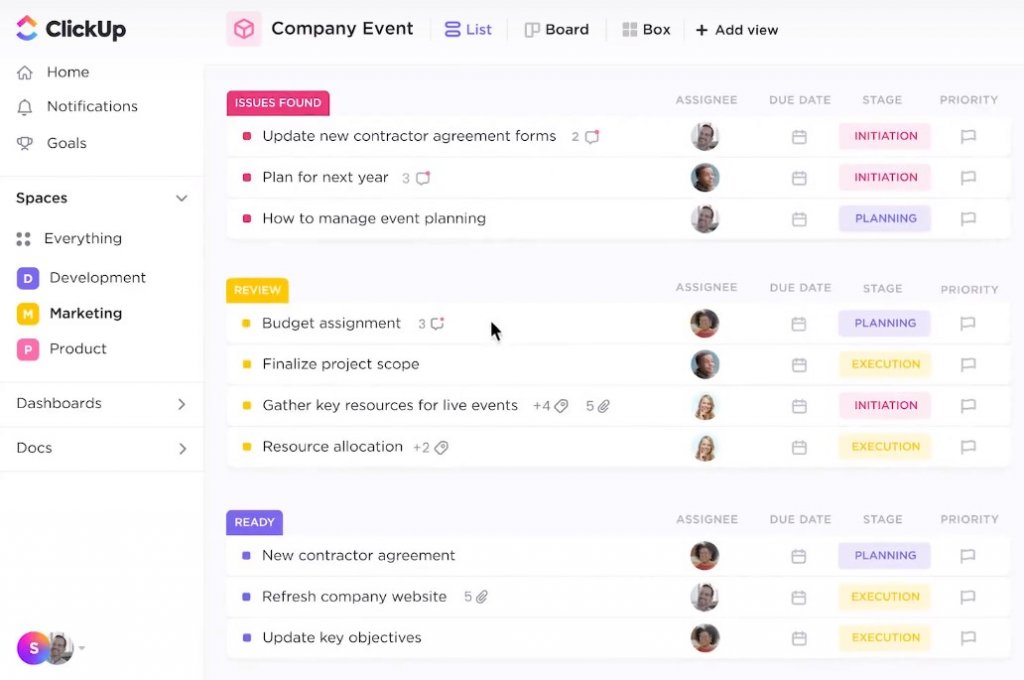 ClickUp provides multi-language support and facilitates integration with many apps and programs you might be using for your teamwork. It advocates for the automation of not only standard processes like status changes and task creation but also data reporting, email sending, and triggering automation using voice commands. ClickUp is also known for quality customer support 24/7 through chatting or phone calls. Also, they arrange free coaching and daily webinars to help users master the product.
Several pricing options are available: Free, Unlimited, Business, and Business Plus with $0, $5, $9, $19 monthly fees. In addition, they provide support for large teams with Enterprise plans.
#5. Podio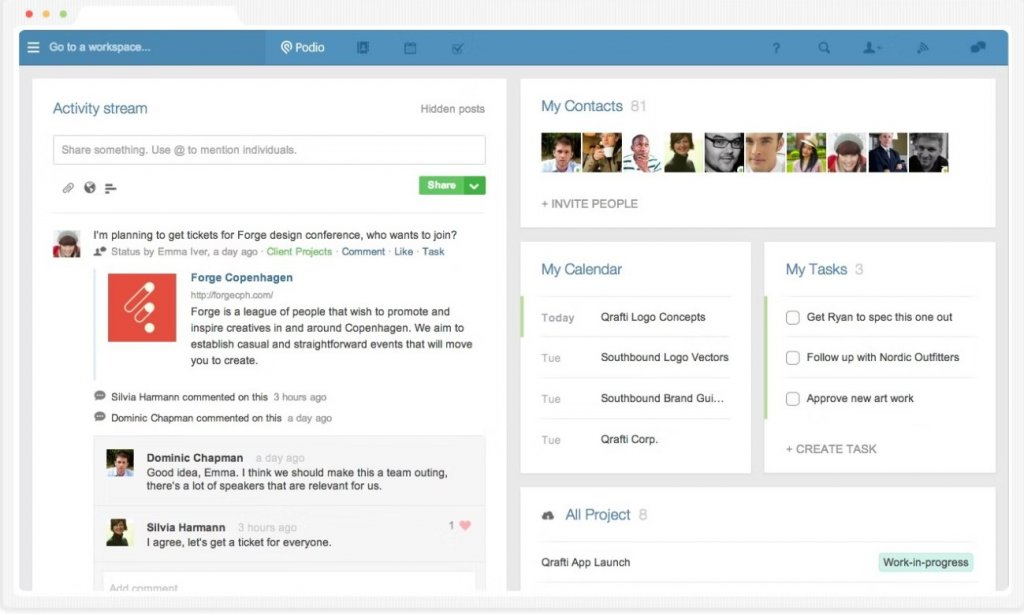 Podio is a means to organize teams' communication, automate business processes, and facilitate the coordination of contact and data management in project management workplaces. Podio is good for building hierarchy verticals of tasks assignment which improves effectiveness and delivery time. It's fully customizable and offers strong data visualization tools.
The pricing plans are Free, Basic, Plus, and Premium and cost $0, $7.20, $11.20, and $19.20 accordingly.
#6. Pipefy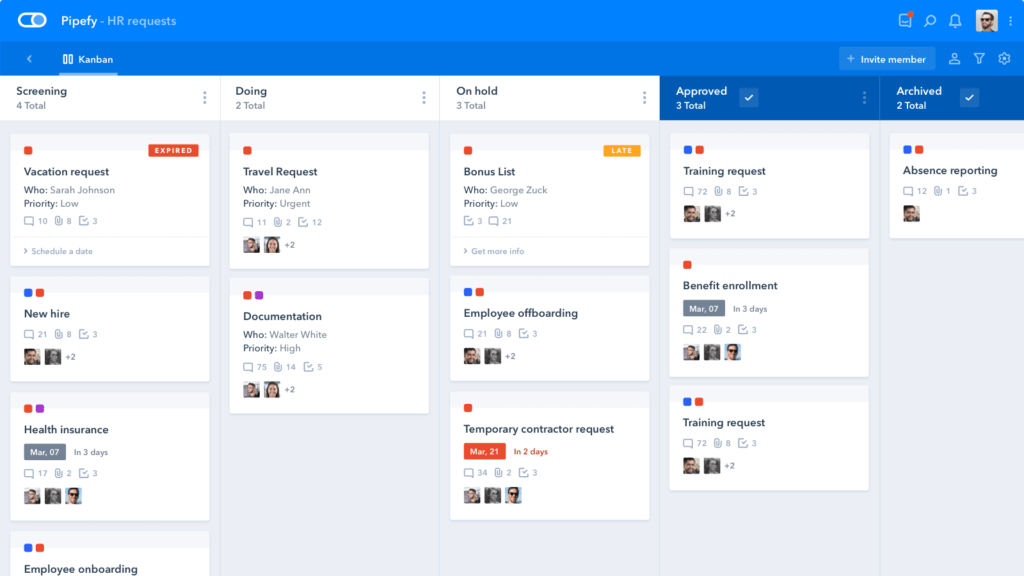 Pipefy is a project management app that allows end-to-end operations integration to automate business workflows. Their no-code approach helps teams to manage their processes from an initial request to the full completion of the operation. It can seamlessly connect with 100+ apps via ready-made integrations. The platform allows partners, vendors, customers, and team members to collaborate in one place and lets stakeholders track processes from start to finish.
The options for Pipefy are Starter, Business, Enterprise, and Unlimited with $0, $18, $30, and Custom monthly fees.
#7. Teamwork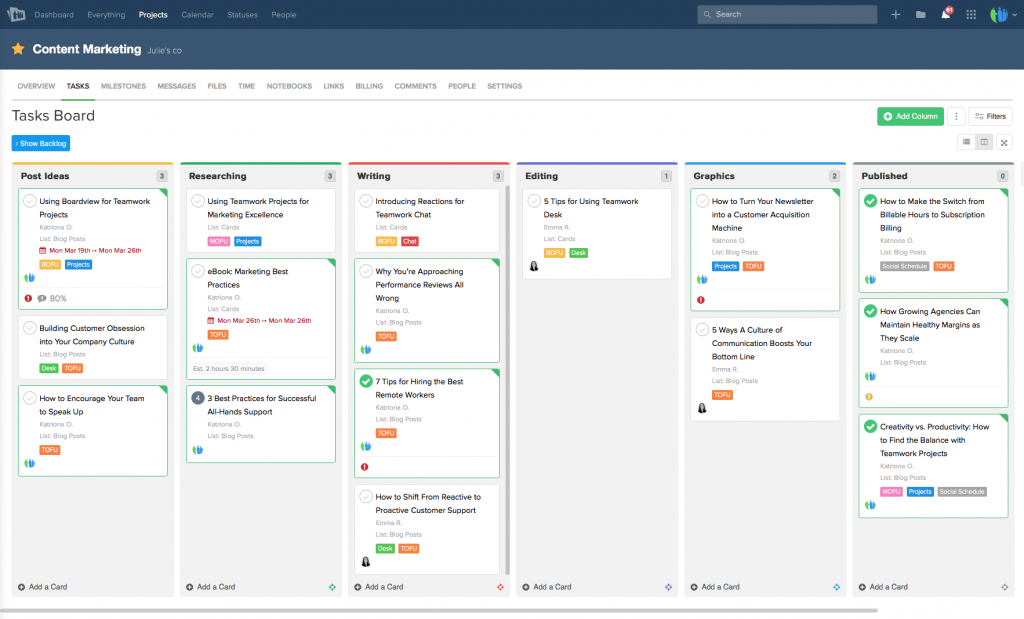 Teamwork is a flexible and easily customizable system for team and clients workflows. One of its strongest aspects is time tracking which lets managers put other team members in 'the driver's seat' to visualize the time left for any task in hours and even minutes. Such a level of awareness leads to better employee performance and a general increase in profitability. Also, the learning curve is quite shallow which allows the solution to be used right away.
The pricing plans offered are as follows: Free Forever, Deliver, Grow, and Scale with €0, €10 ($11.30), €18 ($20.30), and custom plans based on the size and complexity of your team.
#8. MeisterTask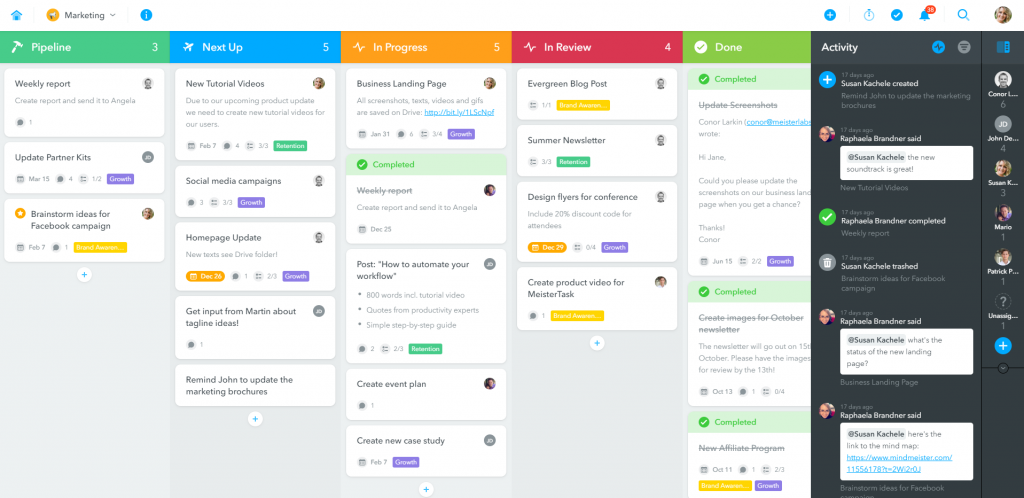 MesiterTask is well-known for its user-friendly and intuitive design, as well as the ability to perfectly adapt to users' needs. It is equally helpful for in-house teams and teammates working remotely. The tasks are shown on a Gantt-style timeline, which helps the team to see the projects' bottlenecks and keep to the deadlines. MeisterTask enables the set-up of templates for repeated tasks.
Pricewise the app works in several formats: Basic, Pro, Business, and Enterprise with €0, €8.25 ($9.30), €20.75 ($23.40), and custom monthly fee.
#9. Moday.com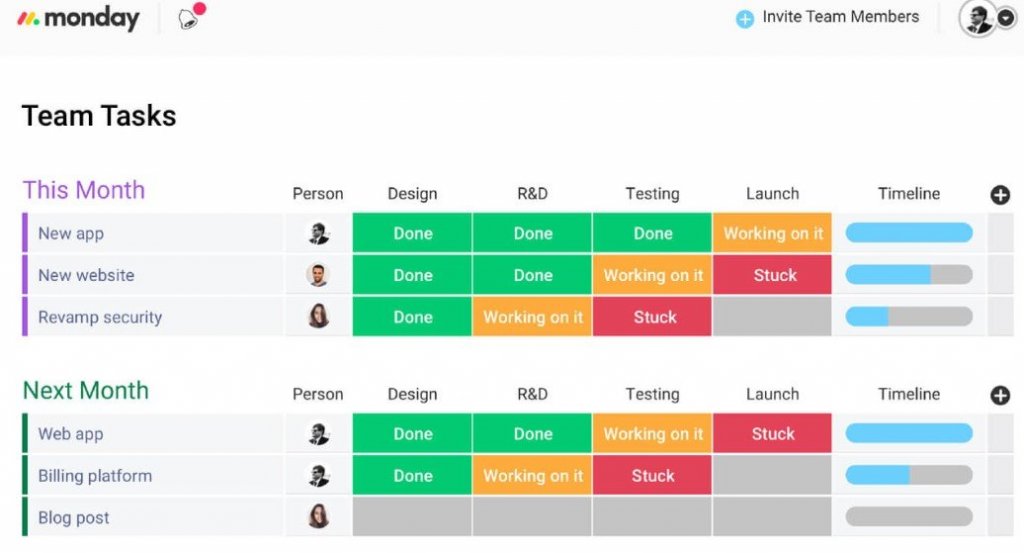 Monday.com provides users with hundreds of customizable templates helping to visualize the way your project is unfolding. It easily integrates with the majority of existing tools for project management. Monday.com has its community, and new users can easily merge with the rest of the mob through 24/7 customer support. Also, the support center incorporates self-learning tools, daily webinars, and a broad knowledge base.
The solution provides several plans: Individual, Basic, Standard, Pro, and Enterprise which costs $0, $8, $10, $16, and a custom fee for organizations seeking enterprise-grade features.
#10. Proofhub

Proofhub is ideal for companies that seek a no-per-user plan subscription. It allows for adding as many users as needed with no extra fees paid. Proofhub is loaded with important features yet is simple to use.
As there is no monthly fee per user, there are only 2 pricing plans: Ultimate control available at $89 per month and Essential for $45 only.
Custom vs. Off-the-shelf Project Management Software
Enterprises usually face the dilemma of what type of software (custom or ready-made) to adopt for business workflows because there are specific features they might need and not any tool can handle a dramatically growing amount of employees. So, what are the pros and cons of custom software development?
No License Fees
Off-the-shelf software belongs to the maker and any company that wants to use it has to pay for its regular fees. At the same time, custom software is developed on request and does not imply any constant license fees.
Changes and Extensions
Custom software can be easily modified, shared, commercialized, or sold. Such a project management tool can grow and expand together with your business. A competent developer pays much attention to user base scaling on the stage of the software architecture design, so you can be sure that your custom software will accommodate your growing needs.
User Experience
When ordering custom software development, you make it fully adapted to your business logic, branding, and naming. Off-the-shelf solutions are not that easily customized to the needs of your business.
Security
In the case of ready-made solutions, security issues are on the side of the software provider. To make sure that your sensitive documents are protected in their cloud, check if the company holds the required security certifications. Custom software has a much higher level of protection, which you can control.
Initial Costs
Entry costs of ready-made solutions are much lower than the development of a custom tool, but license fees will also increase along with the growth of the client base.
Wrapping Up
There are several factors to be taken into consideration for successful project management: costs, schedule, quality, scope, resources, risks, charges, and stakeholders. A quality product must help you manage the project. Not keeping track of all project aspects can lead to failure. If you don't understand how changing the scope of the project will affect the schedule, resource requirements, and costs or how plausible it is to manage the possible changes; it can appear that you do not have the staff, money, or time you need.
However, with the right project management tool at hand, you can be safe.