The Power of Pirate Metrics on the Example of a Mobile Dating App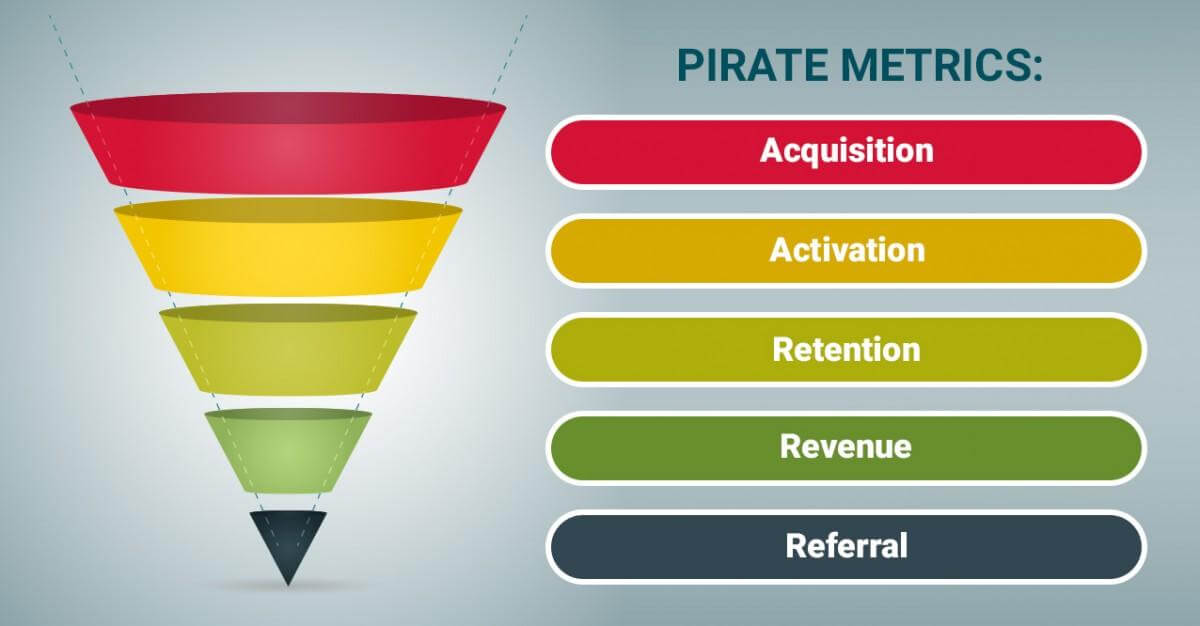 In this article, I'm going to share how to optimize a mobile application with the help of Pirate Metrics framework (i.e. AARRR) which was created by David McClure. I will use a dating app Tinder as an example. So let's begin. 
First, let me briefly remind what AARRR is:
A is acquisition
A is activation
R is retention
R is referral
R is revenue
Pirate Metrics describes a sales funnel. There're visitors at the beginning of that funnel, after that, they sign up, catch the "aha!" moment, buy some services, recommend an app to their friends and constantly come back to the app with some purpose.
On one side of the shoreline, we have people who just start using our app. On the other side – there are people who made purchases several times and also brought few more friends to the app. Our goal is to have people from the first shoreline swim over to the second one.
The main advantage of AARRR framework is that it makes employees to measure their sales funnel in numbers. As a result, it helps to improve an app metrics and each phase of sales funnel needs particular ones. Let's look at them with Tinder as an example.

The main question of this step is where do our users come from? In this case, they come from Apple Store/Google Play. How do they get there?
Facebook and Instagram advertising

Snapchat advertising

Google/Bing search

Contextual advertising in Google AdWords

Apple Store/Google Play search

Different Ad Networks (Vungle, AdColony, AdMob, AppLovin).
After that, each of these channels has their own conversions. Let's take Facebook Ads which has such main metrics:
CPC (Cost Per Click)
CTR (Click Through Rate)
CPM (cost per 1000 impressions)
Frequency – meaning how often people see an advertising. For example, 1.08 times
Relevance score – how good does your advertisement resonate with the audience.
Cost Per Registration – how much does one registration in the app cost?
ROI – (profit-cost) /cost X 100% – what the profit a company received from advertising, taking into account all costs (advertising costs, marketers salaries, etc.)
ROAS – profit from campaigns/ costs for campaigns – that is how many dollars you earn for each advertising dollar.
Unlike ROI, ROAS measures the gross (that is, excluding expenses) income that is generated for each dollar invested in the campaign. This metric allows you to measure directly the effectiveness of advertising campaigns on the Internet. For example, if ROAS is 200%, it means that for every dollar you earned 2. 50%. That means that for every dollar spent you returned only 50 cents. So your ROI = -50%.
After a user clicked on the banner on Facebook, he gets to the Apple Store. Then he sees the application page there with an icon, screenshots, ratings, reviews and other info. He looks at all and decides to download the app.
He does it and we get one more metric – downloads/ impressions – how many people from those who viewed his page in the Apple Store downloaded the app.
There is a registration form on Tinder: it is possible to come through existing Facebook account or using a mobile phone and SMS.
If the user comes through Facebook, many profile's fields are automatically taken from this social network and substituted in the Tinder profile: name, gender, date of birth, location, photo, etc. This saves a lot of time but some people want to stay anonymous. Well, dating is a very personal thing.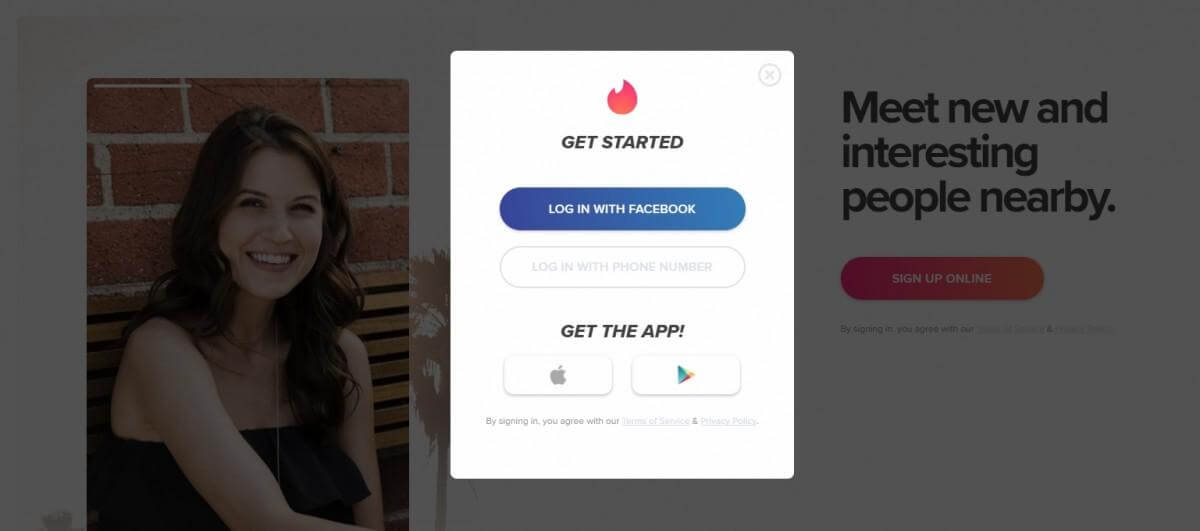 Registrations/downloads is another useful metric for the Acquisition stage. It means how many people from those who downloaded the app were registered.
Actually, not all users will reach the end of registration: someone will not give access to personal data, someone will not have appropriate pics and so on.
By the way, it is worth setting up a separate funnel for registration in analytical programs, such as Amplitude, Mixpanel or Kissmetrics, to understand how many people were leaving at a specific stage of registration.
The main idea is quite simple – the fewer fields in the registration form or at its steps, the bigger conversion will be.
So we've got a cool set of different metrics. Now we need to come up with ideas on how to improve these metrics. For example:
CTR

– it is necessary to make different banners and conduct their a/b testing.

Downloads /impressions

– you should try different screenshots for the page in the Apple Store and try changing the icon.

Registrations /downloads

– you need to simplify registration, reduce the number of fields, make an entry through Facebook, to save user's time to fill profiles.
After the user has registered, he uses the app. Now our goal is to make the user catch the "aha!" moment to feel the full utility of the app for solving his problems.
According to our example, the main goal is to find a partner, and the objectives can be different: just one-night, emailing or whole life relations.
 
When does the user understand the value of Tinder? I guess, at the moment when he will get a mutual match with someone.
Then the couple will exchange messages with each other. They will go all the way from liking profiles to the desired message – "It's a match" and finally to a dialogue.
Our first task is to make sure that many people get a mutual match. As much as possible. Therefore, we need to measure the number of these matches per user.
Next, we need to track how people communicate after the mutual match. However it's not enough to be matched. Someone should make the first step and write in a chat, wait for an answer and so on, until a full dialogue begins. Here I would measure the number of dialogs.
Now let's generate the ideas on how to improve these metrics:
The number of mutual matches per user. You need to make a tutorial that will teach the user how to choose those who is admired and miss those who is not of interest.

The number of dialogs – to suggest the first message, to send the stickers – then the first step will be easier.
So, our users have talked and returned to their daily lives. But there were no purchases in the app because Tinder is a freemium model, in which the main features are completely free: viewing profiles, matching, chatting.
But Tinder needs to pay hosting, moderators and developers' salaries and also bring profit to its shareholders. That's why we need the next step – to return users.

The main question is how to return users to make them activated or make a purchase as well as push them to recommend the app to their friends.
In the mobile app, the primary tool is push notifications. In fact, Tinder actively uses this. Here are some examples of notifications:
Wow, Tinder is on fire in your area! Chances of a match.
You've got people interested in you. Open Tinder to match with them
You have not swiped in awhile. Your profile will be hidden. Swipe now to stay visible.
What you need to measure here:
Subscribed /requested

– how many people switched on Push notifications from all who have been requested to switch on them.

Opened /sent

– how many people opened Pushes and got the app from all to whom they were sent.

Retention rate

– how many people (in percentage) return on the 1st day after registration, on the 7th and 30th.

Here

you can see the average values for the Apple Store and Google Play.

Stickiness

– how many days a week people use the app. For example, 20% of people use the application 5 days a week.
How to improve these metrics:
Ask people to sign up for Pushes not immediately after registration, but when they have a match and they want to know about a new message from the match.

Conduct a/b testing the push notifications' texts

Insert emoji into texts of Push Notifications

Perform A/B testing of the sending time of Push Notifications.
So we got monetization. It's not enough to bring people into the app and show them its benefits, you have to solve problems for which users will definitely pay.

The main question is how your application makes money. Tinder offers the basic functionality for free. The app earns with the help of extra proposals:
Abolishing swipe – if you said "no" to a girl and then changed your mind – be ready to pay.

The unlimited number of likes – if you want to like more.

If you want to hide your age.

If you travel often and you feel lonely.

If you are annoyed by advertising.
Of course, these services are not sold separately, they are sold in a package – Tinder Plus.
What should be measured? First of all, you need to measure what was the reason that motivated a user to buy a VIP subscription.
For example, a user canceled dislikes and decided to like a girl. Or he got the daily limit of swipes. If we know the certain reason for buying the VIP subscription, we will do everything to make this service more popular.
Then we will increase the average bill. The metrics that usually measured in mobile apps are:
ARPD

ARPU

ARPPU

Average Check

LTV

This stage is required to remind about another source of users – virality. When one user brings two users into the app, we get an exponential growth on the chart. Although I would be satisfied with a virality with k = 1. It is when 1 user brings 1 friend.
It looks optimally when the virality is organically built into our application and people need to invite colleagues or friends to work with it.
For example, all chats have built-in virality. You need to invite your friends to the application to communicate.
Another good example is MSQRD, which allows you to try on funny masks. People post the coolest photos on social networks, and then followers come to the app.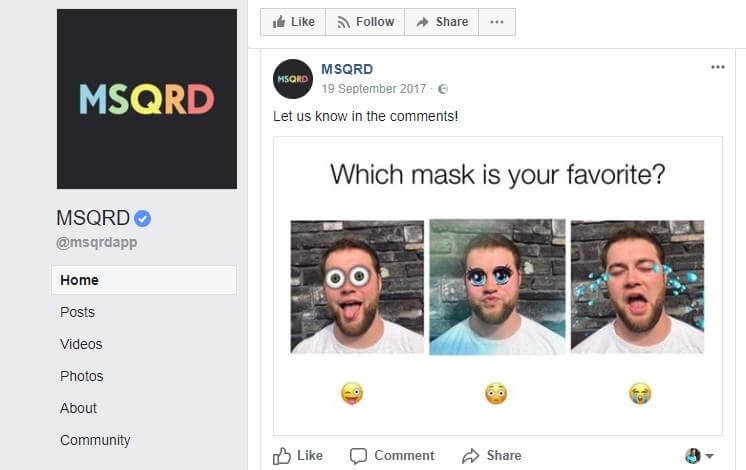 In our case, the following viral features are built into Tinder:
To recommend a profile to a friend – if a girl or a boy is not for you, he/she can be good for your friend. Then you can send him/her a link to the profile. The friend will have to register to see the potential partner.
When the suited profiles were ended, Tinder showed a request – Invite your friends. However, now it seems impossible as Tinder has a huge user base.
The virality in the app increases the permissible CAC. If you buy Facebook Ads with the price $ 4 at for a Lead, then (if k = 1), the Lead will cost $2. It really expands your abilities to buy traffic.
So, you need to measure the virality factor k and constantly think about how to make your application more viral.
Conclusion
The question "how to increase the income of my app" is very important. However its difficult to give the concrete answer. The goal of Pirate Metrics framework is to put the right questions:
What are the steps in my sales funnel?

How can I measure the effectiveness of these steps?

How to increase different metrics?
Answering these questions will make your product or startup more data-driven.
Now it's your turn to share your AARRR experience. What do you think about Pirate Metrics?