The Beginner's Guide to Agile Kanban Software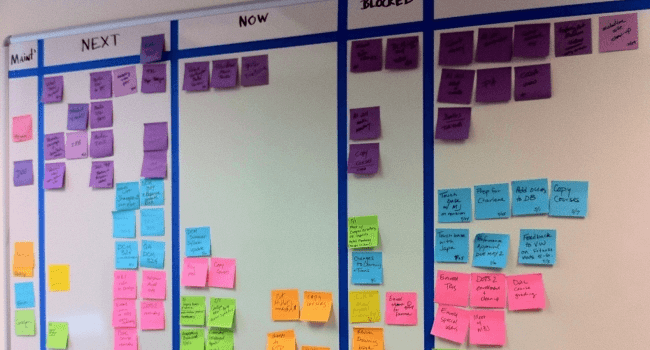 What is Kanban Agile software development? To answer this question we first of all have to find out what is Kanban.
The history of Kanban began in Japan in the 1950s. The word is actually translated from Japanese as "Visual Card". As we can see, the technology originated years ago when there was no software at all, and the computer technologies just started their development. At that time, Kanban was designed by the Japanese corporation Toyota like a means of time management improvement. The main idea was to visualize the deadlines and the general flow of work on a project.
Today it can be made either on board, or in a special computer program. The second variant implies the use of Kanban software. With the help of Kanban you will be able to see the progress of your work in real time. It will help you plan your further activities, to meet your deadlines and to avoid non-completion of your projects on time.
Kanban also can be a perfect means to see how many unfinished tasks you have. The process of software developing usually implies many unfinished tasks. As a result, the team has to finish them during the final stages of work urgently. The use of Kanban software may help you to avoid such situations. With Kanban you will always see how many unfinished tasks you have at the moment, so you will be able to finish them one by one during the working process.
Our general conclusion is that Kanban is the way of process visualization. Now we have to figure out the advantages of its use in the process of Agile software developing. To understand the role of Kanban software in the work of Agile teams we need to remind you of some of the main features of the Agile team's working process.
When a team of Agile developers is working on a project, all its work is subdivided into 2 – 4 weeks long sprints. Usually, the team has to perform a certain piece of work and provide it to the customer. After the Project Owner sees the intermediate result of work, the team has to plan a new sprint period. This situation repeats many times from one project to another.
Such a way of work makes Agile a more effective way of software development than the traditional Waterfall approach. However, it can be even more effective with Kanban. The use of Kanban software allows simplifying the Agile project management. The developers do not need to waste their time for planning their activities at the beginning of every sprint period. With Kanban, they are able to see all the necessary information on the working progress on the screens of their computers.
Sometimes visualization of the workflow is the best way to detect potential failures. The situations when there is not enough time to fulfill the next task are not rare in the work of software developers. Agile developing teams often fall into the same trap. Such situations are usually called "bottle throats", and every team of developers tries to avoid them. With the help of Agile Kanban software, your team will be able to see its working progress in the real time and predict such situations.
If Agile Kanban software development is a promising trend of Agile team management, is it necessary to abandon Scrum for Kanban? The answer is negative because Kanban is not programming software. It was designed to visualize the process of your work, and Agile software development is not the only sphere of its use. Kanban can be used to visualize any process including Agile, but that does not mean that you have to abandon your working methods to use it. Agile Kanban software is actually regular Kanban software adapted for Agile process. No more and no less. You can use it whenever you want, or not use it at all. After all, it is up to you to decide.
As we can see, Agile project management is much simpler with the software Kanban. This simple means can make the work of your team much more effective. Many Agile teams all over the world use Kanban software in their work. Most of them are satisfied with the results of its use. Time management and project management are much more convenient with Kanban.
However, there may be Agile teams that prefer not to use Kanban software. Despite the fact that this software is suitable for any tasks (simple and complex), some teams of developers may not need to visualize the process of their work.