The Power of JIRA Roadmap and its Excellent Alternative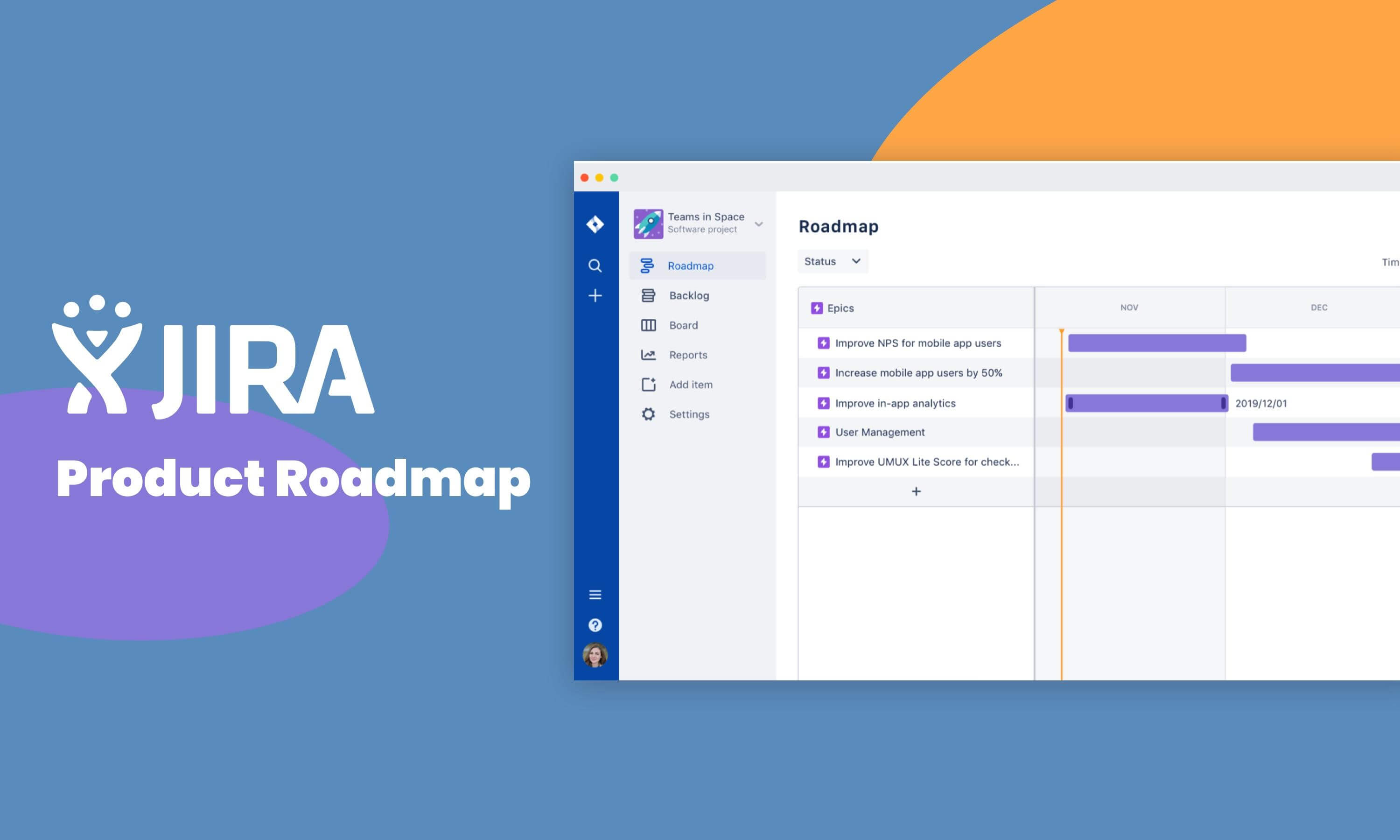 Modern project management tools strive to surprise and empower their users with a wide variety of features and innovative capabilities. 
Many of them try to become similar to JIRA because this famous platform offers a great set of useful tools for project management and collaboration.
A roadmap is one of the most requested and useful tools in the world of project management, which helps managers and teams visualize their plans, tasks, milestones and project stages without losing sight of anything.
Recently, JIRA was not the perfect tool in terms of product roadmaps. There are many tools that specialize specifically on roadmapping. However, JIRA's timelines are widely used throughout the world. In this article, we will define why it is worth to pay attention to the JIRA roadmap and what alternatives are there.
If you want to create your own Agile product roadmap from scratch, then you already know the key basis of its creation and the importance of high-level planning and defining a strategy at the very start.
A roadmap should be associated with a product strategy, vision, product overview, prioritization, overview, milestones, and key dates, long-terms, timelines, communicating goals and coordination with the team.

It should not associate with detailed view or granularity, itemized plans, and minutiae.
What is a Jira product roadmap and does it require a plugin or app?
Agile teams work with the scope and status of work. It is a continuous work in progress that can be visualized with the help of a roadmap. Applying the Jira Software's roadmap, you let your team attach the stories and tasks in their JIRA project to the actual work on their roadmap.
The modern JIRA's model for building software – Jira Software Cloud includes new roadmaps.
These roadmaps make it easy to sketch out a big-picture strategy and share it with a few simple clicks. With the help of Jira roadmaps, you'll have a clear view of what big initiatives are underway and how they map to the actual work items in each project.
What may JIRA product roadmap include?
Timeline (where projects are divided into stages)

Project goals (in the form of deliverables)

High-level tasks

Swimlanes

Milestones

Dependencies

Risks
Initially, JIRA had no default roadmap functionality. This Agile project management tool had not been designed for long-term planning and was focused on sprint and cadence.
However, JIRA proposed to apply a special app created by Atlassian – Jira Portfolio or BigPicture plugin that lookes even better and provides excellent roadmaps and other project management functionality, for example, risk modules, Gantt charts, or dependency arrows.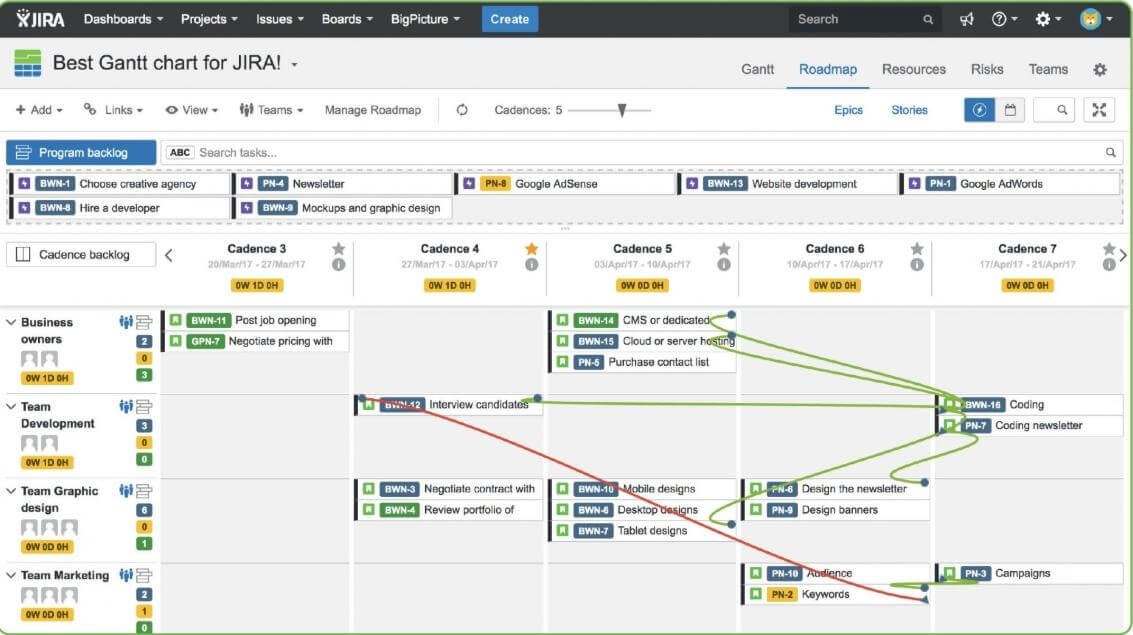 These plugins are really good for collaboration and sharing across your company. Now Jira proposes their users to us ea built-in roadmap.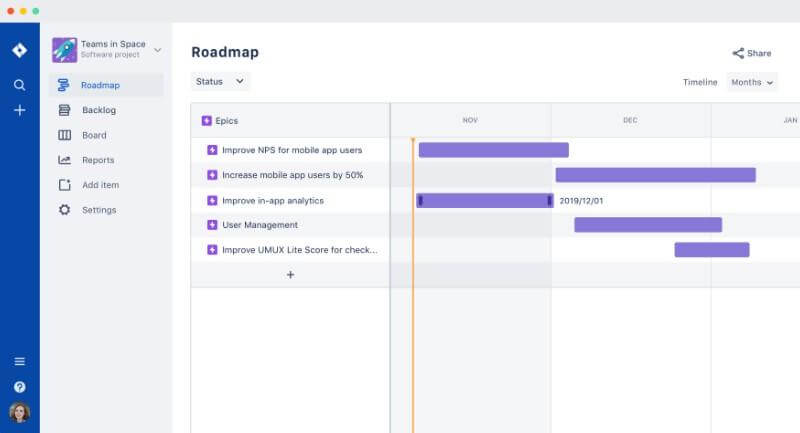 This roadmap proposed by JIRA serves the purpose of getting all stakeholders on the same page when the process of creating a product roadmap is collaborative. This allows team members to better understand the bigger picture and how their work relates to it.
A roadmap is an available tool for everyone, so anyone in the team can make the appropriate updates, which helps ensure your roadmap stays up to date.
Are there good alternatives?
According to the latest project management trends, the increasing complexity of projects and the new wave of PM tool generation strive software developers to design multifunctional and innovative solutions. These innovative platforms should ideally suit not only technical teams and software developers, but satisfy the wide range of users. One of these solutions is Hygger.io.

Those professionals who are striving to present complex things to their clients in a simple form are able to get a powerful Hygger functionality, including beautiful roadmaps. Using the platform, you can write not only software development roadmaps, but apply effective timelines to marketing, sales, content, bizdev or other needs.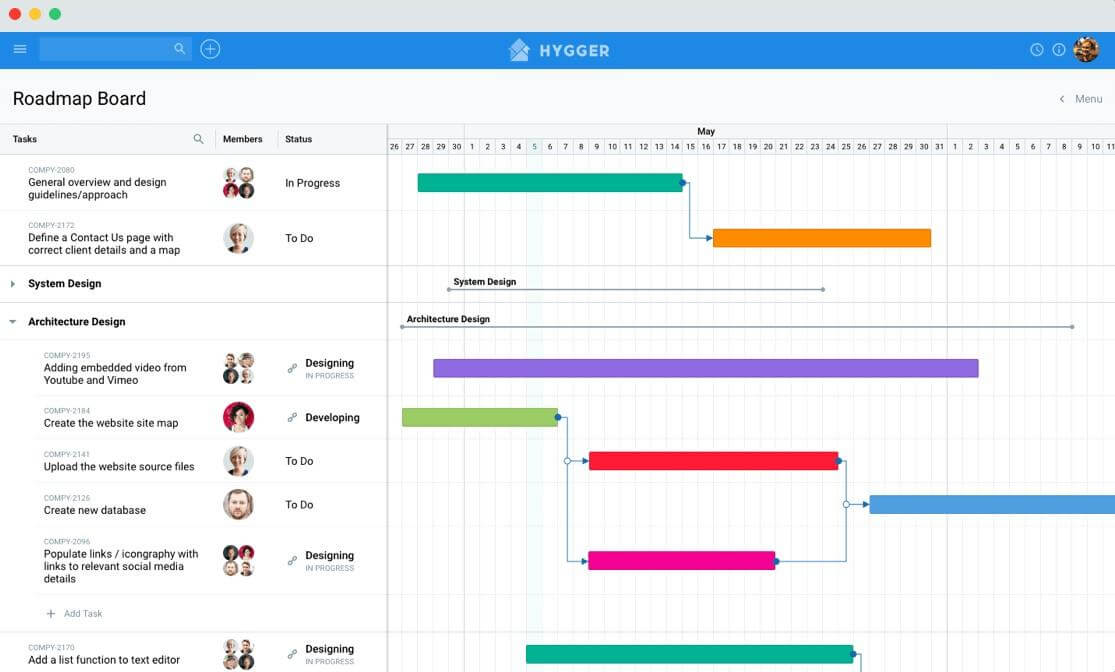 The roadmaps in Hygger are a great place to start aligning your team and stakeholders around common objectives.
Because simplicity is an important part of Hygger's roadmap, anyone in your company is be able to look at the roadmap and receive the status of any project.
Would you like to get more about how to create a roadmap in Hygger? Feel free to join a quick use case about writing and sharing product roadmaps.